Are you facing a challenge while choosing the best RV water softener? Your search to find the best product is over. I invite you to check out the list of the 8 top picks that make your water soften quickly and with ease. So, without much delay, let's get started!
Quick Review
An RV water softener makes the water smoother by removing minerals that can cause problems like limescale buildup in pipes and appliances. Before purchasing one, there are some critical factors you need to consider that are mentioned below:
Type of Water Softener;
Grain Capacity of the water softener;
Maintainance Cost;
Pricing.
Now the question boils down to how you identify the best RV water softener that fulfills the above criteria. Continue reading and learn about the best 8 picks in detail, their specs, features, and more.
Also, get insights into why soft water matters in an RV. Such information will help you make a well-informed decision. Let's dive deeper into the review guide!
Best RV Water Softener: Comparison Table of Top 8 RV Water Softeners
Here I have compiled a quick comparison showing the different RV Water Softener models. Let's see how they compare with one another:
| | | | | | |
| --- | --- | --- | --- | --- | --- |
| | | | | | |
| | | | | | |
| | | | | | |
| | | | | | |
| | | | | | |
| | | | | | |
| | | | | | |
| | | | | | |
| | | | | | |
Now that we have had a glimpse of all the products, let's study them in detail.
1. Best Overall: NPGLOBAL Portable
Let's weigh the pros and cons of this portable water softener to understand why it is at the Top!
NPGLOBAL Portable
Pros
Provides 40% more soft water in a cycle which eventually reduces the frequency of regeneration.
The outer shell of the water softener is made from high-quality polyethylene material making it very durable and long-lasting.
A capacity of 16,000 grains ensures soft water which can increase the lifespan of your appliances like water heaters etc.
With its lifetime limited warranty, you can have peace of mind that your investment is safe.
Cons
It has a slightly bulkier weight.
The NPGLOBAL impresses users with its capacity to handle large amounts of water i.e. approximately 1600 gallons with 10 grains/gallon. Moreover, it is quick to set up as it is ready to use in 4 minutes.
You can use it for multiple purposes since it is compatible with a range of RVs. Lastly, the company offers quick customer support that you can access to solve your issues related to this water softener.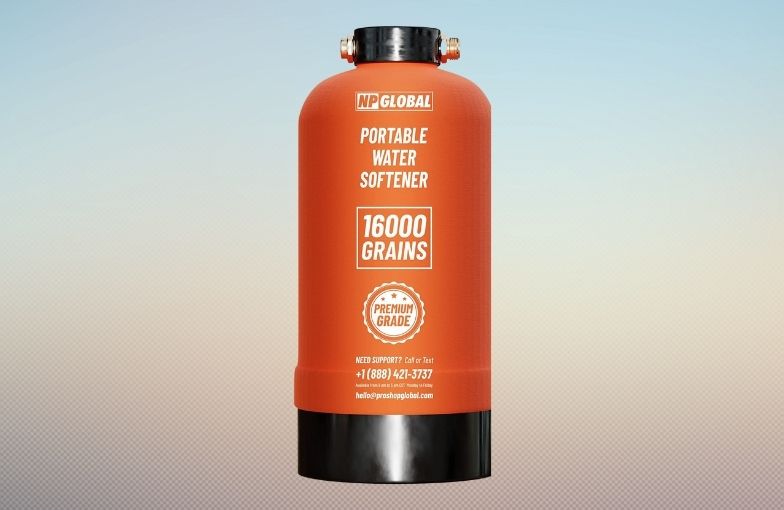 Features
Let's see what remarkable features offer one of the best portable water softeners:
It is made from NSF-certified food grade and high-quality resin that efficiently softens the water.
It stops scale from forming and decreases the amount of metals in the water. Thus removing the foul taste and smell.
You get multiple types of valves such as the Y Splitter, shut-off valve, and a hose to make setting up easier.
A 7-year service which is a huge advantage and value for money.
Specs
Here are the specs of this RV water softener:
| | |
| --- | --- |
| | |
| | |
| | |
| | |
| | |
| | 4 Ft PVC 200 PSI Water Hose |
Recommendation: For those seeking a balance between performance and portability NPGLOBAL is an excellent choice. Durable build and effective regeneration time make it stand out among others. Furthermore, it comes with attachments like valves and splitters making it suitable for water filtration or as a mobile pressure washing unit. The only downside of this unit is that it has a slightly bulky build.
2. Best Budget-Friendly: Camco TastePURE
Let's uncover the merits and demerits of this RV water softener to gain better insight:
Sale
Camco TastePURE
Pros
Being a compact-sized water softener, it saves a lot of space.
50 bonus strips come along with this unit to ensure the quality of water.
This unit has a very appealing price tag compared to its competitors.
Cons
The grain capacity could be improved.
When you compare the TastePURE with other RV softeners, it is quite lightweight. It measures only 8.5 inches wide and 20 inches high making it ideal for storage on various standard compartment sizes. In terms of working, this unit is highly effective in removing minerals like magnesium and calcium from water, which ensures that the hardness of the water is greatly reduced.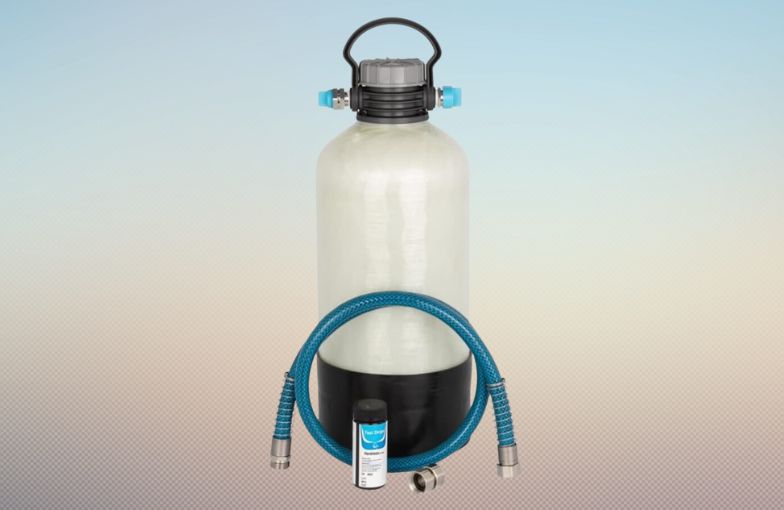 Features
Let's examine the features this one brings to the table!
The excellent water flow rate of 4 gallons per minute offers ample water supply for use.
A low regeneration time of 30 mins makes it easily ready to use in less than an hour and you don't have to spend time setting it up.
The handle on top of the unit makes it extremely grip-friendly.
Specs
Let's check out the specs of this portable RV water softener:
Recommendation: For those with limited space, the Camco offers a compact design with an affordable price tag. The high-quality ion exchange process greatly improves the overall quality of the water. The only minor lack of this water softener is the low grain capacity that would need frequent regeneration.
3. Best Compact Option: OTG3NTP3M Portable Softener
Here are the advantages and disadvantages of the portable water softener for your RV:
OTG3NTP3M Portable Softener
Pros
The regeneration time of the unit is very impressive and takes only 15 minutes.
The compact and lightweight design makes it easy to carry around.
You can use common table salt for the regeneration process.
Cons
The product requires a tiring process of assembling for the first time use.
The OTG3NTP3M offers both compactness and efficiency in a single packaging. The feature that differentiates this from other water softeners is its ease of use. With just a packet of table salt, you can generate it quickly, making it a very cost-effective and suitable choice for your RV. Moreover, it removes dust, paint, as well as heavy minerals from the water that can be harmful to your health.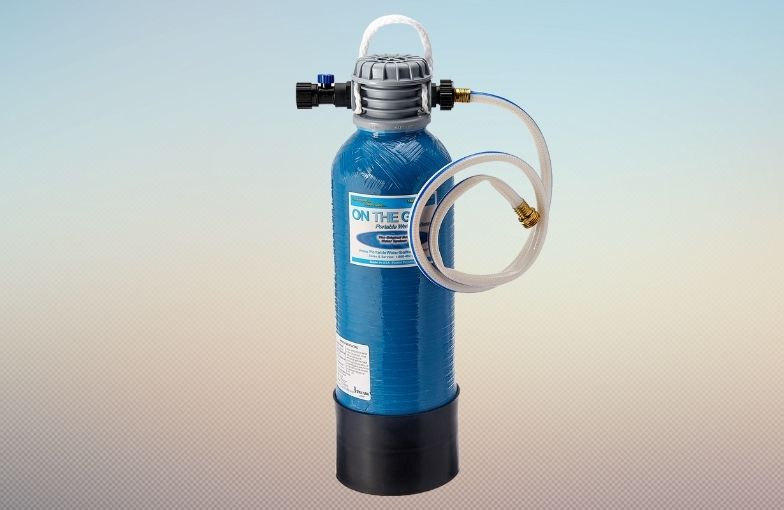 Features
Let's dive into the amazing features of the softener:
The unit processes 800 gallons of water and lasts for 20 days.
It offers an immense capacity of 32,000 grains.
It can easily be connected to an RV, marine, garden hose, or inside the house via connectors.
Specs
Let's explore the specifications and key details of the RV water softener:
| | |
| --- | --- |
| | OTG3NTP3M Portable Softener |
| | |
| | |
| | |
| | |
| | |
Recommendation: If you want a compact and lightweight water softener then the OTG3NTP3M is an ideal choice. It can remove mineral buildup from water with 10-25 grain hardness. Although the unit is known for its perks, the downside is that its assembly process can be troublesome for the first time.
4. Best For Flow Rate: Pro+Aqua Portable
Let's see some of the positives and the negatives of this softener:
Pro+Aqua Portable
Pros
Unlike most RV water softeners, this unit provides a vigorous flow rate of 12 GPM.
The whole unit does not require tools to assemble it.
Only premium quality materials are used for its manufacturing resulting in a great build.
No power source is needed to operate and it is super easy to use.
Cons
The connectors need to be installed properly else they will leak.
Pro + Aqua is a solid choice as a softener due to its high grain capacity, prolonged use on a single regeneration, and ability to process large amounts of water. Plus, it helps in getting rid of the foul smell and hard water taste in a single filtration cycle. The most impressive quality is that it takes hardly 5 minutes to set up the whole system on any location or type of RV vehicle.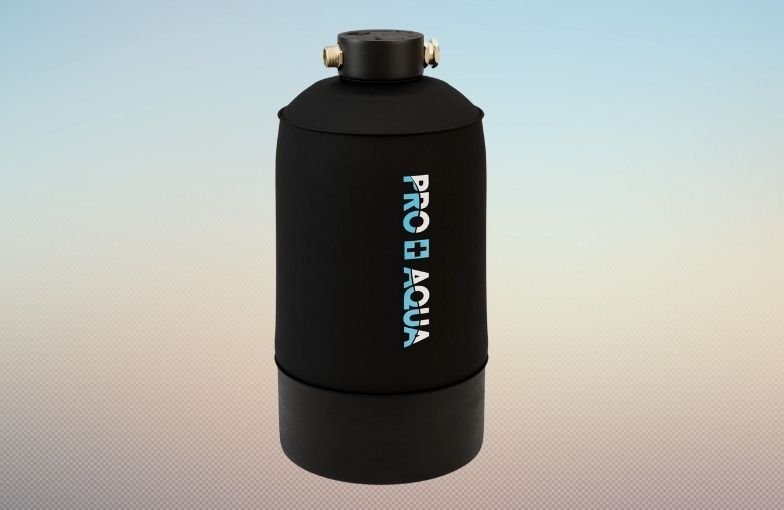 Features
Let's see what remarkable features offers this one of the best portable water softeners:
You get a pre-filter and regeneration kit making the performance more efficient.
High-quality NFD materials guarantee that the unit will function and supply clean water for multiple years.
A broad base and small design make it easy to install even in compact places such as an RV or a boat.
Specs
Let's explore it's detailed specifications:
Recommendation: The Pro+ softener stands out for its premium build, massive flow rate, pre-filter, and efficient regeneration time. It is also a very versatile unit that can be used on an RV, trailer, marina, boat, or for softening water. However, keep in mind that there is a chance of leakage if connectors are not installed properly and you may need professional help to fix it.
5. Best for Odor Removal: OTG4-DBLSOFT
Let's have a look at the pros and cons of the softener:
OTG4-DBLSOFT
Pros
High-grade premium resin beads are added to enhance the filtration process.
It only requires 2 boxes of table salt to regenerate which is quite cost-effective.
It delivers up to 16,000 gallons of purified water without much hassle.
It is a space-saving, easy-to-install, and convenient unit.
Cons
The handle provided to carry it can be smaller for some people.
The DBLSOFT water softener is excellent for supplying your home or RV with odor-free and soft water. It can easily improve the taste of the water by removing mineral ions. An additional back flush adapter is included which comes in handy when needed reverse connection. Plus, it has brass fittings which are highly durable and do not rust easily.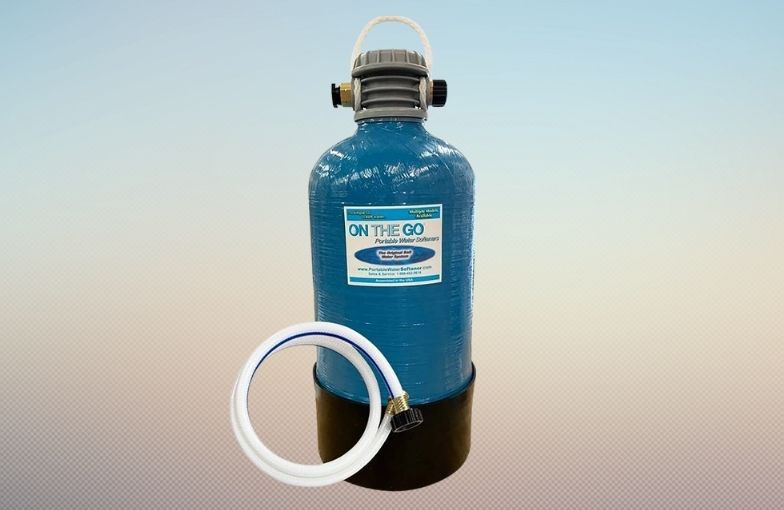 Features
Here are the notable features of the filtration system:
It does not need electricity or tools to operate which saves the cost.
It processes the water with a respectable flow rate of 3GPM and a combination of softening and conditioning methods.
The attachments, caps, and plugs make the overall experience stress-free as there are no leakages while traveling.
Specs
Let us dive into the specs of the unit:
Recommendation: This water softener not only saves you money but also provides enhanced filtration with 40% more soft water, ensuring remarkable purification and portability. It's a great choice for those who need clean and odorless water while traveling in the RV. The DBLSOFT is a commendable unit with just a minor downside of an uncomfortable handle to carry it around.
6. Best for Easy To Use: Essential RV Water Softener
Let's explore what this softener's advantages and disadvantages are:
Essential RV Water Softener
Pros
With an impressive 16,000-grain capacity, it can efficiently filter water for longer durations.
You can use this unit with other filtration systems.
The water softener is pre-assembled and only needs connections.
Cons
Removing hose attachments for recharging can be troublesome.
The Essential Softener stands out with its long-lasting resin that can easily last for 5 years. On a single regeneration, the unit can supply twice the gallons of soft water. This amount is more than half the yield of most of the RV water softeners in the market. Moreover, you get a hose inside the box which ensures a quick setup without any hassle.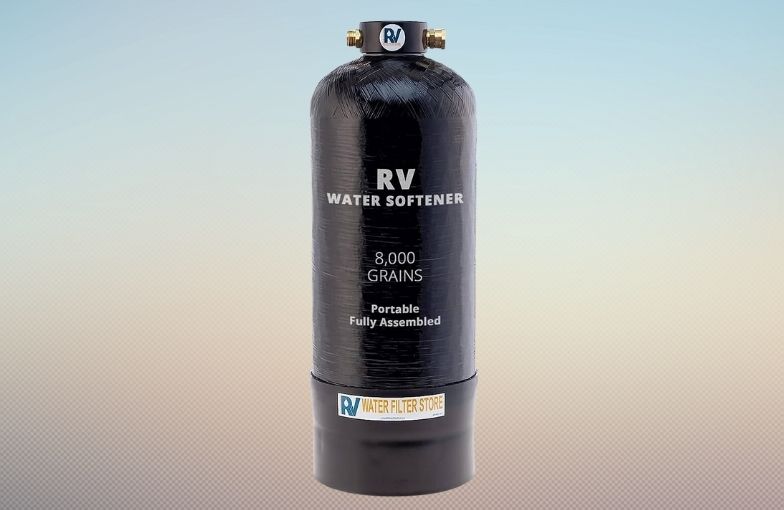 Features
Let's examine the features this one brings to the table:
You can choose between a range of capacities depending on your use.
It can easily last 2 months while processing 2000 gallons of water.
It does not require any electricity so you save cost on power consumption.
Specs
Let's take a look at the detailed specs of the portable water softener:
| | |
| --- | --- |
| | Essential RV Water Softener |
| | |
| | |
| | |
| | |
| | |
Recommendation: These portable water softeners are an excellent choice for RV enthusiasts seeking a high-capacity filtration system for water softening. Its compatibility with other filtration systems and low maintenance requirements are excellent reasons to invest in it. But, keep in mind that the recharging process can cause trouble.
7. Best for Efficiency: OTG4-StdSoft-Portable 8,000 Grain
Let's uncover the pros and cons of this portable water softener:
OTG4-StdSoft-Portable 8,000 Grain
Pros
This unit has the potential to change the hardest water to soft in less than an hour.
It reduces the consumption of soap or shampoo plus it prevents spots on shower glass in an RV.
It is made of top-notch materials for long-lasting performance and durability while traveling.
Weighs only 18 pounds, offering user-friendly portability.
Cons
Requires a sufficient time to get charged.
The StdSoft Softener excels in rapid water softening. Working on a battery, you can even take this softener out of your RV to any remote location. It can hold water for up to 20 days with just a single packet of salt.
Its efficient hard water to soft water transformation is quickly achieved within an hour with a low-pressure drop. If you are camping outdoors then this softener is your best choice to use the water available nearby.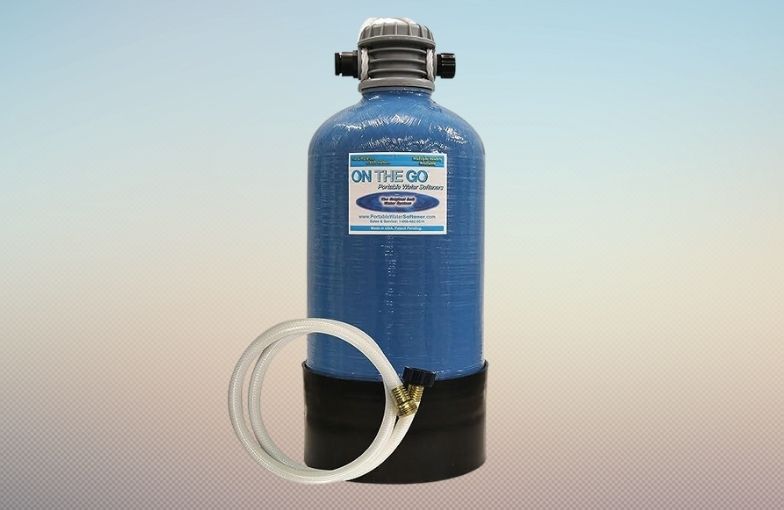 Features
Let's explore the features of this water softener:
The filtration process eliminates mineral buildup on faucets and other water outlets.
A single box of table salt can provide you with water for 20 days.
It also eliminates any odor in the water and enhances the taste of the remote water.
Specs
Here are some of the notable specs of this product:
| | |
| --- | --- |
| | OTG4-StdSoft-Portable 8,000 Grain |
| | |
| | |
| | |
| | |
| | |
Recommendation: The OTG4 is an efficient and easy-to-carry portable water softener. Its quick regeneration time of 15 minutes and ability to prevent stains/mineral buildup is highly commendable. It can fit into tight spaces and does not need electricity to function. Aside from offering competitive performance, the smaller grain capacity and more charging time are a challenge for it.
8. Best for Customization: Tier1 Digital 32,000 Grain High-Efficiency
Here are some of the pros and cons of the water softener:
Tier1 Digital 32,000 Grain High-Efficiency
Pros
Customizable cycle times to ensure that you get soft water when needed.
A high-capacity gel polystyrene for less soap scum and limescale on surfaces and faucets.
Comes with a complete installation bundle, including the tubing, connectors, etc.
It offers you the highest grain capacity available on the market, reaching up to 32,000.
Cons
The controls on the LCD can be a bit complicated for some RV owners to understand.
The Tier1Soft Water system impresses RV owners with its customizable cycle times and grain capacity. The tank houses 1 cubic foot of high-quality resin which can take about 2 hours to regenerate. This water softener is effective against calcium and magnesium buildup resulting in better hair health, soap/detergent foaming, and better laundry results.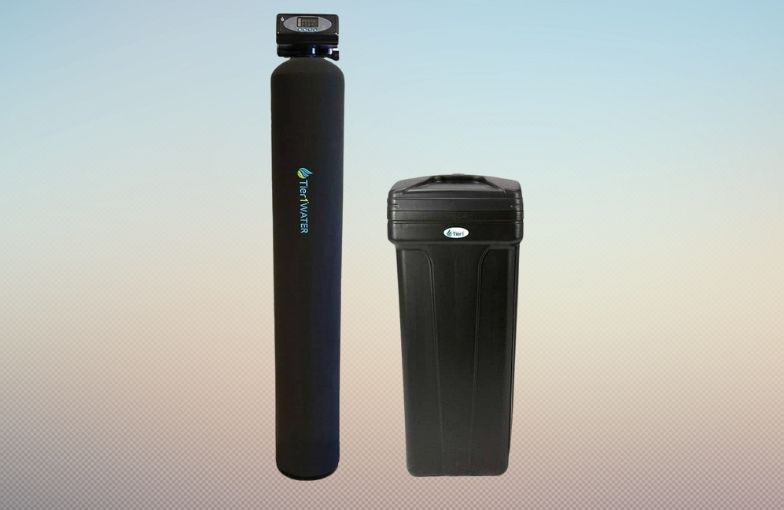 Features
Let's examine the appealing features of the RV water softener:
Valves included with the packaging are made from high-quality material and they fit precisely on the water softener.
Available in a range of grain capacities.
The user-friendly LCD on the top of the unit shows essential information.
Specs
Let's discover the detailed specifications and properties of the RV water softener:
| | |
| --- | --- |
| | Tier1 Digital 32,000 Grain High-Efficiency |
| | |
| | |
| | |
| | |
| | 3/4 inch water line connections |
Recommendation: The Tier 1 Digital System offers customization and high grain capacity. For RV owners wanting no problems with advanced controls at the same time, then this is your top choice. With a 30,000+ grain capacity, it stands at the out. But it has some minor downsides such as a heavy build and a high price tag.
Major Reasons for Getting a Softener for Your RV
Water may contain minerals like calcium potassium and iron that increase the water hardness levels. A water softener helps filter out these heavy elements with the help of a specialized filter.
These water softeners are designed for homes or commercial buildings but you can install them in an RV to take full advantage of its cleaning features. Here are some major reasons for using a softener in your RV: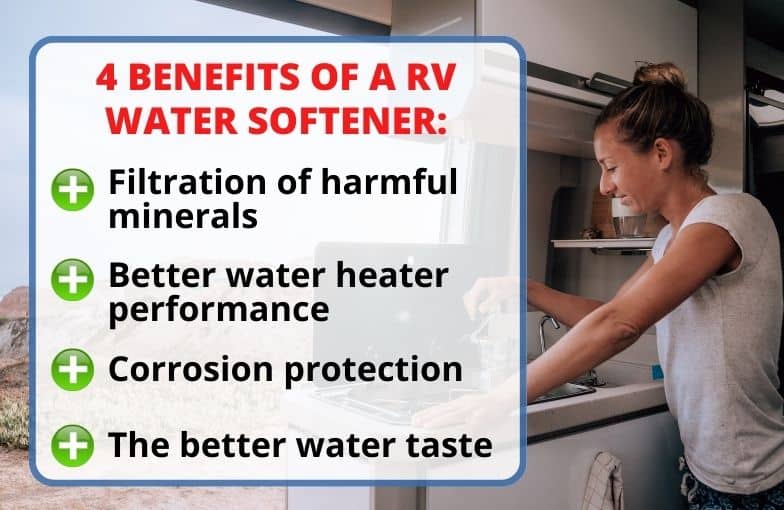 Filter Out Harmful Minerals: Installing a water softener helps to filter out the harmful minerals from the water preventing build-up in RV appliances.
Increased Efficiency of Water Heaters: The heavy quality of minerals increases the boiling point. Equipping the RV with a softener boosts the efficiency of the water heaters.
Effective Against Corrosion: Different minerals can react with piping materials and cause corrosion. Getting rid of the mineral ions reduces this chance.
Better Taste: Water filtered through a softener will taste better.
No Limescale on Taps: With a unit installed in your RV, you will avoid that limescale on your taps and showerheads.
For more insights about water softeners, check out this helpful video.
6 Important Considerations Before Investing in an RV Water Softener
There are numerous factors that you need to look out for when purchasing a softener. I have compiled below a quick guide to highlight the important considerations so your investment won't go to waste. Let's check it out!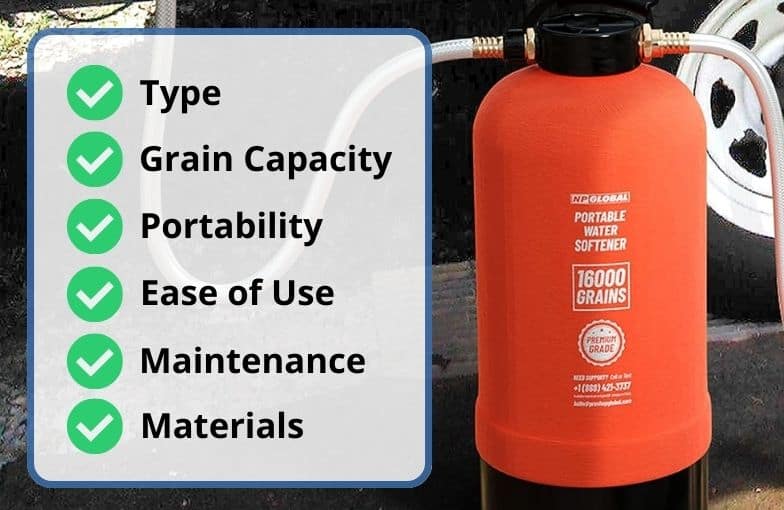 1. Choosing the Right Type of RV Water Softeners
With the use of a water softener, you ensure water quality and the lifespan of your appliances/plumbing system. There are three types of water softeners for a recreational vehicle and they are as follows.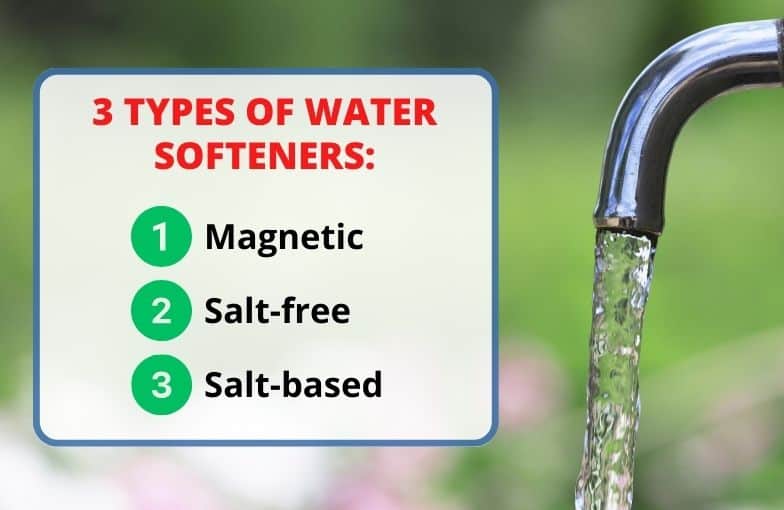 Magnetic Water Softeners – Attracting the Ions
As the name suggests, the magnetic water softener uses the concept of magnetism to get rid of minerals that cause the most water hardness. These water softeners have the following qualities:
A very economical investment;
These water softeners are small in size;
These are also lightweight;
You can install them in any type of RV.
Salt-based Water Softeners – Replacing Minerals with Salt
Salt-based softeners are considered the most efficient for removing hard minerals from the water. Here are some of the qualities to learn:
These water softeners are larger compared to other types;
An ion exchange water softening process exchanges sodium ions with the minerals;
A bed (filled with resin beads) traps the hard minerals and swaps them with sodium ions;
To remove the calcium and magnesium captured in these softeners need regeneration multiple times.
Salt-free Water Softeners – Turning Minerals into Crystals
The third type on my list also works like salt-based water softeners but potassium chloride salt is used instead of common salt. Here are some of its features:
Salt-free water softeners trap magnesium and calcium ions while replacing them with elements from the salt;
If you are following a salt-free diet then this is the best softener type for you;
Minerals turned into crystals saving the plumbing system of your RV.
2. Higher Grain Capacity Offers More Filtration Capacity
The threshold of a water softener to remove heavy minerals such as magnesium and calcium before needing regeneration is called its grain capacity. The grain capacity should be greater than at least 3,333 GPS.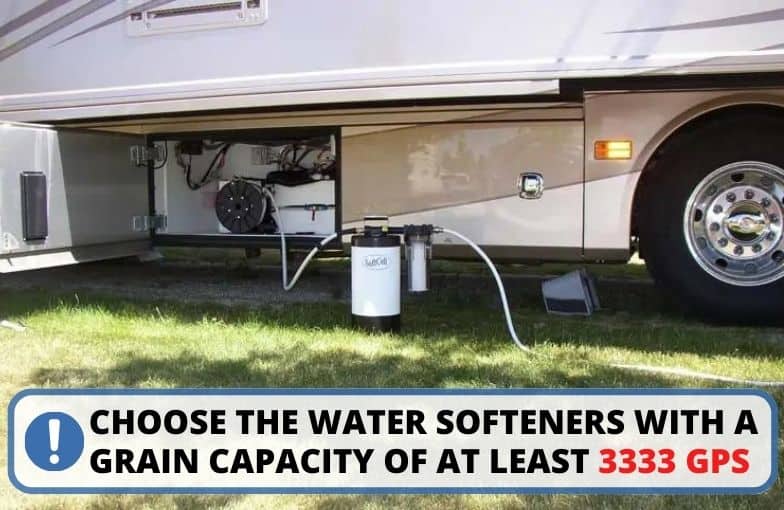 However, remember that the higher the grain capacity the higher the price would be.
3. Water Softeners Offering Portability
When choosing an RV water softener you need to keep in mind the ease of transportability. This is to ensure that it fits well in your vehicle and fulfills your water needs. Here are some important things you need to consider:
Calculate your water usage requirements and select a unit that balances size and performance;
Find a portable water softener that's compact yet capable of providing sufficient clean water.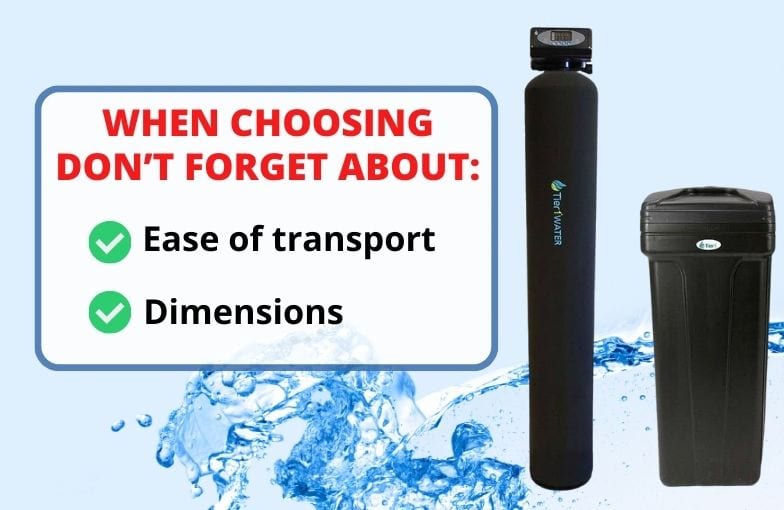 4. Ease of Use and Ready to Install
You should invest in a user-friendly water softener for your RV. This is necessary while considering the convenience of having clean water without a complex process of use.
Here are some key factors that can help:
Choose water softeners that are ready to use and don't require tools or electricity for installation.
Look for a unit that can be set up right out of the box.
Give importance to hassle-free operations like easy regeneration process, availability of parts, and good customer support in case you need any help.
This way you can focus on enjoying your RV lifestyle while the water softener works perfectly.
5. Maintenance of the RV Water Softener System
Here is a breakdown of the maintenance cost:
However, keep in mind that the maintenance of your RV water softener from professional servicing companies is not available everywhere. So, you have to consider an option that offers prolonged use. Here are some tips to ensure that the filter works efficiently.
Regularly refill the salt in the brine tank to keep the water softener functioning effectively.
Invest in high-quality connectors and pipes.
Clean the pipes and connectors after routine checks to ensure a better lifespan.
Make regular inspections to ensure that the unit is clean and functioning properly.
6. Materials Used for Manufacturing
Always prefer high-grade materials used in your RV water softener. Here are some smart tips to follow:
Water softeners manufactured using NSF-certified materials offer the best safety standards.
Water softener tanks made via HDPE (High-density polyethylene) should be preferred due to their chemical resistance and durability.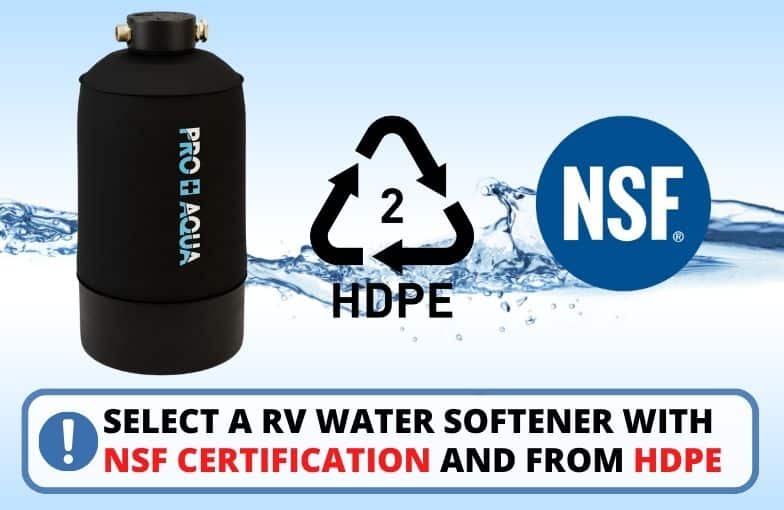 FAQs
How long do RV water softeners last?
RV water softeners last up to anywhere from 5 to 15 years.
Do water softeners cause kidney stones?
No, softened water has low levels of minerals while hard water has increased calcium, potassium, and iron levels. A high amount of Potassium mineral buildup is one of the major causes of kidney stones.
How do I store my RV water softener when it's not in use?
The best way to store portable RV water softeners is to drain the water out and let it rest on its side on a plain surface.
Conclusion
The final say is that when buying a portable RV water softener, carry out thorough research as it is the most critical part of product selection. Keep an eye on models that have high grain capacity, NSF certification, offer excellent water flow rate (GPM) and have a reasonable price tag. While all these factors are essential you also need to check out its performance and maintenance cost.
Based on my experience and research, I recommend the NPGLOBAL RV Water Softener. It offers the best balance between pricing and operational capabilities. It is suitable for RVs and other applications like vacation cabins and boathouses as well. For RV owners who face challenges with complex installation processes, this is a blessing as it does not require tools to install.
NPGLOBAL RV Water Softener
The NPGLOBAL RV Water Softener is a game-changer for RV enthusiasts. It is designed to eliminate hard water minerals. Its compact size and easy setup make it perfect for life on the road. Furthermore, there will be no limescale buildups with this grain RV water softener.