Looking for Rheem water softener reviews to decide if they are a worthy investment? If yes, you are at the right blog post. Here I will help you to assess if they are a perfect fit for your home and can meet your needs. Without any delay, let's get started!
Quick Answer
Rheem has been in the water industry for almost a century. A recognized brand that earned a good reputation by offering effective solutions to hard water. Before going further in details, let's take a glimpse at the key parameters and understand what they are offering:
Continue reading to learn more as in this Rheem water softener review, I will be discussing their top products, and how they compare with other water softener brands. Furthermore, I will also shed some light on their benefits and drawbacks. Let's deep dive into more details!
Rheem Water Softener Reviews: Comparison Table of Top 3 Products
Here are some of the important features of Rheem softener systems:
| | | | | | |
| --- | --- | --- | --- | --- | --- |
| | | | | | |
| | | | | | |
| | | | | | |
| | | | | | |
Now that we know about their basic features, let's head toward the history of Rheem.
Who Manufactures Rheem Water Softeners?
Rheem is a renowned brand when it comes to water heaters and other cooling systems. Originally they started their operation in the petroleum industry in 1925. Five years later, Rheem started making water tanks and boilers and started their journey in the water field.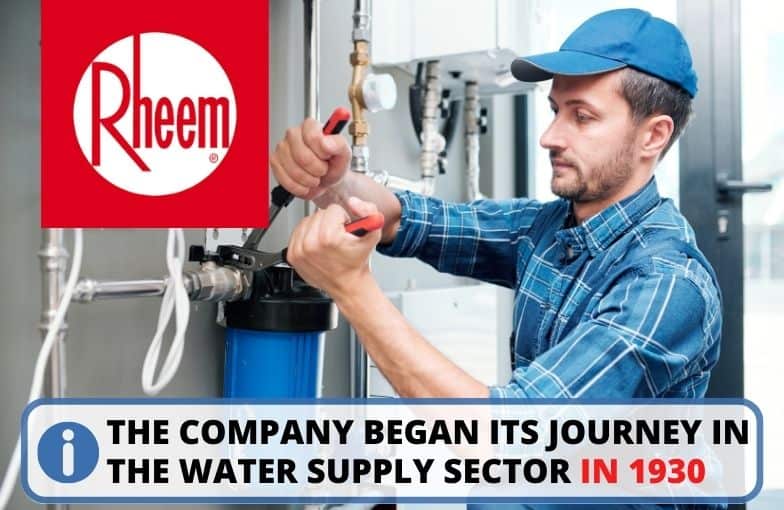 After successfully launching the best products in this field they stepped into water softener systems and launched a few products that I will review in this blog post. Let's see whether Rheem water softeners are as good as their other products.
Best Overall: Rheem Preferred Platinum
Here are the pros and cons of this water softener which reveal why it's a top choice:
Pros
The immense flow rate of 9.9 GPM ensures water pressure is good enough.
Equipped with a remote water management system (built-in Wi-Fi).
It doesn't require any filter replacement that eventually saves money.
Offers a massive grain capacity of 42,000 that can accommodate up to large households.
Cons
The Wi-Fi connectivity could be improved.
Rheem Preferred Platinum is the best product offered by the brand. With a capacity of 42,000 grains, it is an ideal choice for bigger households. This unit features a salt monitor, Rheem learning technology that can conserve salt, and built-in wifi so you can adjust the settings from your smartphone.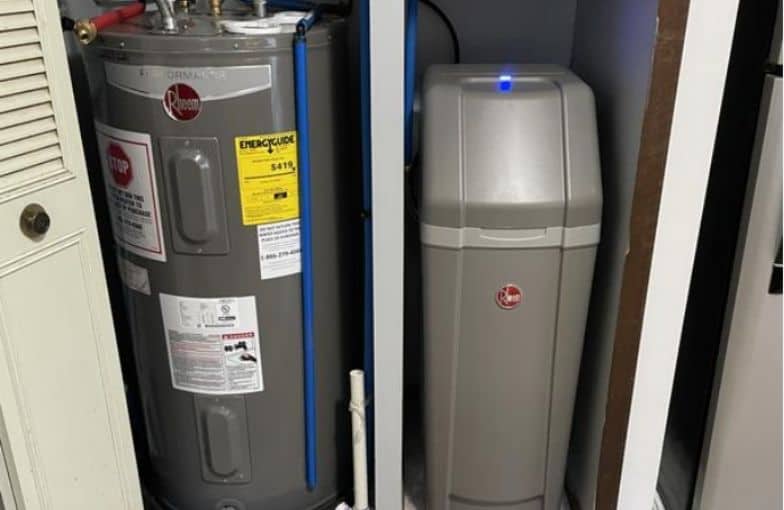 Features
Let's take a look at some remarkable features of this unit:
The tremendous capability of reducing iron content from water is up to 11 PPM.
It can maintain water pressure to max in larger pipes of up to 1.25″.
It comes with a warranty of up to 10 years.
Specs
Let's take a look at the specs of the preferred platinum water softener:
| | |
| --- | --- |
| | |
| | |
| | |
| | |
| | |
| | 48″H X 15-1/4″W X 20-1/2″D |
Recommendation: For those looking for a large grain capacity and constant flow rate, Rheem Preferred Platinum water softener is the best choice. Its iron reduction capability is pretty high compared to other softeners available in the market. If you prefer a softening system that can be controlled from your phone this water softener system will give you this luxury.
Best For Performance: Rheem Preferred Plus
Let's discover the positives and negatives of this water-softening system before we go into further details:
Pros
It features a customizable water hardness level so you can adjust it according to your needs.
It comes with a low-salt monitor that turns on when salt needs to be added.
The inside material of the tank is corrosion-resistant and comes with long 10 years of warranty.
Cons
It lacks extra features like smartphone connectivity.
Rheem Preferred Plus water softener offers the same grain capacity as its upgrade. The only thing that distinguishes them is wifi control. You can not remotely control this water softener, other than that you will get everything the same as its superior model.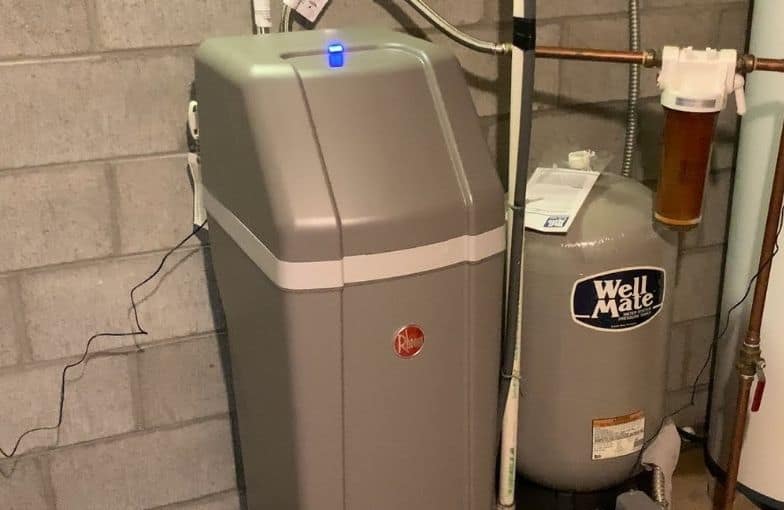 Features
Listed below are the features of the Rheem Preferred Plus water softener:
It can remove the hardness of up to 140 GPG from hard water.
The tank mouth is wide open so you can do easy salt loading plus tank also gets illuminated for better visibility.
The flow rate of 9.9 GPM ensures all of your faucets can provide water at a good rate.
Specs
Listed below are the specs of this water water-softening system:
| | |
| --- | --- |
| | |
| | |
| | |
| | |
| | |
| | 48″H X 15-1/4″W X 20-1/2″D |
Recommendations: It is the best choice for people who want a water softener that can provide constant water flow and have high grain capacity. It can tackle the maximum hardness of 140 GPG and can remove iron content up to 11 PPM. The only downside of getting this system is that it doesn't offer any extra features as it's just a basic system.
Best For Small Household: Rheem Preferred Compact
Following are the perks and downsides of this unit:
Pros
Equipped with built-in Rheem learning technology, it monitors water usage patterns and adjusts itself automatically to conserve resources.
It can reduce up to 8 PPM of iron content in water.
Despite its small size, it can provide enough water supply for pipes of 1″.
Cons
The quality of the plastic tank could be better.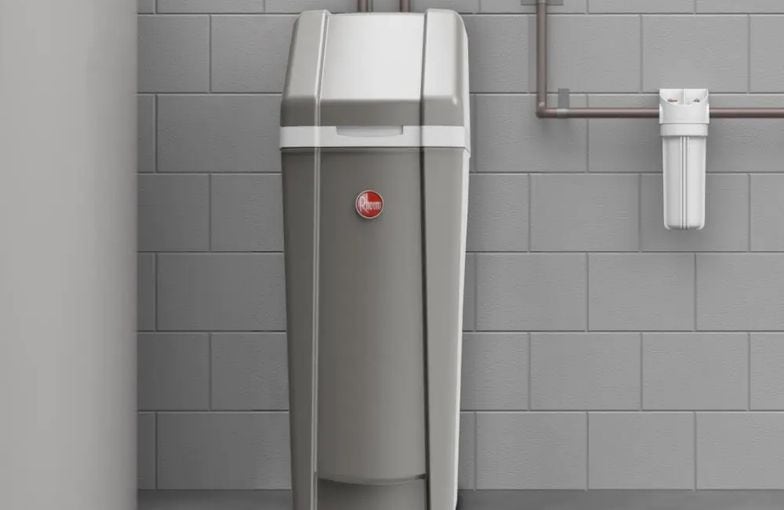 Features
Here are the features of this Rheem water softener:
It offers a constant flow rate of 7.9 GPM
The grain capacity of 32,000 is ideal for small households.
It is capable of removing hardness of 105 GPM from water.
Rheem's Preferred Compact is a salt-based water softener that is ideal for small-size families. Its 32,000 capacity can accommodate a household of 4 people. The smart technology allows the system to learn the water usage patterns of users and adjust its settings automatically based on that to save resources.
Specs
The following are the specs of this unit:
| | |
| --- | --- |
| | |
| | |
| | |
| | |
| | |
| | 43-1/2″H X 15-1/4″ W 20-1/2″D |
Recommendation: Rheem Preferred Compact is an affordable small-house water softener. A perfect fit for those who want a cost-saving solution to hard water problems. This 32,000-grain water softener is capable of removing a maximum hardness of 105 GPM and can reduce iron content up to 8 PPM. The only drawback of this unit is that it comes with a plastic tank.
Rheem Preferred Water Softener: Is It a Worthy Investment?
After going through the detailed review of the Rheem preferred water softener series you might be wondering if they are good enough. First thing first, before getting products like these it's necessary to evaluate what is it you actually want and what are your priorities.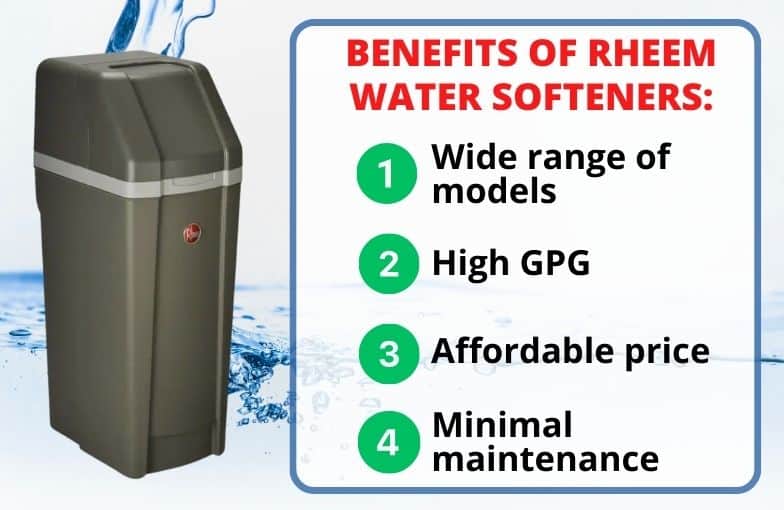 Rheem water softeners are a good choice, because:
They offer multiple variants for different households;
These systems have a high GPG;
They are more affordable than others available in the market;
Minimal maintenance is required for these systems.
Perks Of Rheem's Preferred Water Softener System
Rheem offers numerous benefits to its users. Let's see what they have to offer:
1. Hardness-Free Water
Rheem water softeners can efficiently reduce the hard minerals in the water. The ion exchange methods used in these systems can significantly remove calcium and magnesium ions and replace them with sodium ions.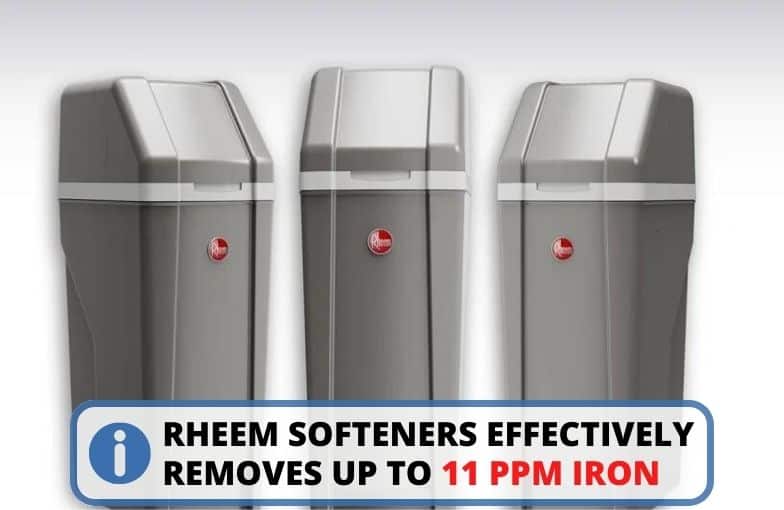 If your water contains a high content of iron, Rheem is the best choice available in the market:
They can efficiently clean up to 11 PPM of iron;
These water-softening systems are capable of removing hardness up to 140 GPG and provide you with spot and scale-free water.
2. Save Money
Rheem water softening systems are affordable solutions for hard water. With time, hard water can cause damage to your home appliances like water heaters and cooling systems.
The built-in learning technology in their water softeners calculates salt and water consumption and optimizes itself accordingly. Furthermore, spot-free clothes and reduced soap scum also contribute to saving you money.
3. Eco Friendly
Traditional water softeners use salt to remove hardness from water and the salt waste is then flushed down. This salt waste is harmful to plants as it affects soil quality and also has an impact on the environment.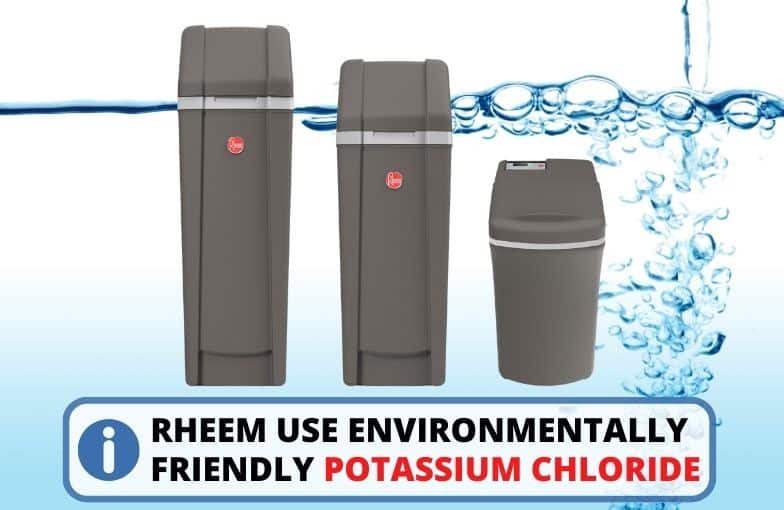 On the other hand, Rheem water softeners use potassium chloride instead of sodium chloride which is environment-friendly and bio-degradable. By using Rheem you can enjoy soft water as well as contribute to a healthier planet.
Drawbacks of Rheem Water Softeners
Now that we have covered the positives of Rheem water systems, let's take a look at the limitations of their systems, so you can make an informed decision.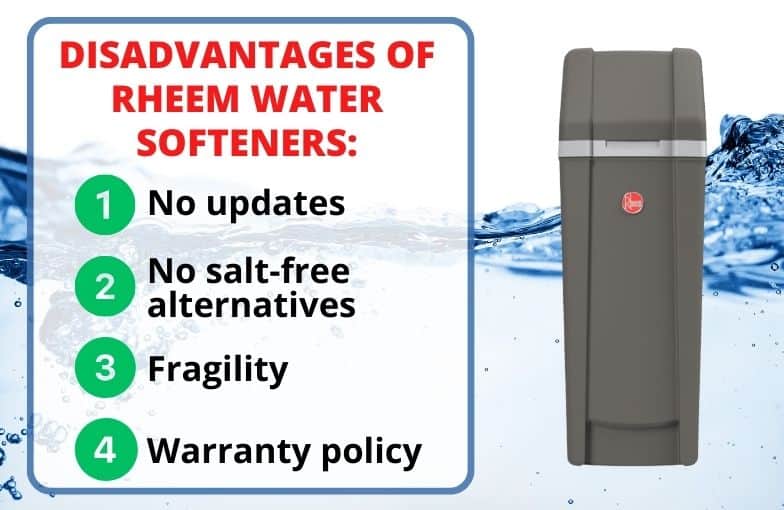 1. The Upgrades Fail To Make a Mark
Rheem does not offer many variations when it comes to softeners. The only major difference in their softeners is the variable softening capacity and the only preferred platinum water softener comes with built-in Wi-Fi. Except for that, they don't offer any extra features.
2. Lacks Salt-Free Alternatives
Rheem exclusively offers only salt-based water softeners which sets it behind its competitors. Some other brands offer both salt-based and salt-free alternatives which appeal to a wide range of customers.
3. Questionable Durability
The tanks of these Rheem systems are made of plastic which definitely raises the question of their durability. Other competitors offer fiberglass that is more durable than plastic casing. So while installing Rheem one must be extra careful to prevent any damage to the tank.
4. Warranty
Rheem offers up to a 10-year warranty which is a good thing. However, its warranty extension policy is not appreciated by many customers. If you want to extend your warranty, you have to buy their patented cleaner separately.
Rheem Water Softener Prices
Rheem's competitive pricing offers an effective solution for dealing with hard water and achieving a good flow rate, making it an attractive choice for consumers: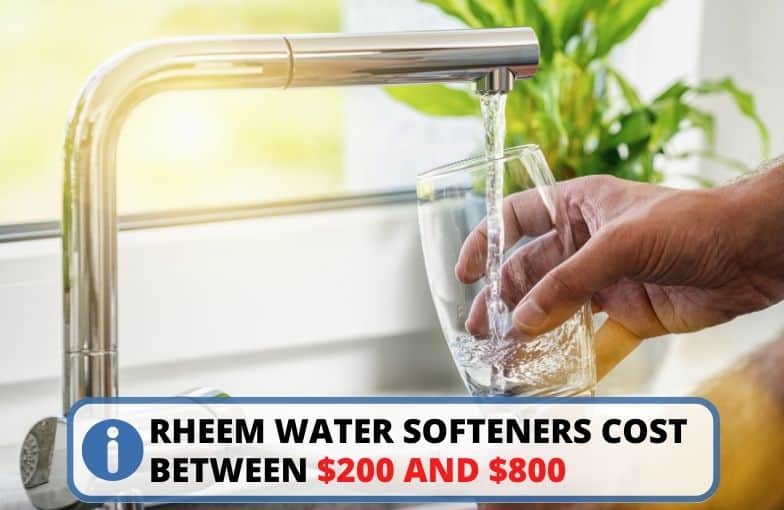 Portable water softeners typically range from $200 to $800, depending on factors like features and grain capacity.
Standard-sized water softeners, on the other hand, generally start at $800 and can go up to $3000.
Rheem water softeners fall within the same price range as portable options, starting at approximately $400 and reaching up to $600.
Rheem Customer Service And Guarantees
Rheem is known for its exceptional customer support and users really appreciate their response time. Let's take a look at the some remarkable thing that makes them stand out:
Warranty Support: First thing first, Rheem offers up to 10 years of warranty and stands by their customers. The comprehensive warranty coverage ensures customers peace of mind.
Installation Support: If you want to install the water softener all by yourself without getting any help from a professional plumber, Rheem will provide you with assistance.
Maintenance Support: To ensure the optimal performance of your softener system Rheem support team also offers help with maintenance and troubleshooting.
User's Experience with Rheem Water Softeners
Rheem softening systems are available online at Home Depot. Let's take a look at the reviews given by customers who purchased them. Before we go into details here are the ratings of these water softeners given by users:
Overall users gave positive responses to these units and few were unhappy with them.
The affordability, grain capacity, and easy installation are highly appreciated by customers.
On the contrary, a few users didn't like the plastic tank and the troublesome warranty extension process.
How Does Rheem Compare with Competitors?
Let's see how Rheem compares with its competitors:
Salt-based water softener

6 months money back guarantee

Up to 10 years+ 90 days

pure satisfaction guarantee
Now that we have gone through the table, let's explore the further details:
1. Rheem vs Springwell
Springwell is a leading brand in the water softener field, let's see how they compare with Rheem: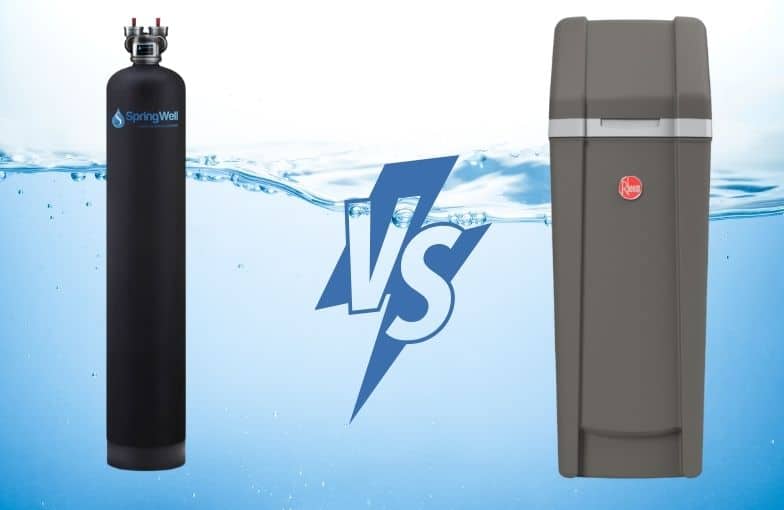 Springwell softeners are one of the best ones out there, they have more grain capacities and and much more effective than the Rheem's.
Rheem is a budget-friendly option and does the job pretty well.
Springwell offers a lifetime warranty in addition to 6 month money-back guarantee while Rheem only offers up to 10 years of warranty.
2. Rheem vs Aquasana
Let's take a look at the comparison of Rheem and Aquasana: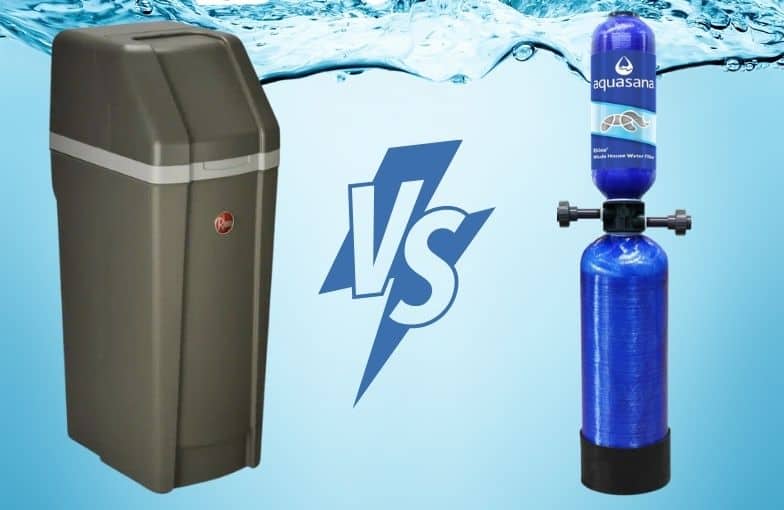 The major difference that sets them apart is that Aquasana offers salt-free alternatives while Rheem offers salt-based water softeners.
Both brands offer up to 10 years of warranty but Aquasana makes it more appealing by giving a 90-day pure satisfaction guarantee.
A big advantage of choosing Rheem water softener is that they can reduce hardness up to 140 GPG while Aqusana conditioners can reduce up to only 25 GPG.
3. Rheem vs Fleck
Let's break down the important features of both brands: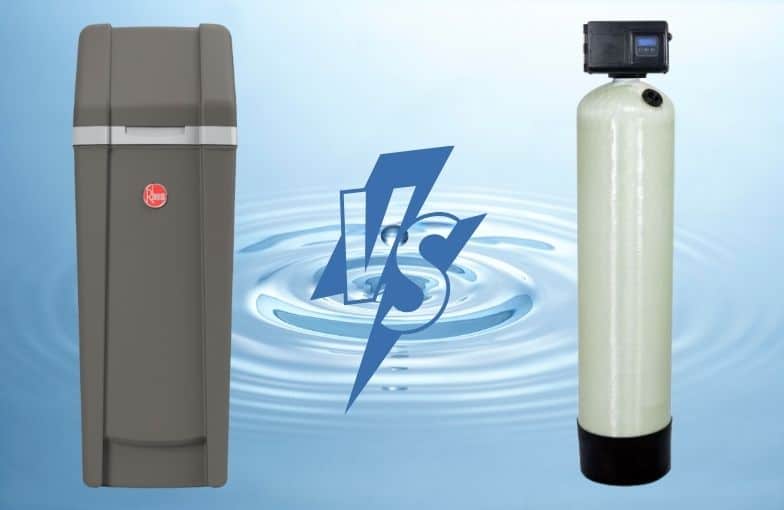 Fleck is known for its robust construction while many Rheem users think the quality of their plastic tanks should be improved.
It is worth noting that Fleck systems are way too heavy on pockets, the price range starts from $ 1K and goes up to $44K.
Fleck offers both water filters and softeners while Rheem only offers water softeners.
FAQs
Are Rheem water softeners NSF-certified?
Yes, Rheem water softeners are NSF certified as they meet all the requirements set by NSF and ANSI.
How long do Rheem water softeners last?
Rheem water softeners can last up to 10 years as claimed by the company.
What are the different types of Rheem water softeners?
The 4 different types of water softeners are currently offered by Rheem; Rheem Preferred Platinum, Preferred Plus, Preferred, and Preferred Compact.
What is the best Rheem water softener for my home?
The best Rheem water softener for your home is Preferred Platinum. It has an awesome 42,000-grain capacity and also provides a smart connectivity option.
What is the warranty on Rheem water softeners?
Rheem offers a warranty of 3 years on electronics and a 5-year extended warranty on parts. Moreover, you will also get 10 years of warranty on the tank.
What are some common problems with Rheem water softeners?
Some common problems with Rheem water softeners are their weak plastic construction and a troublesome warranty extension process.
Conclusion
The final say is that Rheem Water softener reviews prove that its products are a great pick to deal with hard water issues. Their top highlights include efficient hardness removal, flow rate, and helpful customer support.
The things that don't go in their favor are their warranty extension policy and plastic construction. Other than that, you can be assured that you have the water softener by one of the best in the business.
If you ask for my personal recommendation, I love Preferred Platinum water softener due to its effective flow rate and grain capacity. You will also get Wi-Fi support which other products lack.