The Express Water countertop 4-stage reverse osmosis filter system is an economy RO unit designed for people who want to treat water at their faucet. It is well suited for treating drinking water in your kitchen or bathroom. However, it isn't meant to be used for all of your cooking and other needs. This filter can produce a maximum of 4-gallons of purified water per hour – it took 49 seconds to fill an 8-ounce glass with water. This production rate is fine for getting a drink of water, but you might want a larger unit if you want to treat water for cooking or making coffee. I put this filter through a 9-point testing process to measure everything from how well it purifies water to how good the water tastes. Based on my evaluation, this
countertop reverse osmosis
earned 3.5 stars. Continue reading to see where I gave this unit high marks and where it came up short.
Express Water Countertop RO Filter Features and Options
The Express Water countertop 4-stage reverse osmosis filter system is an economy RO unit designed for people who want to treat water at their faucet. It is suited for treating drinking water in your kitchen or bathroom.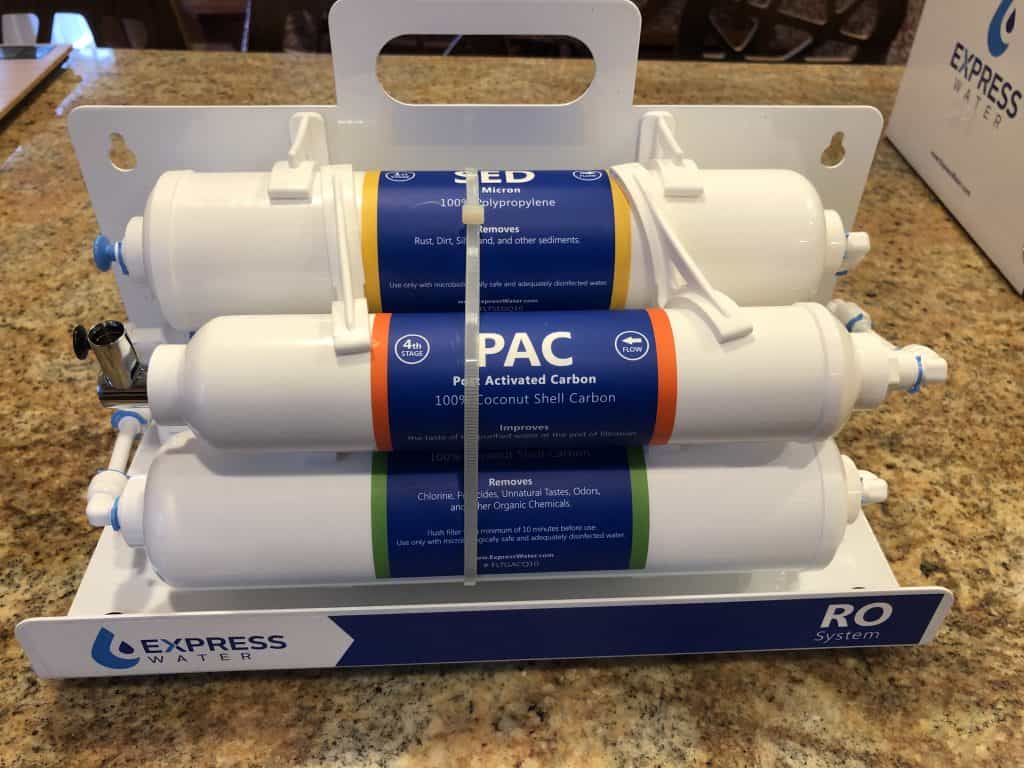 It comes with the following features and options.
Key Properties
Dimensions:  13.25″L x 6.5″W x 14 "H
Color: White
Capacity: 4 gallons per hour (.07 gallons per minute)
Treatment Methods: Sediment filter, activated carbon filter, reverse osmosis, post activated carbon filter
Warranty: 1 year (limited)
According to
Express Water
, this filter removes 99.99% of the following
contaminants
:
Chlorine
Fluoride
Arsenic
Cadmium
Chromium
Hydrocarbons
Turbidity
Hardness
Phosphate
Pyrogens
Heavy Metals
Sulfate
Rust
Sand
Dirt
Dust
Cyanide
Total Dissolved Solids (TDS)
Installation of the Express Water Countertop RO Filter
Installation steps
The Express Water RO filter is a countertop unit that has very minimal installation steps. The installation manual indicates that the filter must be placed on a level surface, such as the kitchen counter, near the sink. They recommend placing it close enough to the sink so it can remain connected to the faucet. The filter can be connected in two simple steps.

1. Connect the WHITE Tubing from the Diverter Valve Out (Point A) to the Sediment Filter's "IN" port (Point B) 2. Connect the BLACK Tubing from the Diverter Valve In (Point C) to the Union Connector (Point D)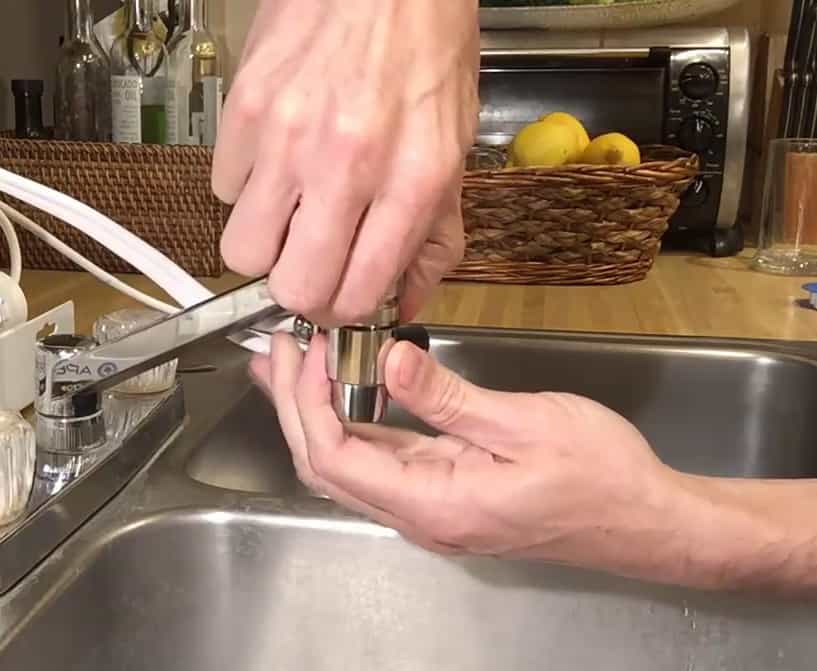 The diverter valve comes with a few adapters to allow you to hook it up to various faucets. Check the photo for what's included.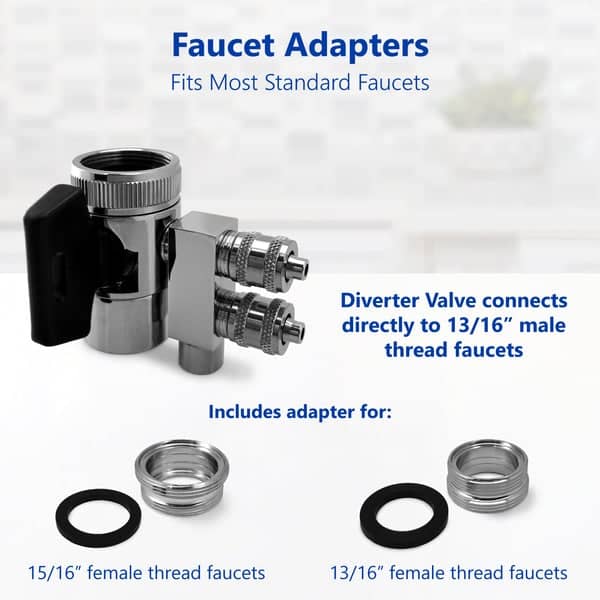 The connection and setup process took about 10 minutes. On whole, it was very simple and easy to do. No tools were required.
Supply water pressure
Make sure your incoming water pressure is between 45 PSI and 80 psi. If it's under, you'll need a booster pump on the system. If the pressure is too high, you'll have to install a pressure regulator to reduce it. Express water indicates in the installation manual that extremely hot or cold feed water will damage the system. However, they don't indicate what the maximum or minimum temperatures are. The manual also notes that "microbiologically unsafe" water requires disinfection. It's not clear what this means or what levels of pathogens they are concerned about. Regardless, most drinking water is either disinfected (municipal water supply) or periodically tested (well water), so this shouldn't be an issue.
Express Water Countertop RO Filter Options
The Express Water countertop filter is a budget product. It does a fine job producing clean and pure water for drinking, but it doesn't come with any options.
Pros and Cons of the Express Water Countertop RO Filter
I put together this quick summary of the relative pros and cons of the Express Water countertop RO system.
Unique Features of the Express Water Countertop RO Filter
The Express Water RO filter includes four modes of water treatment. These include:
Pre-treatment sediment filter. The preliminary treatment provided by the Express Water countertop unit is sediment filtration. This filter removes turbidity, suspended solids, rust, and particles before they can foul the RO membrane.
Granular activated carbon adsorption filter. Activated carbon is part of the treatment train to remove chlorine, volatile organic compounds, bad tasting chemicals, and other impurities.
Reverse osmosis filter. The primary treatment technology for the Express Water counter RO system is reverse osmosis. This is achieved in the RO cartridge which removes lead, arsenic, chromium, fluoride, radium, and other impurities.
Post-treatment activated carbon filter. To ensure that all contaminants are removed from the water, a post filter is provided. This filter has activated carbon in it to remove any residual contaminants.
The filter cartridges are connected using quick-disconnect fittings. These connectors allow you to quickly and easily replace spent filters.
Express Water RO filter – The Unboxing
The RO filter arrived in good condition because it was well-packaged. I ordered this unit from Walmart, and I wasn't sure how well the shipping would go. As you can see from the photos below, everything went well.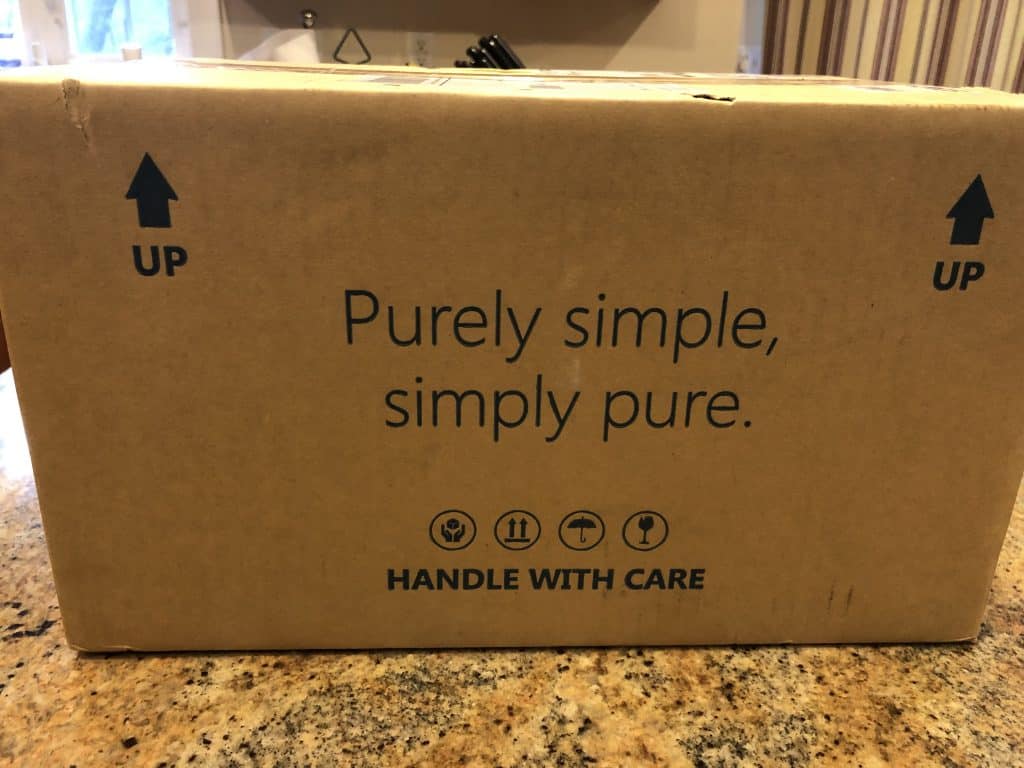 What's in the Box
The Express Water RO filter includes the filter assembly with 4 filters. It also includes a hose assembly that allows the unit to be connected directly to your faucet. The assembly comes with two adapters that allow this unit to be hooked up to most faucets.
My filter was fully assembled and in good condition when I opened the box. Nothing had come loose or broke during shipping. The system included the RO filter assembly, a hose to connect the unit to the faucet, two adapters for a variety of faucet types, and spare O-ring. It also came with an installation guide – a printed copy not a digital version!
Test Results for the Express Water 4-Stage Reverse Osmosis Filter
I tested my Express
Water reverse osmosis
countertop unit to see just how well it performs relative to some of the more expensive filters. Keep reading to see the results for the Express Water RO filter.
1 – Clean water production rate
The Express Water countertop RO filter is rated for 4 gallons per hour. You might assume this means you'll have 112 gallons of purified water per day. Unfortunately, the filter only produces water when you have the valve open, and the unit doesn't have a tank to store treated water. As a result, this filter is only going to produce water when you hold a glass under the dispenser or while you're filling a water jug. To test the filter's capacity, I timed how long it took the unit to produce 8-ounces of water. I ran this test three times to account for variations in my home's water pressure and other variables. The average time required to make 8-ounces of clean water is 48 seconds. Under normal use, I found that the volume of water my unit produced on a typical day is around 80 ounces – this is 10 cups of water. I could get more production out of the unit if I filled a jug of water, but I don't like having large containers of water sitting around my kitchen. Compared to the average production rate of countertop RO filters, this is very slow. The Express Water filter earned a 2 out of 5 in this category.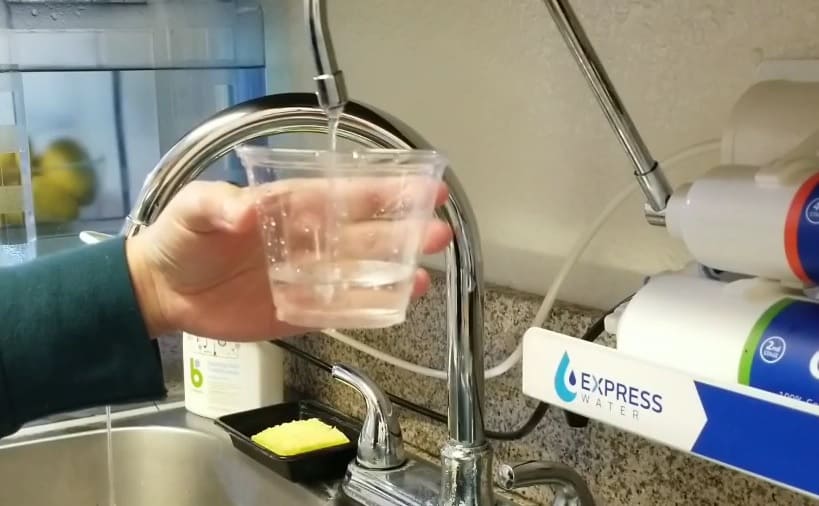 Slow treatment rate
This filter only makes water when you turn on the supply valve. As a result, you're not likely to get the full production capacity out of this unit (4 gallons per hour). I find that my filter only makes about 10 glasses a day.
2 – Water quality
A typical
reverse osmosis filter can remove 99.99% of the dissolved solids and other impurities from water
. This is especially important with contaminants like lead and PFAS that have very low limits for drinking water. The best way to evaluate how well a RO filter is performing is to measure the Total Dissolved Solids (TDS) in the treated water. I have a high-quality digital TDS meter that I use to test RO filters. For this test, I allowed the filter to run for 30 seconds and then I collected a sample of the treated water. I measured the TDS in the sample and repeated this for a total of 5 measurements. The average TDS value of treated water from my Express Water RO filter was 16 parts per million (ppm). The TDS concentration in my untreated tap water was 556 ppm. The removal efficiency of my filter is 97.1%.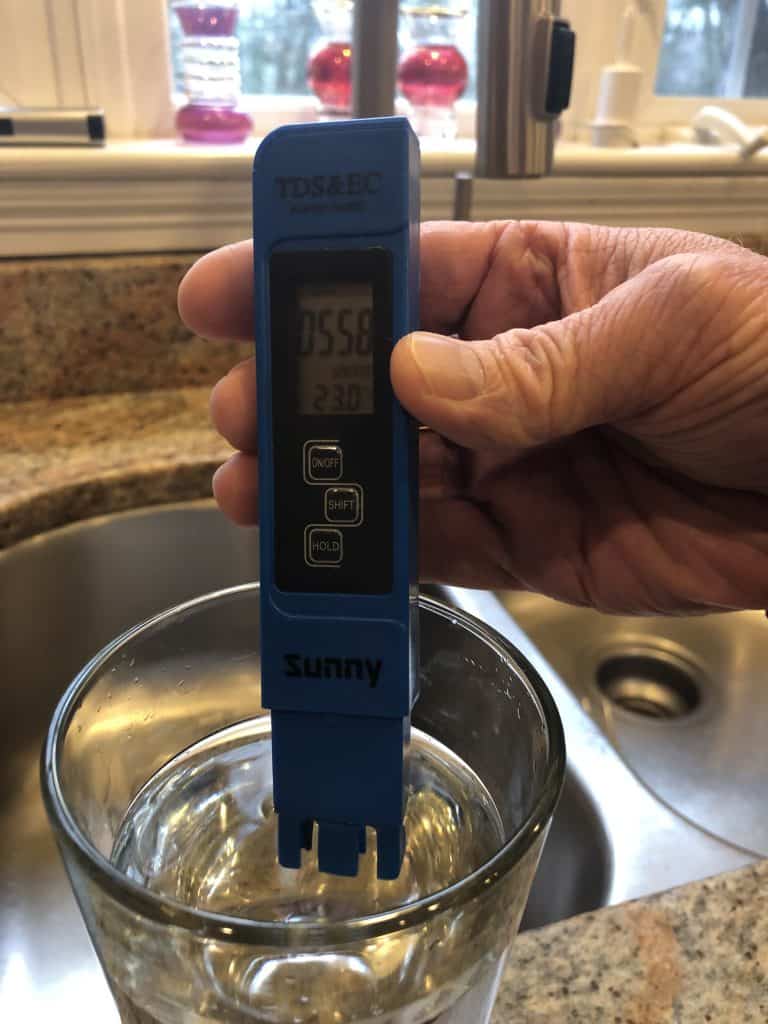 97.1% Removal Efficiency
In my water quality test, the Express Water countertop RO filter removed 96.1% of the dissolved solids from my tap water. This is an acceptable value, but not as high as I had hoped. I awarded the filter a 3 out of 5 in this test.
3 – Volume of water wasted
I measured the volume of water that is wasted during water filtration by collecting all of the rejected water while the filter was treating tap water.  I produced 1 gallon of filtered water and collected the waste water. During this test, the filter rejected 3.2 gallons of water while it made 1 gallon of clean water. This is a reject ratio of 3.2:1. The water reject ratio for RO filters varies from 2:1 to as high as 4:2:1. The Express Water RO filter performed about average in this category. I awarded this filter a score of 3 out of 5.
4 – Taste and odor
Two very important qualities of drinking water are taste and odor. We all want to drink water that tastes good. And no one wants any foul odors coming from their drinking water. I asked five people to taste the treated
water from the Express Water RO filter and complete
a brief survey. To prepare the water samples, I filtered about 1 gallon of water and refrigerated it in a covered pitcher. Each person was served the water in a clean glass and asked to sample it. They were asked 5 questions.
How would you describe the taste (excellent, good, no taste, bad, other)?
Does the water have any flavors?
Does the water have an aftertaste?
Smell the water sample and describe the odor.
Describe the appearance of the water.
I collected the survey results and compared them to other surveys I've done for other RO filters. The Express Water RO treated water performed very well. Every participant rated the taste as excellent or good. No one noted any bad flavors, aftertaste, or odors. I awarded this filter a 5 out of 5 in the taste and odor category.
5 – Warranty
Express Water offers a limited 1-year warranty for their countertop reverse osmosis filter. The Express Water warranty covers any defects in the parts or manufacturing of the product. They agree to provide new replacement parts in exchange for the defective parts. The warranty doesn't apply to consumable items like filters or membranes. You must have a copy of your purchase confirmation email or receipt to get support – without out, you're on your own. They don't cover shipping the defective parts to them or shipping the replacement parts to you. This can be expensive – and annoying – since the reason you're returning the parts is because of their poor workmanship. This is not a good warranty, but it's typical for low-cost filters like this. The Express Water filter received a 3 out of 5 in this category.
6 – Noise
The Express Water RO filter has no moving parts. It is "powered" by the pressure in your water supply. I used a noise meter app on my iPhone to measure the sound in decibels. The maximum sound levels were only 2 db above background readings. This is a very quiet filter. I give this filter a 5 out of 5 for noise.
7 – Workmanship
I thoroughly inspected the Express
Water filter system
when I received it to see how well it's made. I evaluated three factors to assess the quality of its construction:
Tube diameter. Large diameter tubes allow more water to pass through the filter. They're also less likely to foul over time if you have scaling or mineral deposition.
Material of construction for tube connectors. Plastic fittings break when connected and disconnected multiple times. Metal connectors hold up better, even if they're abused.
Gauge of metal frame and housing. Heavy gauge metal is more rugged and less likely to bend or become dented over time.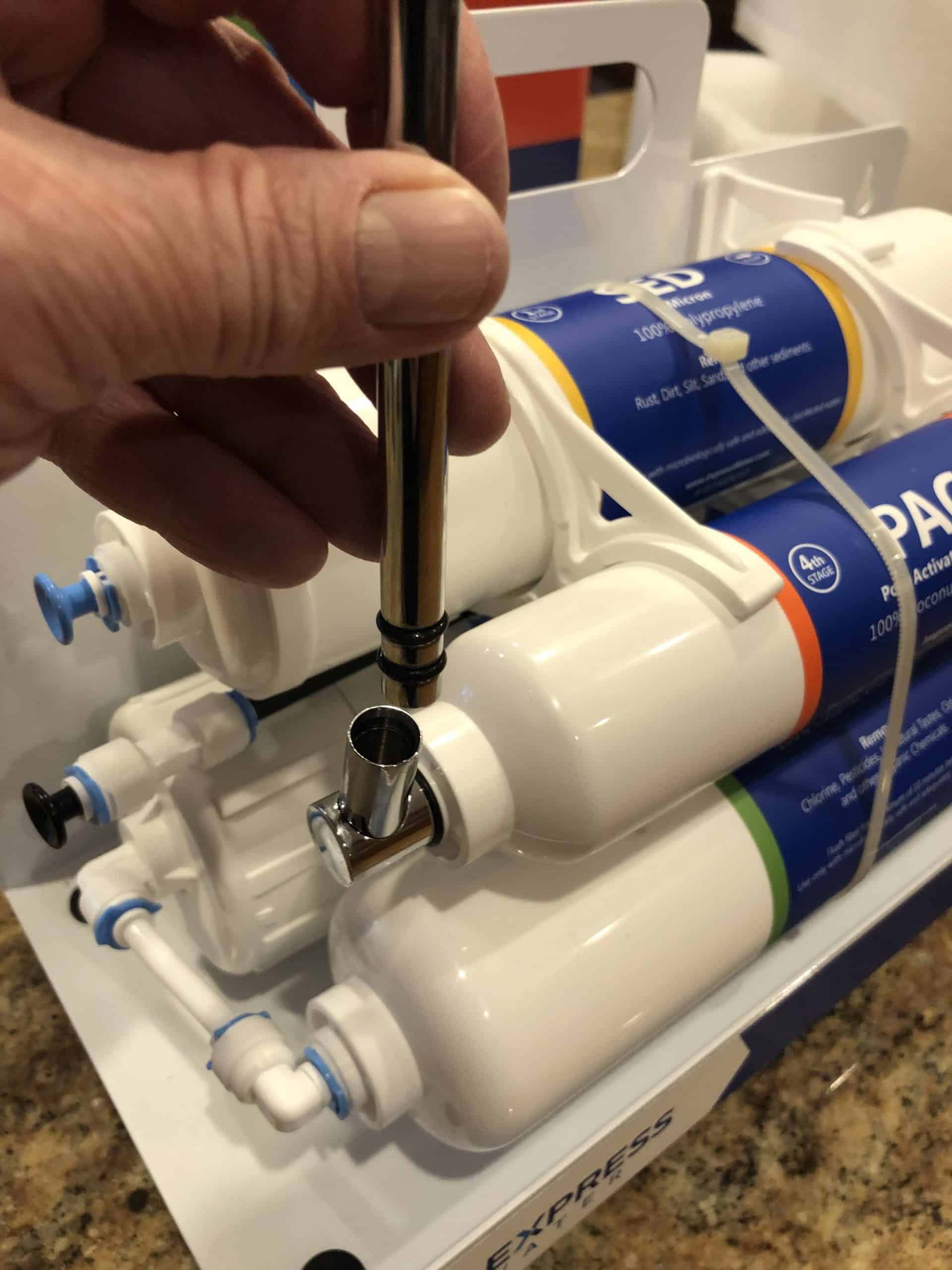 The Express Water RO system is made of 1/4″ tubing which is the smallest size you can use for a filter of this size. The tubes are connected to the filters with plastic quick-disconnect fittings.  These are the least desirable connectors because the plastic will break after multiple uses. The metal frame is 28 gauge epoxy coated steel (0.0149 inches thick). This is adequate for a filter like this, but other countertop units are constructed of 24 gauge steel which is 0.0239inches thick. The Express Water RO filter earned a 2 out of 5 for workmanship.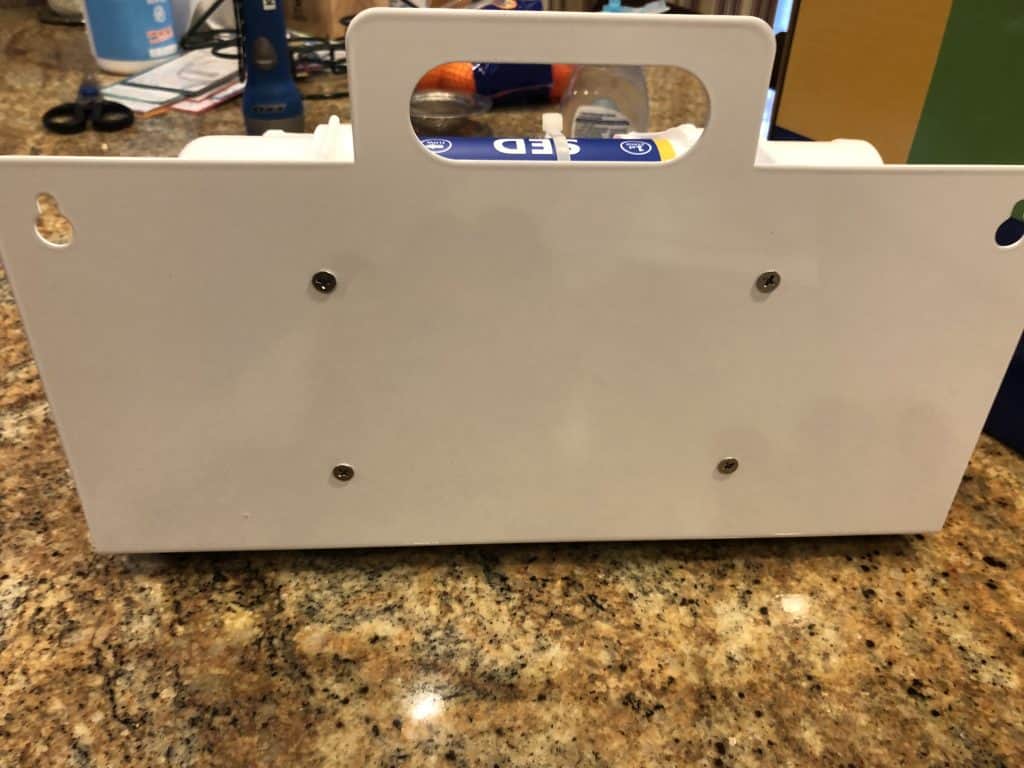 8 – Price
I purchased the Express Water Countertop RO filter from Amazon for $149.99. This is one of the lowest priced countertop filters I've seen. I awarded it a 5 out of 5 for price.
9 – Installation
The Express Water unit was very simple and easy to install. It required no tools – everything was pre-assembled; connecting the hose assembly to my faucet required no tools. It earned a 5 out of 5 for its ease of installation.
My Rating of the Express Water Countertop Reverse Osmosis Filter
The Express Water countertop RO filter system is a budget appliance that delivers value. It is a barebones system with no options, and it has a limited water treatment production rate. It was able to treat my tap water to acceptable levels (96.1% contaminant removal) in testing I conducted. For the price, this is a good value
reverse osmosis
filter system. Overall, it earns a score of 33 out of 45. Here is the breakdown.
| | | |
| --- | --- | --- |
| Criteria | Score | Significance |
| Clean water production rate | 2 | Low. Took 48 seconds to produce 8 oz. water. |
| Water quality | 3 | Good. TDS removal efficiency was 96.1%. |
| Volume of water wasted | 3 | Good. Waste volume ratio is 3.2:1. |
| Taste and odor | 5 | Excellent. Water had no taste or odor. |
| Warranty | 3 | Good. 1 year warranty, with limitations. |
| Noise | 5 | Very little noise once water is flowing. |
| Workmanship | 2 | Fair. Small tubes with plastic fittings. |
| Price | 5 | Low price within countertop filter category. |
| Installation | 5 | Very easy and quick. No tools required. |
| Total Score | 33 | This budget filter provides good value for the price. |
Using the Express Water Countertop RO Filter
This reverse osmosis filtration system is fairly simple to operate and maintain. A diverter valve on the hose assembly allows you to control the flow of water so that it either bypasses the filter or passes through it for treatment.
Using the vales on the Express Water countertop RO filter
The Express Water RO filter has a hose assembly and diverter valve that allows you to operate the filter. There are two modes of operation:
Bypass mode:
If you don't need purified water, you can set the diverter valve to bypass the RO filter. This will save your cartridge life by allowing you to use untreated water for dish washing and other purposes.

Filtration mode:
When you want clean, pure water to drink, set the diverter valve to the position shown in the photograph. This will route the water through the RO filter for treatment.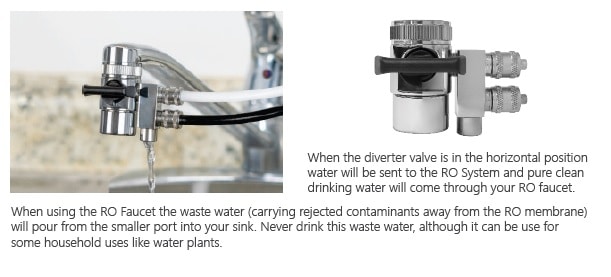 Maintenance requirement for the Express Water countertop RO filter
The Express Water RO system requires routine maintenance to keep it operating in peak condition. The most important thing to do is change the filters.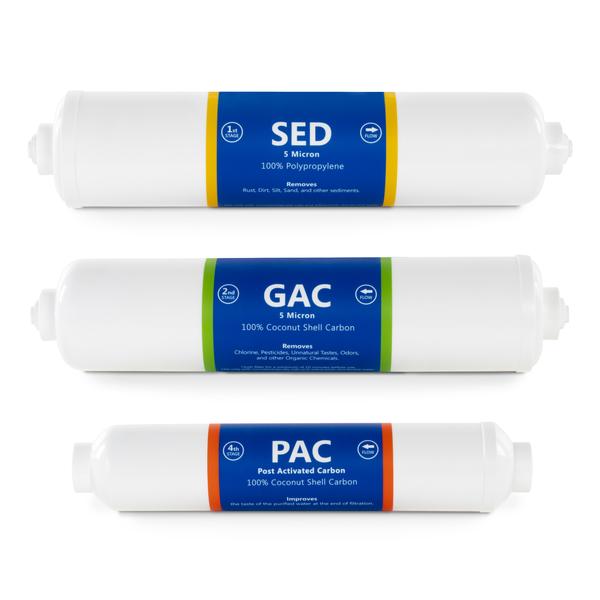 Here is the recommended filter changeout schedule for the
reverse osmosis
system.
Sediment filter: replace every 6 months.
Activated carbon filter: replace every 6 months.
Reverse osmosis membrane: replace every 12 months.
Post activated carbon filter: replace every 6 months.
If you use your filter a lot or if your water is very hard, you should replace all of the filters more frequently. The best way to tell if your filter needs servicing is to test the water quality routinely. Read my article on the
importance of routine maintenance for your RO filter
.
Final Thoughts on the Express Water Countertop Reverse Osmosis Filter
The Express Water countertop reverse osmosis filter is the answer to your point-of-use water treatment problems! This filter system can remove contaminants like lead, arsenic, PFAS, and VOCs from your drinking water. It can produce an 8-ounce cup of water in less than a minute – not fast, but fast enough. If you're on a tight budget but looking for a high-quality
reverse osmosis
filter, I suggest you take a look at this unit. It's a barebones system that can effectively treat your water, and it doesn't cost a lot. It's definitely worth considering.