Are you looking for the Aquasure water softener reviews? If so, you are in the right place! Choosing a reliable water softener can be a difficult task. But don't worry, I will help you decide whether Aqusure softeners are a worthy investment or not. Without further ado, let's get started!
Quick Answer
Aquasure has been in the water softener business for more than 25 years, demonstrating its expertise in this field. To understand what you have to face when buying their water softeners, I suggest you familiarize yourself with a quick highlight:
| | |
| --- | --- |
| | |
| Easy to install and maintain | |
| | |
| | |
| | |
| | |
Continue reading to learn more about the Aquasure water softener reviews of 4 best products, how the Aquasure softeners differ from other water softener brands, and important considerations before buying. Let's dive deeper into the details!
Aquasure Water Softener Reviews: Comparison Table of 4 Top Models
Let's take a quick look at some of the important features of the Aquasure Harmony Series:
| | | | | | |
| --- | --- | --- | --- | --- | --- |
| | | | | | |
| | | | | | |
| | | | | | |
| | | | | | |
| | | | | | |
Best Overall: Harmony Series 64,000
Let's uncover the pros and cons of this unit to understand why it is a top choice:
Harmony Series 64,000
Pros
It can effectively remove 99.99% of harmful microorganisms from water.
It comes with pre-assembled parts making it easy to install.
Users can benefit from lifetime free Swift customer support.
Provides an abundance of water as its flow rate is 20 GPM.
Cons
Some customers do not like its big size.
This salt-based softener is a masterpiece that provides unmatched performance. With its 64,000 grain capacity, it is one of the perfect whole-house water softener systems that can accommodate up to 6 bathrooms. This unit features an advanced digital control system that helps effectively in precise backwashing, saving your resources and time.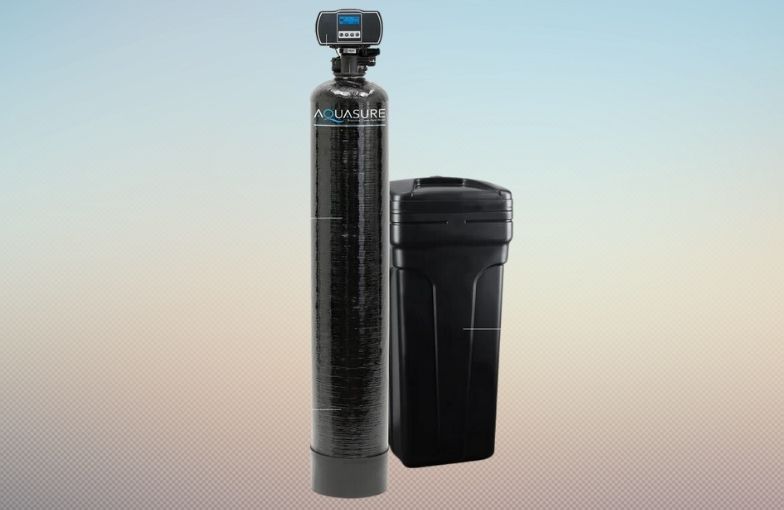 Features
Listed below are the remarkable features of Harmony 64,000:
The built-in digital flow meter can be fully customized as per your requirements.
It offers a massive capacity of 64,000 grains.
Built with corrosion-resistant and highly durable materials.
Specs
Let's take a look at the specs, this amazing product has to offer:
Recommendation: If you are looking for a high-performance water softener system that can easily serve up to 7 people, then this product is your best bet. It can easily eliminate iron, calcium, scale buildups, and stains from dishes and clothes. Just keep in mind that Harmony 64,000 is a bulky unit with a height of 5 feet.
Best For Mid-Sized Families: Harmony Series 48,000
Let's see the perks and downsides of this 48,000 grains water softener:
Harmony Series 48,000
Pros
Comes with cation resin media that offers a better flow rate of 15 GPM.
48,000 grains capacity ensures hard minerals are quickly removed from the water.
Offers 5 years of extended professional warrant upon product registration in addition to lifetime tech support.
Cons
It lacks a battery backup to preserve system settings.
The Harmony 48,000 features a strong build, and larger brine and resin tanks, and is ideal for a household of up to 5 people. The added smart display helps to keep tabs on regeneration time and water usage. Its ability to tackle magnesium and calcium makes it a favorite pick of many users. Lastly, the 5-year long warranty ensures that your investment is safe.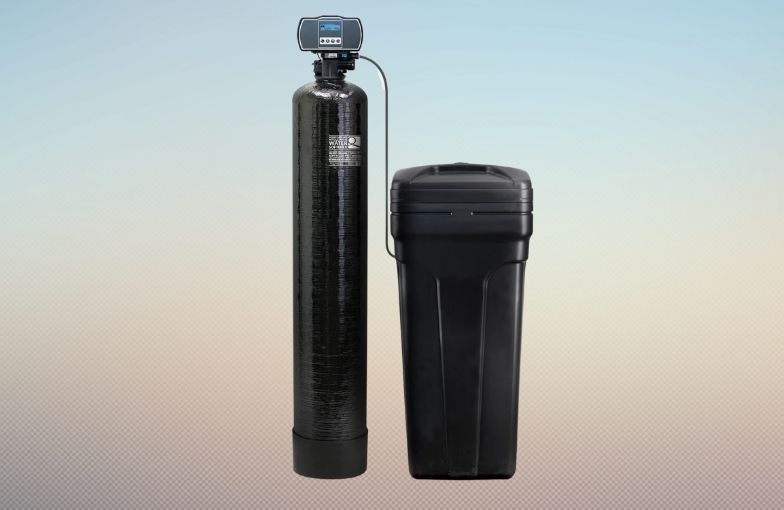 Features
Here are the features of this water softener:
The pre-programmed system has the ability to auto-regenerate without the need for manual operation.
Uses an ion exchange process to effectively remove calcium and magnesium from hard water.
Effectively reduces scale buildup which helps in increasing the lifespan of appliances.
Specs
Listed below are the specs of this unit:
Recommendation: The 48,000 Harmony series is ideal for mid-sized families who want to get rid of hard water quickly. The amazing flow rate of 15 Gpm ensures you get an ample water supply without any hassle. The only downside is that it can not preserve system settings if the power is cut off.
Best For 3-Stage Softening: Harmony 34,000 Lite
Before we dive deep into this product, let's take a look at the advantages and disadvantages:
Harmony Series 34,000 Lite
Pros
Equipped with a multi-purpose pre-filter that removes VOC, odors, and taste from water.
It comes in a compact size, making it suitable for those having placement issues.
Offers a swift flow rate of 12 GPM.
Cons
Connectors quality could be improved.
34,000 Lite is a compact design salt-based water softener that is ideal for small families. This Aquasure water softener has a capacity of 34,000 grains that can provide softened water effectively in 3 bathrooms. The digital control head provides maximum efficiency by allowing efficient backwashing. The space-saving design makes it suitable for those having limited space.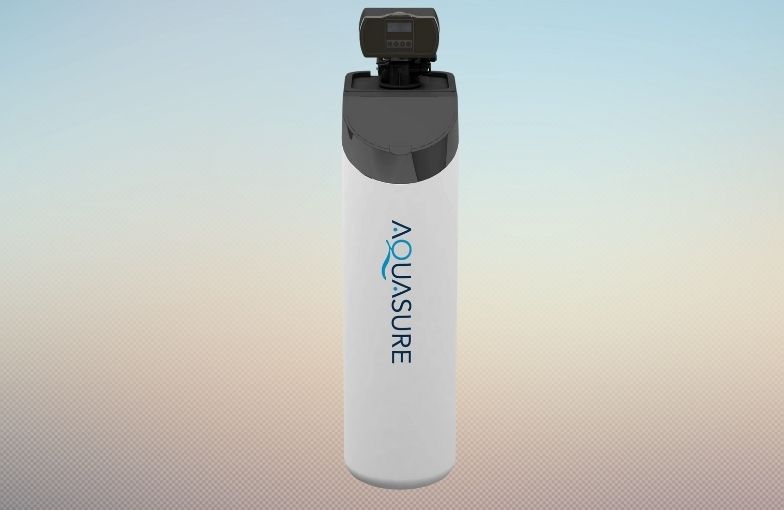 Features
Listed below are the features of Aquasure Harmony Lite:
Offers dual variants, fine mesh, and standard resin. The fine mesh can reduce up to 10 ppm of iron.
It boasts an Advanced digital control head to stop the overflow in the salt tank.
Equipped with a bypass valve for hassle-free maintenance.
Specs
The following are the specs of this unit:
| | |
| --- | --- |
| | |
| | |
| | |
| | |
| | 43" H x 10.5" W x 18.5" D (Height is inclusive of digital control valve head) |
| | |
Recommendation: It is ideal for a family of 4. With its 3-stage filter, it can remove, odor, and other VOC. In addition to that this water softener is recommended for those having high iron content in water as it can reduce it up to 10 ppm. However, keep in mind that the connector's quality is average which can lead to leaks.
Best For Budget: Harmony Series 32,000
Let's go through some of the positives and negatives of this water softener:
Harmony Series 32,000
Pros
Compared to other models, this unit is quite cheap.
The rugged polyethylene brine tank is known for its durability.
An ideal choice for small households with a 32,000-grain capacity that can deliver 800 gallons of water.
Cons
Few users reported brine hose leakage.
The Harmony 32,000 series is included in the list of best budget-friendly softeners. It can easily serve up to 3 people. The best thing about it is that it comes with preassembled parts that ensure hassle-free installation. You can easily rely on it for the removal of magnesium and calcium from the water.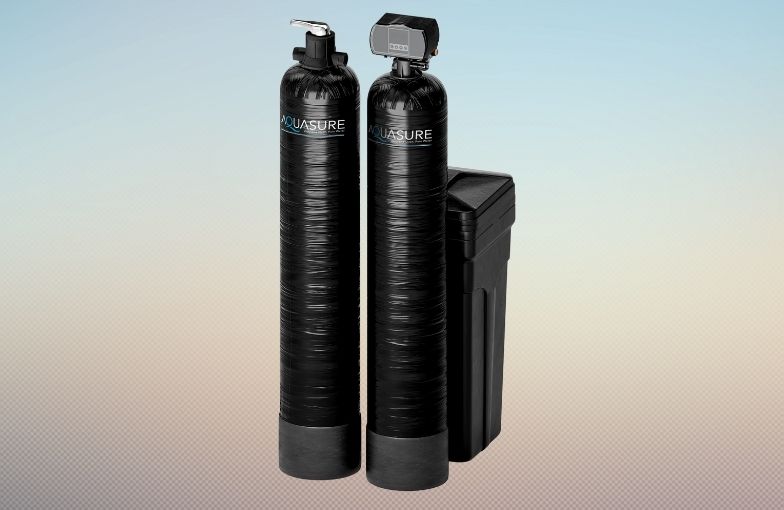 Features
Let's take a look at some remarkable features of this product:
Offers a consistent flow rate of 9 GPM.
The salt storage tank is designed with a large opening for effortless refilling.
With proper regeneration, the resin will last up to 15 years.
Specs
Listed below are the specs of Harmony 32,000:
Recommendation: This water softener is perfect if you want to save space and money as well. It is best for people who prefer a hassle-free setup. It's built to last but remember to tighten all the connectors to prevent any leaks.
Ease of Installation and Maintenance of Aquasure Water Softeners
Installing Aquauasure water systems is quite easy, and one with no plumbing skills can do that all alone. When you purchase any softener it comes with:
All the necessary tools;
Connectors;
A user manual with clear and step-by-step instructions.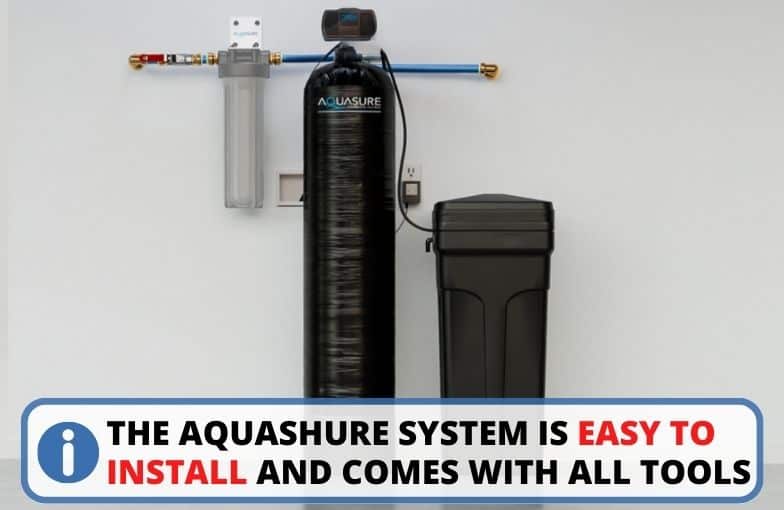 Additionally, Aquasure products are built with highly durable materials so you don't have to worry about maintenance. Just keep tabs on the salt level in your softener system to avoid any troubles. Rest assured you don't have to worry about any leaks or malfunctioning.
Is the Aquasure Water Softener Digital Console User-Friendly?
The Aquasure digital console is quite simple and easy to use. On this panel, users can select various options and settings, including:
Regeneration Schedule: You can program when the water softener should regenerate to ensure a continuous supply of soft water or it can also be set to regenerate automatically.
Water Flow Rates: It can help to keep tabs and control water flow rates to ensure efficient water softening.
System Status: You can check the system status, error messages, and water usage data.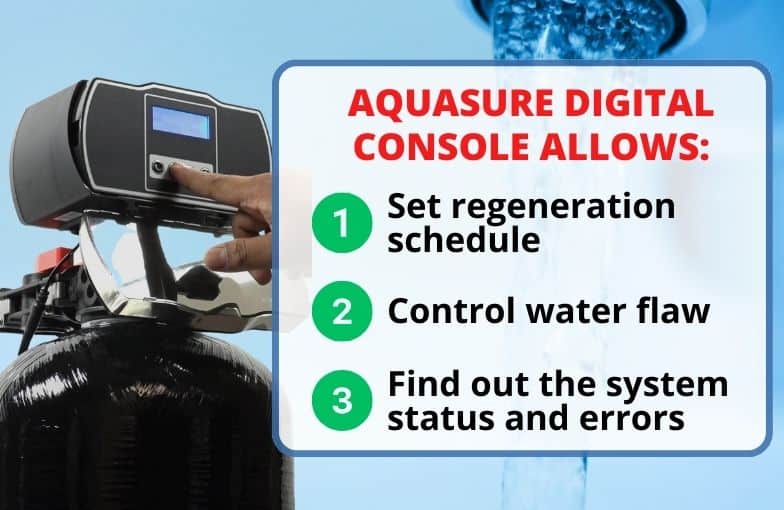 What Is Aquasure Water Softener Grain Removal Capacity?
The Grain capacity of the Aquasure water softener is the number of grains that the device can remove in one regeneration cycle. As discussed earlier it is important to calculate which grain capacity is best suited for you.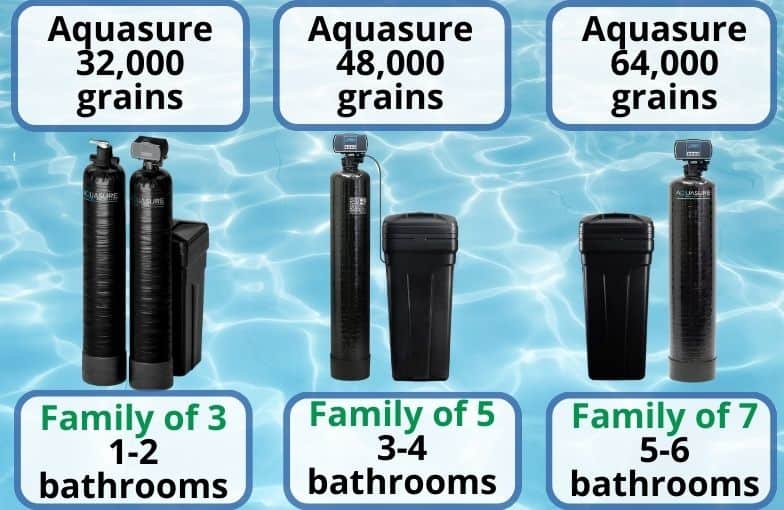 Now let's take a look at which grain capacity does Aquasure Harmony series offers:
For a household of up to 3 people and 1-2 bathrooms, Aquasure 32000 Grain Water Softener can provide an ample water supply.
An ideal size for the majority of families of up to 5 people using 3 to 4 bathrooms, a 48,000-grain water softener is highly recommended.
For bigger households, one should go for Aquasure 64,000 grains capacity water softener as it can accommodate up to 7 people and 5-6 bathrooms.
How Effective Water Hardness is Removed During Using Aquasure Systems?
The Aquasure system removes water hardness very effectively:
They use an ion exchange method to remove hardness from water and provide scale-free water.
In this process, calcium and magnesium are removed with the help of sodium ions that are present in the resin tank.
The hard minerals get extracted and later on, completely removed from the brine tank during regeneration.
What is the Flow Rate of the Harmony Series?
The flow rate of the Harmony water softeners is defined as the amount of soft water processed by a unit in a minute. It is measured in Gallons per minute. The flow rate of the softener is directly proportional to the grain capacity, the higher the grain capacity the better flow rate you will get.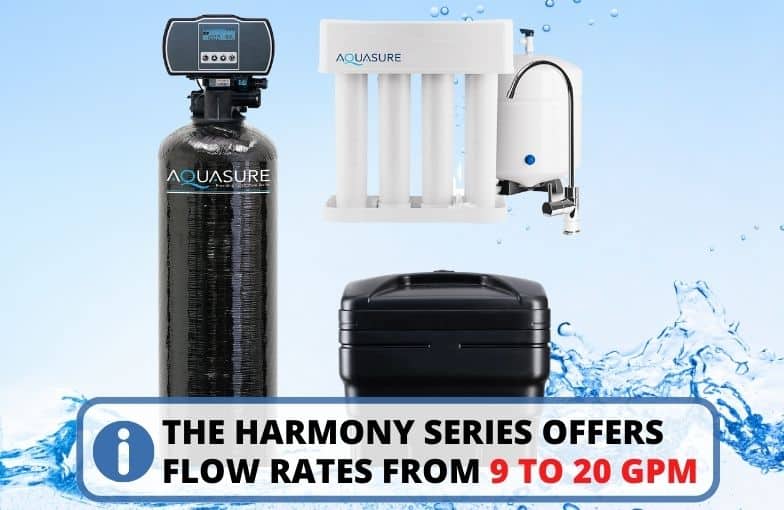 Harmony series offers a Flow rate of 9 GPM to 20 GPM depending upon the model of the water softener.
Customer Support and Warranty
Customer support of Aquasure is loved by its consumers. They offer swift customer support and the staff is very cooperative. Here's what makes their support unique:
Installation Assistance: Aquasure provides installation assistance to ensure users can set up their water softeners without any third-party help.
Warranty Support: The brand stands by its products with 5-year warranty coverage and helps users with any warranty-related issues.
Troubleshooting: The support team assists users in diagnosing and troubleshooting common issues, ensuring optimal system performance.
In addition, you get a lifetime of tech support if you buy any Aquasure product.
How Does Aquasure Compare with Competitors?
To understand how Aquasure compares with competitors, let's take a quick look at the comparison table:
| | | | |
| --- | --- | --- | --- |
| | | | |
| | Salt-based water softener | | |
| | | | Lifetime + 6 months money back guarantee |
| | | | Up to 10 years + 90 days pure satisfaction guarantee |
| | | | Limited lifetime warranty |
1. Aquasure vs Springwell
Springwell has a solid reputation in this industry. Let's see how it compares with Aquasure:
Springwell offers lifetime warranties and 6-month money-back guarantees.
Aquasure is known for affordability and efficiency but offers a 5-year warranty.
Both provide salt-based water softeners.
Aquasure removes up to 99.99% of hard minerals, while Springwell achieves up to 99.6%.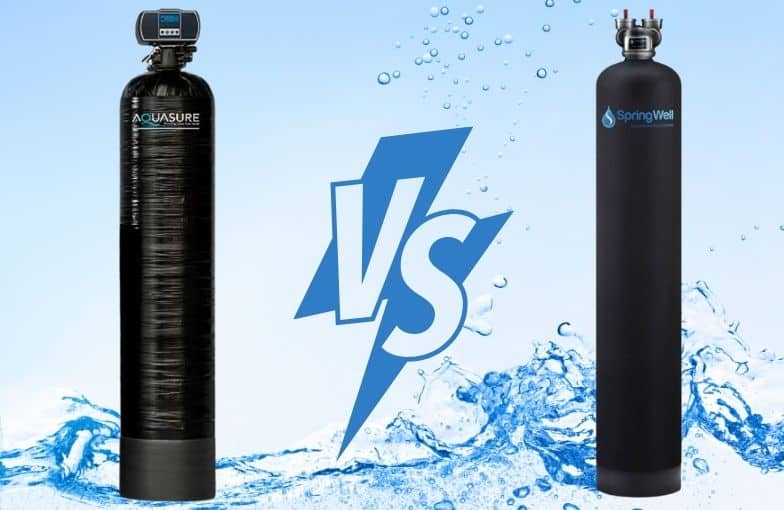 2. Aquasure vs Aquasana
The following list explains how both water softener brands compare with each other:
Aquasana specializes in salt-free water softeners, while Aquasure excels in salt-based ones.
Aquasana products are 99.6% efficient and offer a 90-day satisfaction guarantee and up to 10 years of warranty.
Aquasure is more affordable than its competitors.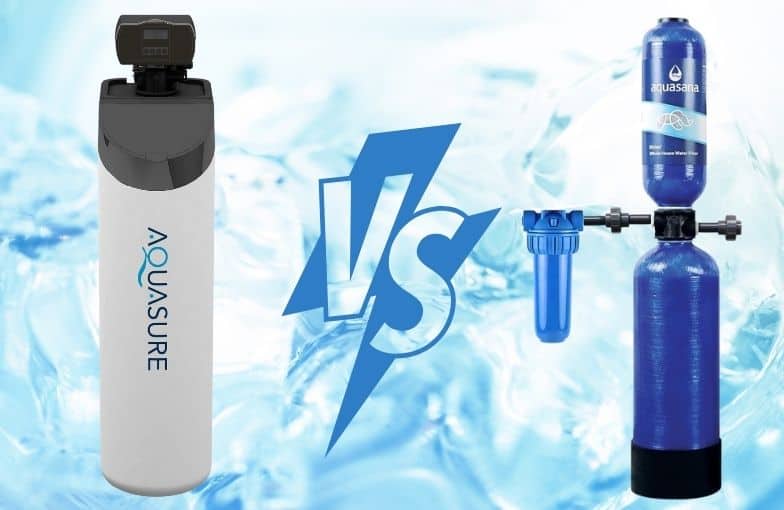 3. Aquasure vs Pelican
Pelican focuses on whole-house solutions, while Aquasure suits small to medium households. The following are the important highlights:
Pelican offers robust built-in filtration but is pricier.
Both provide salt-free systems with 99.6% mineral removal.
Pelican offers a limited lifetime warranty.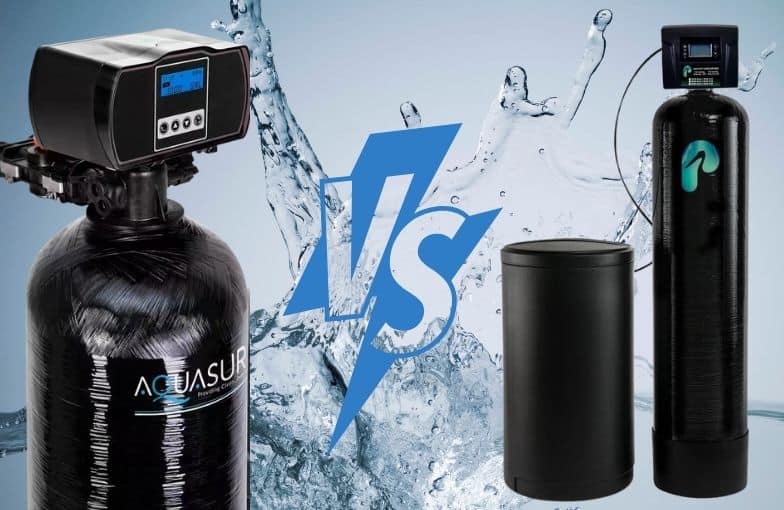 5 Important Factors to Consider Before Investing in Aquasure Water Softeners
To find a suitable water softener for your home, it is essential to have a basic understanding of the following factors :
Grain Capacity;
Resin Beads;
Footprint;
Programmability;
Reliability.
Let's discuss these factors in detail, and find the perfect fit for your needs!
1. Grain Capacity
It is referred to as the ability of water softeners to remove the mineral buildup from hard water and provide soft water before the regeneration. Ideally, the capacity of a water softener depends upon the number of persons living in a house and the water's hardness.
On average a single person consumes around 75 gallons of water daily. Based on these factors it is recommended to get your hands on a softener with at least 16,000 grains capacity.
Important Note: Keep in mind that it's a good practice to keep an extra 25% of reserve capacity.
2. Resin Beads
Resin beads are present in the resin tank to effectively remove the harness minerals. There are 2 common types of these beads:
Cation Resin;
Cross-link Resin.
Cation is the industry standard bead that uses 8% of resins, on the contrary, its counter uses 10% of beads. It is worth mentioning here that the usual water softeners can only refine water up to 2ppm of iron while the specific models that use cross-link can go higher up to 10ppm.
Note: An important tip is that you can use an iron pre-filter with cation to increase its lifespan.
3. Footprint
Another important thing that you might be wondering that what is the ideal location to install water softeners. First thing first, make sure that there is adequate space for your system and is near the main water supply, a power outlet, and a waste drain. While installing you must ensure to avoid the following things:
Your system is not placed under direct sunlight.
The maximum pressure for the main water supply must be less than 125 PSI. If it's more than that use a pressure reduction valve.
Here is a useful video of the detailed installation process with useful tips.
4. Regeneration Cycle
It is the process in which ions are recharged and softener tanks get cleaned so they can effectively continue their operation. So it is essential that water softeners get regenerated frequently.
The frequency of regeneration depends upon:
Water usage;
Hardness;
Size of the tank.
Aquasure water softeners are equipped with the most advanced console which can also be customized. By default their water softener automatically regenerates at 2 a.m. and doesn't waste salt, unlike conventional water softener.
5. Reliability
You must ensure that the water softener is constructed with durable material and is equipped with safety features like a bypass valve, safety float, and leak detectors. These small features can make your life easier by eliminating the concerns about leakage and overflow.
Now that we have covered the crucial factors in choosing a water softener, Let's return to the main topic and learn how to install Aquasure water softeners.
FAQs
What is the best Aquasure water softener for my home?
The best Aquasure water softener for your home depends on the size of your family and the hardness of the water. Harmony 48,000 is the ideal size for a family of 5 while 64,000 can accommodate up to 7 people.
What is the warranty on an Aquasure water softener?
Aquasure water Softener comes with a 5-year warranty. If you register your product either by mailing the registration card or registering it online within the first 8 weeks of purchase. Otherwise, you will get only 1 one-year warranty.
What are some common problems with Aquasure water softeners?
Some common problems with Aquaure water softeners are the formation of salt bridges in brine tanks, clogging of pipes due to residue left behind, and failure of overflow control systems.
Does Aquasure use Fleck?
Yes, Aquasure uses a fleck valve. It helps in the reduction of wastewater and also using appropriate amounts of salt.
Does Aquasure water softener use salt?
Yes, Aquasure water softeners are salt-based softeners. They use an ion exchange method in which sodium and potassium chloride remove the hardness of water.
Conclusion
Let's revise! The Aquasure water softener reviews prove that they are totally worth it if you want an easy solution to deal with hard water. The greatest advantages are effectiveness, ease of maintenance, exceptional grain capacity, and flow rate.
To soften the water the Aqusure devices use ion exchange to effectively remove calcium and magnesium, providing spot-free water. They compete well with other water softener manufacturers such as Springwell, Aquasana, and Pelikan.
Moreover, their products have exceptional warranty and customer support. So, it is safe to say that your investment is safe with Aquasure. Among the Aquasure salt-based water softeners, I personally like Harmony Series 64,000 for its whopping grain capacity, digital flow meter, and preassembled parts for swift installation.
Aquasure 64,000 Grain Water Softener
Aquasure 64000 Grain Water Softener features 64, 000 grains capacity that can tackle even the hardest water with ease. It is known as an ideal house water softener that is enough to serve up to 6 people. It has an amazing flow rate of 20 GPM.