Are you concerned about PFAS in your drinking water?
You can now test for 14 different PFAS compounds with the SimpleLab at-home kit. It's easy to use and includes everything you need. They provide a comprehensive report that will help you understand what your results mean along with suggestions for addressing your concerns. The price is very reasonable too!
The SimpleLab PFAS Water Test kit allows you to take control of your health by knowing exactly what chemicals are in your drinking water. Continue reading to learn more about this testing service and decide if it's right for you.
Want to learn about other PFAS drinking water tests? Read my Complete Guide.
SimpleLab PFAS Drinking Water Test Kit
I ordered the PFAS water test kit from SimpleLab to see if my city water was contaminated. This test looks for 14 PFAS compounds, including PFOA and PFOS. The laboratory analyzes the sample using EPA Method 537.1 which was developed specifically for drinking water.
SimpleLab PFAS test kit
I have public water in my town. The municipal water plant sampled the water in January of 2021 and found low levels of PFAS in the water – 18 parts per trillion.
Based on these results, I wanted to know how much PFAS was in my home's drinking water.
I ordered the SimpleLab PFAS Water Test, and the sample kit arrived three days later. They shipped everything I needed to collect a sample from my tap. The package included:
2 plastic vials
Rubber gloves for collecting sample
Strofoam cooler
Plastic ziploc bag for ice
Sampling Guide
Instructions
Chain-of-custody form
Pre-paid return shipping label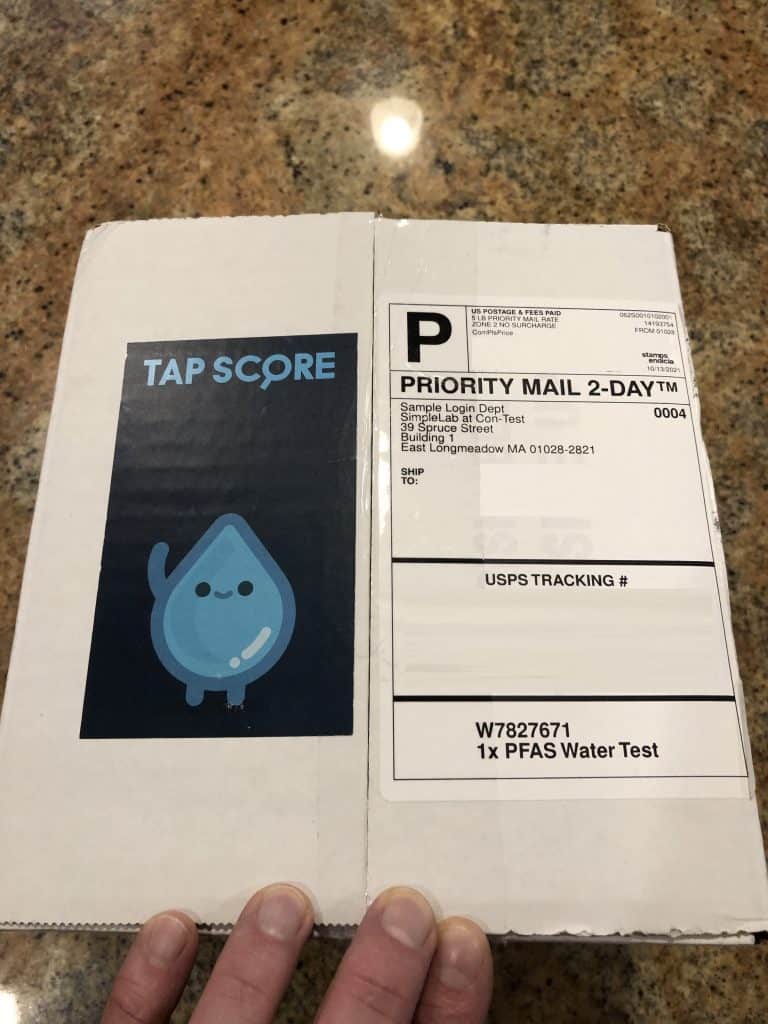 As you can see in the photos below, the SimpleLab sampling kit is complete and well designed. They delivered everything in an efficiently packed box that I then used to ship the sample back to the lab for analysis. This, along with the pre-paid return shipping label, made the entire process very convenient.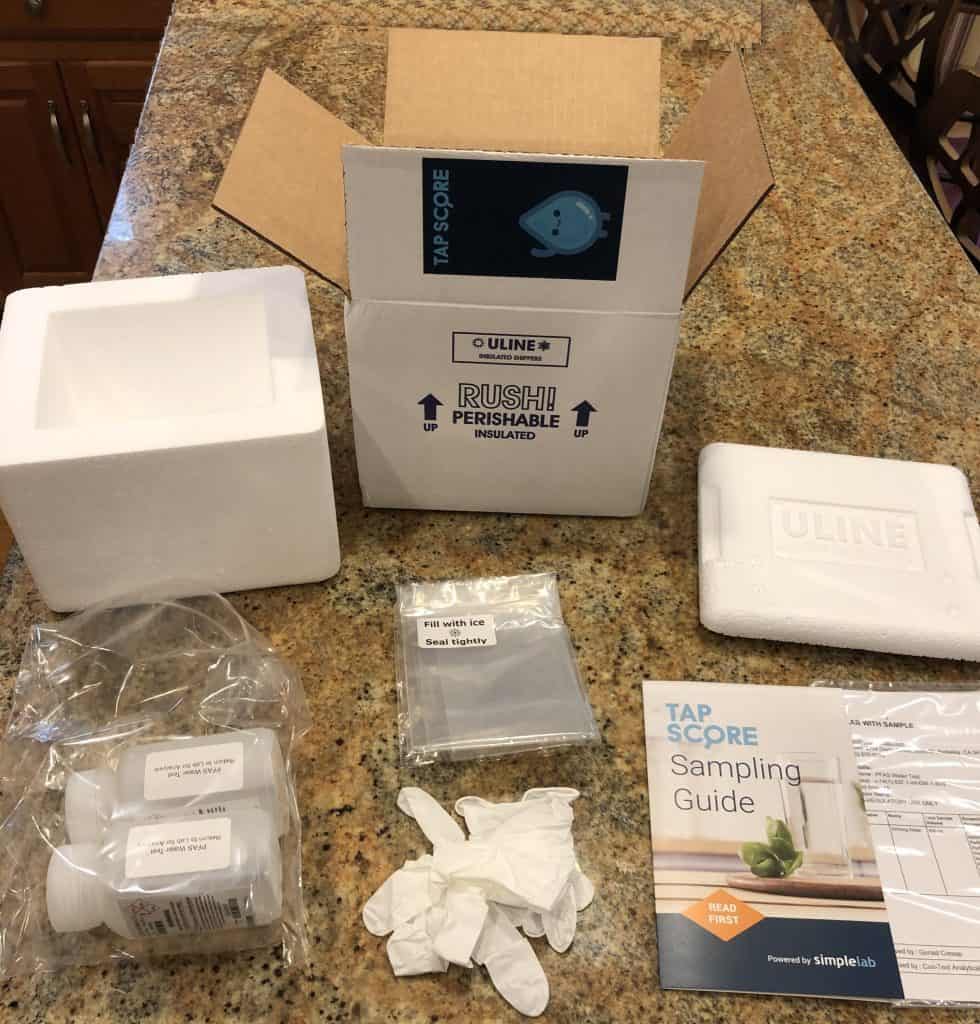 Sample collection
The test kit came with detailed instructions explaining how to collect the water sample. Sample collection is very simple. It essentially involves:
purge the faucet for 5 minutes prior to collecting the sample
wash your hands and put on the latex gloves
fill the two sample vials with tap water and secure the lids
place the samples and the chain-of-custody in the cooler
place ice in the cooler
secure the cooler in the box
ship the sample to SimpleTest
SimpleLab included a completed chain-of-custody form for my sample. This is the document the laboratory uses to ensure the sample was handled properly from the point of collection all the way through the shipping process until it arrives at the laboratory.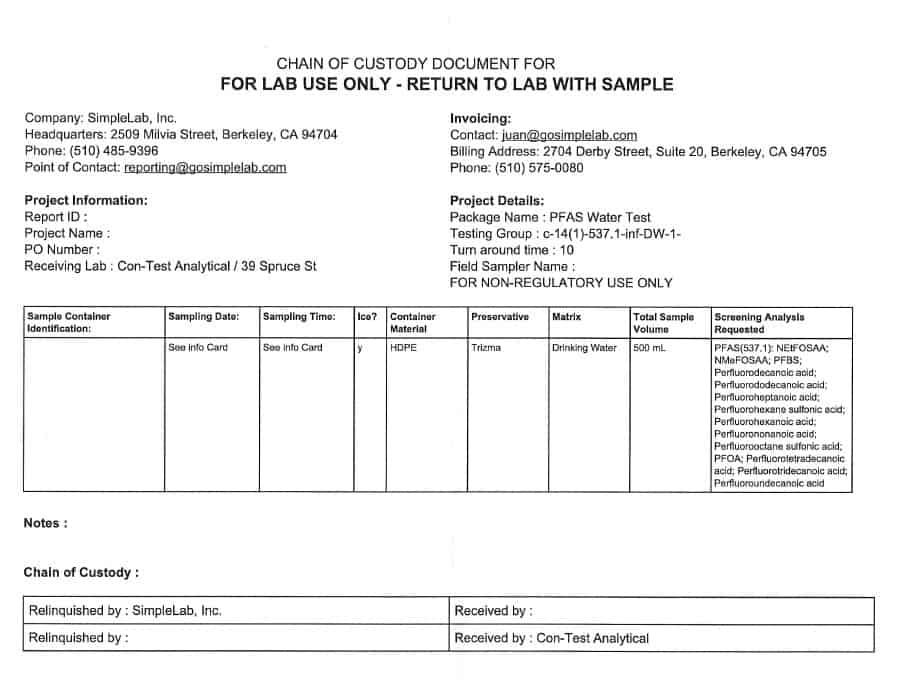 About 10 days after I shipped my water sample to the lab, I received an email with my complete laboratory report. The report include the testing results for each PFAS compound. The method the laboratory uses allowed them to report the concentration at 1 ppt.
What PFAS compounds does SimpleLab test for?
The SimpleLab PFAS Water Test analyzes the drinking water sample for 14 chemicals. These are:
Perfluorooctanesulfonic (PFOS)
Perfluorooctanoic acid (PFOA)
Perfluorohexanesulfonic (PFHxS) 
Perfluoroheptanoic acid (PFHpA)
Perfluorononanoic acid (PFNA)
Perfluorobutanesulfonic (PFBS)
Perfluoroundecanoic acid (PFUnA)
Perfluorododecanoic acid (PFDoA)
Perfluorodecanoic acid (PFDA)
Perfluorohexanoic acid (PFHxA)
N-ethylperflurooctanesulfonamidoacetic acid (NEtFOSAA)
N-methylperfluorooctanesulfonamidoacetic acid (NMeFOSAA)
Perfluorotetradecanoic acid (PFTeDA)
Perfluorotridecanoic acid (PFTrDA)
Why are these 14 compounds tested for? Because they are the most problematic in terms of toxicity and persistence.
Terminology – Understanding the Tap Score Report
The SimpleLab Tap Score test report is filled with a lot of jargon and scientific terms. Much of it is confusing.
To help you demystify the report, here is some additional information.
Parts per trillion – what it means
PFAS are measured in nanograms per liter – this is abbreviated as ng/L. Sometimes ng/L can also be referred to as parts per trillion or ppt for short. This means there is one part of PFAS for every trillion parts of water.
One drop of water in 13 million gallons is what this number represents!
Other terms
Detection Limit (DL): This is the lowest concentration of PFAS that can be reliably detected. It reflects how precise the instrument's response is when there is no PFAS in solution.
Limit Of Detection(LOD): This is the lowest concentration that can be measured (i.e. detected) in a statistically significant way by the analytical procedure. SimpleLab uses EPA Method 837.1 for their PFAS testing.
Method Detection Limit (MDL): This is the minimum concentration of PFAS that can be reported with 99% confidence and still be distinguished from random results.
My Rating of the SimpleLab PFAS Water Test
1 – High-quality and easy to understand report
The SimpleLab PFAS Water test is a comprehensive DIY test kit. It includes everything you need to collect a representative water sample from your tap.
What really sets it apart from the other testing services I've tried is the report.
They tested my water for 14 PFAS compounds. The numerical results are provided along with an easy to understand explanation of what the results mean. All laid out in plain English.
2 – Health information is their priority
The report explains the potential health risks of each PFAS compound that was detected in my drinking water. This is extremely useful.
They take this one step further by focusing exclusively on health data and ignoring extraneous information that state and federal agencies use. Why is this important?
Water quality standards in the USA are set by federal and state governments for all public water systems. These limits are based on health risks of each contaminant, as well as practical costs to treat the drinking water for the entire community. For some contaminants, the cost of treatment can be huge. The public standards set by public health agencies take these costs into account.
This means your tap water may be within legal limits when it comes to certain contaminants but still considered a risk to your health. SimpleLab believes we should know how these elements will impact our health so we can make informed decisions about the safety of our drinking water. This information, along with their assessment of each contaminant, is included in their report.
3 – Exceptional customer support
I wanted to test the customer service department at SimpleLab, so I called them to ask questions about my report. I was pleasantly surprised to have my call answered by a live person. I was quickly transferred to a very knowledgeable professional who answered three of my questions with detailed, yet easy to understand answers.
One of my questions was very technical, and the analyst didn't know the answer. They passed along my question, and I received a well-written email that fully answered the question.
To me, this is the greatest value of the SimpleLab testing service.
4 – Recommendations for addressing PFAS in my water
As I noted above, my drinking water has low levels of PFAS in it. The report that came with the Tap Score report outlined several options for me.