Are you having hard water issues? It is annoying to see white spots and mineral buildup on dishes, laundry, and your countertops. Not to mention the money it costs to fix the damage done by hard water.
The best solution? A water softener. There are many available on the market, but in this article, we will explore whether having Home Depot install a water softener for you is worth the cost or not.
The Home Depot water softener installation package is a great value because it includes the installation, materials, labor costs, and the water softener. Packages range from $2500 to $6500 depending on the water softener cost, add-ons, and installation charges. Home Depot takes care of everything including water testing, sizing the softener, installation, and system setup. They even provide follow up service if something isn't working properly.
Several considerations go into selecting a home water treatment system. This includes the extent of the treatment required. Generally, water softeners plus their installation costs range from $1,200 to $6,000. Home Depot's installation cost falls in roughly the same range. However, there are some perks, like zero charges for the water test. Let's take a deeper look at the kind of installation offered by Home Depot.
Learn more about water softeners with my other articles.
Ultimate Guide to Water Softeners: Everything You Need to Know
How to Properly Size a Water Softener: The Definitive Guide
How Much Does a Water Softener Cost?
Home Depot Water Softener Installation Cost and Inclusions
If you are an expert DIYer and are adept at installing and maintaining water softeners, you can buy the water treatment system at Home Depot, and you're good. However, if you're not good at plumbing, it is best to buy the whole package that includes the design and the installation.
So, what factors does Home Depot consider when determining the cost of your home treatment system?
What's Included
Generally, Home Depot considers a few standard factors when costing out your home water treatment system:
The cost of labor
The cost of the water softener unit
The cost of reverse osmosis (if required)
The cost of the water filter
The size of the system
The cost of additional plumbing and materials
The cost of the permit (if required)
Let's look at these in a bit more detail:
System Cost
Home Depot has a range of water treatment system units available for you, depending on your needs and your ability to install and maintain the system. The cheapest water softener at the Home Depot is around $109, which you can place under your sink to protect your dishes from hard water.
Spend a few hundred more, and you can get a unit that can treat all of the water you use throughout your home.
Home Depot's most premium water softener system is priced at $4,000. This doesn't include the cost of installation or maintenance and is a good option if you can install and maintain the unit on your own.
The following table lists the purchase price for water softeners that Home Depot sells. These prices are just for the equipment and do not include installation.
| | | | | |
| --- | --- | --- | --- | --- |
| Brand | Model | Size (grains) | # People |  Price |
| Waterboss | Model 950 | 22,000 | 3-4 |  $     549.52 |
| Vitapur | NA | 30,000 | 3-4 |  $     628.24 |
| Rheem | Preferred | 32,000 | 3-4 |  $     419.00 |
| Waterboss | Model 900 | 36,400 | 5-6 |  $     758.00 |
| Aquasure | Harmony | 40,000 | 3-4 |  $     519.00 |
| Rheem | Preferred Plus | 42,000 | 3-4 |  $     529.00 |
| Rheem | Preferred Platinum | 42,000 | 3-4 |  $     609.00 |
| iSpring | Whole House | 45,000 | 3-4 |  $     681.65 |
| Aquasure | Harmony | 48,000 | 3-4 |  $     584.10 |
| Aquasure | Signature Elite | 48,000 | 3-4 |  $  1,424.99 |
| Pentair | NaturSoft | 48,600 | 3-4 |  $  1,359.18 |
| Pentair | NaturSoft | 60,000 | 5-6 |  $  1,526.97 |
| Aquasure | Signature Elite | 64,000 | 5-6 |  $  1,417.49 |
| Pro+ Aqua | NA | 80,000 | 8+ |  $  1,106.25 |
Installation Packages and Costs
It takes around two and a half hours or more, depending on the size of the system to install your water softener. There are three packages for installation that Home Depot offers:
The Basic Package – $2500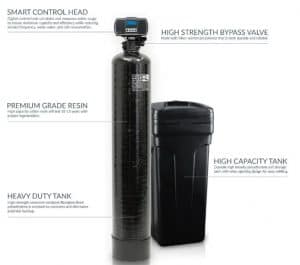 The most basic installation package offered by Home Depot is priced at $2,500. This includes just the installation of the system minus any add-ons or reverse osmosis. This is above the basic installation cost offered by competitors such as Lowe's, which is priced at $1,000.
However, the Home Depot option includes the cost of the system, materials, and labor required to get the work done.
The actual cost will depend on some other factors as well. For example, if the house and plumbing are ready for installation, you can expect this fee to be much less than $2500. However, if you need a change of plumbing for installation, your cost can go above this number too.
The Mid-Tier Package – $4500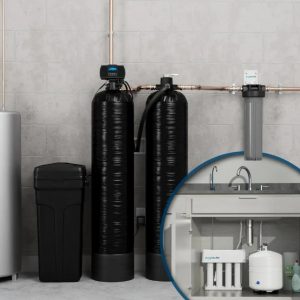 The medium package is priced at $4,500, and it includes the system, material, and labor costs. It also provides for the cost of the reverse osmosis process. This process can further improve the quality of drinking water. Reverse osmosis also removes basic salts from water, so if your goal is to treat salty water, you should go for this option.
Keep in mind that if the house plumbing is ready for installation – you can expect this cost to be lower. However, if you need plumbing repair or replacement for the building, you will incur more cost than the $4,500 fee for this package.
The High-End Package – $6500
This is the biggest package that Home Depot offers for water softener installation. It includes the system, material, and labor costs. In addition to that, you will get reverse osmosis, and water filtration put in place for the entire house.
Since this package requires extensive work on your plumbing, you might need a permit that can range from $50 to $500, depending on the area you live in. Some areas don't require a permit at all. However, it's best to keep this additional cost in your budget.
We want to mention that this is the best option if your house has poor drinking water quality. The system can add to the value of your house too.
Curious to see how Home Depot's installation services compare to Lowe's? Read my article on Lowe's water softener costs.
Home Depot Installation Packages – A Glance
For your ease, we've compiled the offerings and the cost of the packages below:
| | | | |
| --- | --- | --- | --- |
| Package  | Cost  | Services Covered | Best For  |
| Basic  | $2500 | Basic installation | Water softening |
| Mid-Tier  | $4500 | Installation + reverse osmosis | Water softening and improving drinking water quality |
| High-End  | $6500 | Installation, reverse osmosis, water filtration | Water softening, improving drinking water quality and adding to home's overall real estate value |
Benefits of Home Depot Water Softener Installation
Having Home Depot install your water softener isn't cheap. But, as the saying goes, you get what you pay for. So, let's take a look at what your money buys you when you purchase this turnkey service from Home Depot.
Free water test. During the initial inspection of your home, a professional will collect a water sample and measure the hardness level of your water. This information, along with the size of your house and your family's water usage, is critical to properly sizing the water softener.
Professional installation. Home Depot contracts the actual installation work to licensed professionals. On their website, they list the various state licenses that their subcontractors are required to have.
Insurance coverage. All of Home Depot's contractors have general liability insurance and workman's compensate coverage. While none of us wants to think about a worker getting injured in our home, you'll be thankful for the insurance if something happens.
Initial setup and adjustments. Once the water softener has been installed, the Home Depot crew will set up your water softener, make sure everything is working properly, and show you how it works. If you've ever tackled a project like this on your own, you know how valuable this service is.
Financing. If you need to borrow money to pay for this service, Home Depot offers 24-month financing. Depending on your credit score, you may be eligible for interest free financing or an extended payback period.
Service calls. During the initial start-up period, if anything goes wrong, you can call Home Depot and they'll send someone out to deal with any breakdowns or malfunctions. Many of these initial visits are free. Even if they aren't covered, it's nice to have a professional on call to take care of equipment problems.
Read my article on what your water softener's settings should be to learn more.
Disadvantages of Home Depot's Installation Service
Not everything goes well when you have a professional install equipment in your home. The Home Depot water softener installation service is no exception.
High cost. The cost to have Home Depot install your water softener is relatively high. If you are a DIYer, you can save a lot of money. However, most people don't have the plumbing skills to install a whole-house water softener and will need a professional. If you were to hire a local plumber, it would cost about the same amount.
Multiple steps required. The installation service is a little bit inconvenient. You have to visit the Home Depot store to select the system you want and set up the initial visit. Then you have to schedule the home inspection – this can take as long as 3 weeks in some cases. Once you receive your inspection report, you have to decide which options you want and then set up the installation appointment. Overall, the entire process can take 1 to 3 months.
Inconsistent quality. As I mentioned above, Home Depot hires local contractors to complete the installation. As a result, you may not get the "A-Team" for your installation. Many of the complaints on Home Depot's installation page note the lack of communication, inattention to detail, and work that was missed or done incorrectly.
Most of these drawbacks for the water softener installation service aren't unique to Home Depot. You'll deal with these issues any time you hire a contractor.
One issue that I've encountered is the lack of access to someone who can resolve a problem. Whenever I call Home Depot, I have to explain the situation to several people, and, often times, they don't have the authority of technical understanding to resolve my problem.
Should You Buy the Home Depot Protection Plan
Home Depot offers an Appliance Protection Plan for the water softeners they sell. This is like many of the "extended warranties" that many retailers offer for expensive items. Given how expensive a water softener is, should you purchase this extended coverage plan?
This is how Home Depot advertises the plan on their website.
5-Year Major Appliances Protection Plan $0-$299.99
What is the Protection Plan?
Home Depot (through AllState) will repair your water softener free of charge. It the unit can't be repaired, they will either replace the water softener or reimburse you for the full purchase price.
The Appliance Protection Plan costs $69.00 on average for a water softener. The price is based on the cost of the water softener. By my calculations, it appears to be 16% of the appliance price.
Home Depot has a generous refund policy for this plan. If you change your mind, they allow you to "return" the protection plan within 90 days for a full refund.
The features and benefits of this plan include:
3-year and 5-year plan
Covers all parts and labor for breakdowns and defects
Guaranteed two-day service: When you call, they will give you an appointment within 2 days
Claims are handled online 24/7
No deductibles or additional costs
Manufacturer warranty comparison
I checked the warranty coverage for all of the brands that Home Depot sells. They range from a limited 90-day warranty to as much as 10 years. The coverage varies depending on the components.
For example, parts and labor are typically limited to 1 year. Some brands don't offer any coverage for labor. They'll just send you the part, and it's up to you to replace it. The labor cost for a service call is around $75 an hour. Most plumbers have a 4-hour minimum charge.
Coverage for the tank is more generous. Some manufacturers will provide a warranty for 10 years. This sounds generous, but how likely is it that the tank will fail? If you read the fine print, they don't cover damage which is really the only way a tank is going to fail.
The following table summarizes the warranty coverage each water softener manufacturer offers. It includes coverage for parts and labor, electronics, and the tank.
| | | | |
| --- | --- | --- | --- |
| Brand | Parts & Labor | Electronics | Tank |
| Aquasure | 90-days | 5 year | 5 year |
| iSpring | 1 year | 1 year | 1 year |
| Pentair | 1 year | 5 year | 10 year |
| Rheem | 1 year | 3 year | 10 year |
| Waterboss | — | 5 year | 10 year |
Should you buy the additional coverage?
In my opinion, this plan is worth the cost. If something breaks within the 5-year coverage period, it will likely cost more than $69 to repair your water softener. Even if you're a DIYer, the parts might be more expensive.
The standard warranty for parts and labor is only 1 year for most water softeners. Some brands don't cover labor at all. If you have to buy a new valve or fitting, it will likely cost you more than $80. This is more than the average plan costs!
Frequently Asked Questions
How Long Does a Water Softener Last?
An electric water softener can last between 10 to 20 years depending on the quality. On an average, a good softener can last up to 12 years. Refer to the information listed above to see what kind of softener you require based on your home's needs.
Is Softened Water Safe to Drink?
The quality of water before it is softened will determine whether it can be drunk after softening. If the hardness level is 440ppm calcium before softening, then it is fine for you to drink it.
What Are the Signs You Need a Water Softener?
Signs such as scale build up on utensils, crust build up around faucets, faded and scratchy clothing are all main signs that your house has a hard water problem.
Final Thoughts
Hard water can damage your appliances and your plumbing. The best solution is to get a water softener system installed by a trustworthy vendor like Home Depot. We hope our article helps you determine which kind of installation you need.