Hydroviv vs Aquasana water filters is an unsettled debate as the duo aims to offer clean water. Both have their benefits and drawbacks. So which one should you purchase? For this purpose, I am going to put down some parameters and assess which is the ultimate winner. Let's go straight ahead and find out!
Quick Answer
Hydroviv and Aquasana are two leaders in the water filtration industry. However, their water filters have different traits:
Hydroviv will give 720 Gallons in one filter cartridge. Aquasana on the other hand will provide you with 600-gallon filtered tap water in 6 months.
Hydroviv filters are customized based on the water quality in your area and can remove 97% of mercury, 99% of lead, and 95% of chlorine content. Aquasana systems are purified from 99% lead, cysts, asbestos, and volatile organic compounds.
But these are some features only. Continue reading as I break down the complete difference between them. It will include a comparison of the flow rate, maintenance cost, and easier installation process. As well as an option for customized water filtration. Let's dive deeper into this comparative guide!
Comparison Chart
The table listed below highlights the important attributes of their top under-sink models:
Contaminants Removal Ability:

More than 88+ contaminants

Customized to Remove Number of

Contaminants Present

Easy Installation Process

After-Sales Support and

Warranty:

Support is available via phone and

email for 5 days each week.

With a one-year warranty

Includes a one-year warranty

(Manufacturer Defects and

Workmanship.) Support is

available through phone, email,

and live chat
Now before I dive into the detailed comparison between the two let's see why these are considered the leading choices when it comes to filtering water.
Hydroviv Filters' Positives and Negatives
To help you compare the two, I'll delve into the Hydroviv water filter under the sink system and share the upsides and downsides of this unit. So let's dive in!
Advantages of Hydroviv
Let's look at the benefits first. Here they are:
The filtration system boasts a capacity of 720 gallons.
It features a customized filtration system.
The unit is characterized by its compact size.
A 30-day money-back guarantee is provided.
Exceptional customer service is assured.
The product is certified to meet NSF/ANSI 42 and 53 standards.
Installation and maintenance are straightforward.
It is highly recommended for well water usage.
Disadvantages of Hydroviv
Now let's see what could be improved:
It is important to mention that it does not effectively remove fluoride from water.
Specific information about the nature of customization remains undisclosed.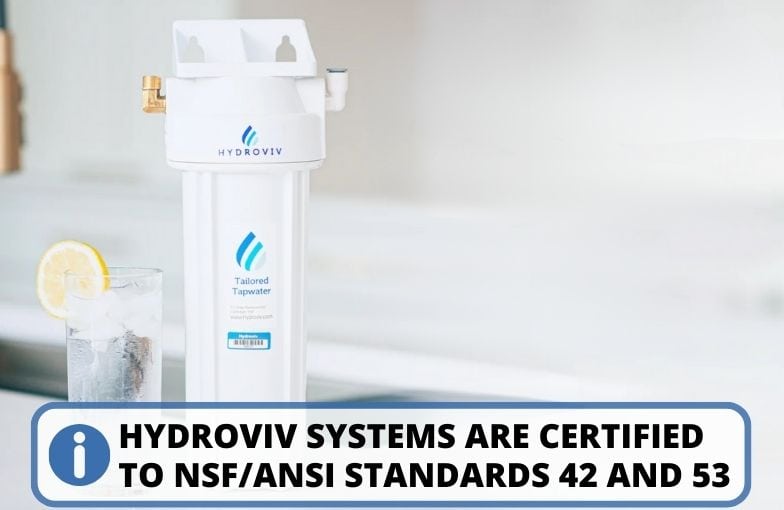 Aquasana Filters' Positives and Negatives
To see how it compares and stacks up against Hydroviv. Let's take a closer look into the merits and demerits of the Aquasana water filter under-sink system.
Advantages of Hydroviv
First, let's see the advantages:
The filtration system with its an outstanding feature with a massive capacity of 600 gallons.
It proudly boasts NSF certifications for standards including 42, 53, 58, and 401.
With an impressive 95% contaminant removal rate, it preserves essential minerals such as magnesium and calcium.
The unit operates through a thorough all-in-one 3-stage filtration process.
You can enjoy peace of mind with its 90-day satisfaction guarantee.
Additionally, it comes with a generous 1-year warranty.
Disadvantages of Hydroviv
Now, let's evaluate the drawbacks:
It's worth noting that the replacement of all four filters can be expensive.
Professional assistance is recommended for the installation process.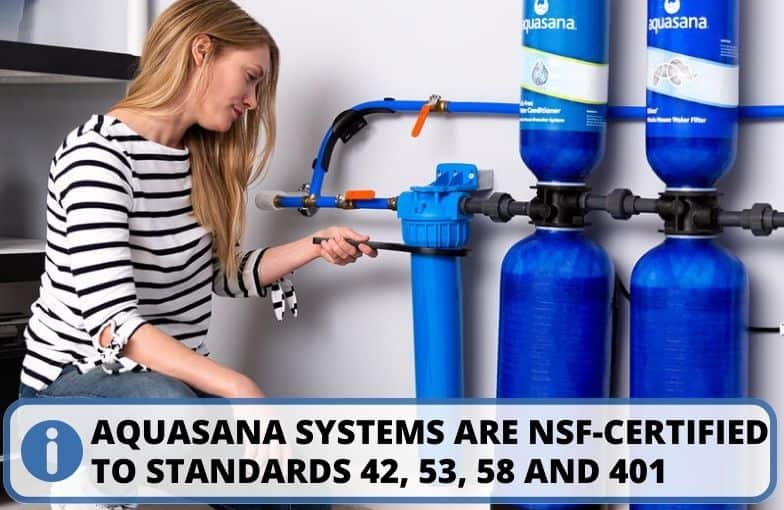 Best 6 Qualities of Hydroviv Water Filter
If you are in the market looking for Hydroviv Water Filters then here is what these filters have to offer you:
1. Affordability
If you are in search of a cost-effective water filtration solution, I recommend considering the Hydroviv water filter. This product is offered at a reasonable price point when compared to alternative brands in the market. This way, you can enjoy better-tasting drinking water without spending too much.
2. Effortless Installation Setup
The installation procedure for this is straightforward and can be easily performed. You will not need to hire a skilled personnel. Simply follow the directions given in the manufacturer's manual. It will be easy for you to install it at home very quickly. The steps are:
Attach one end of the product to your kitchen tap or faucet. Ensure a secure connection to prevent any leaks.
Turn on the water for 20 seconds to build pressure.
Observe the water pressure inside the product, allowing it to reach the desired level.
Gradually close the tap or faucet to stop the water flow.
3. Huge Capacity
The Hydroviv Water Filters have a huge capacity. It is able to hold 4 times the water one drinks in a day. This means that you will not be frequently refilling the filter and have a continuous supply of drinking water.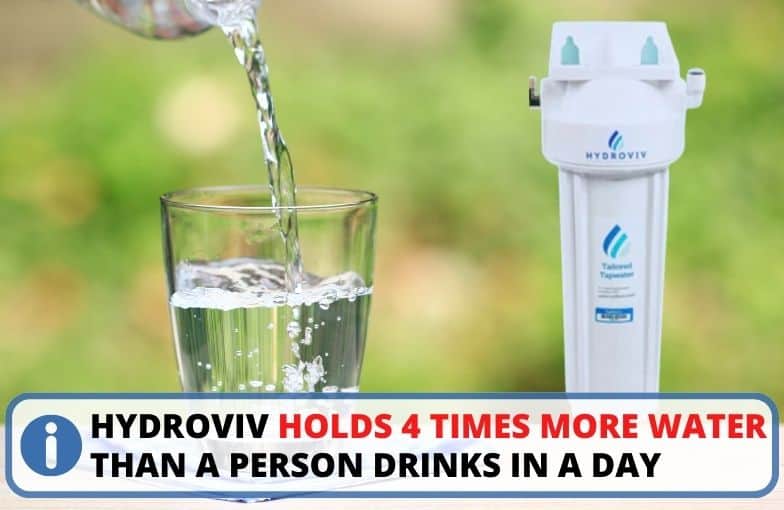 4. Easily Cleanable
One of the most significant advantages of the Hydroviv Water Filter is how easy it is to clean. I recommend using a small brush for the task at hand. Use some vinegar to restore it to its squeaky-clean condition. If vinegar doesn't suit your preference, warm water and soap will also work.
5. Equipped with Internal Pressure Gauge
The inclusion of an internal pressure gauge makes the Hydroviv Water Filter a great choice. It keeps you informed about the maintenance or replacement needs of the internal parts. This ensures its longevity.
6. Built with HQ Material
This device is made from top-notch materials. This product complies with NSF standards and includes a lifetime warranty. So you won't have to worry about it breaking down shortly after you start using it.
Now let's see what its competitor Aquasana Water Filter has to offer!
Best 6 Qualities of Aquasana Water Filter
Let's see what makes Aqusana stand out from the rest, I will go over the 6 features that make them worth considering: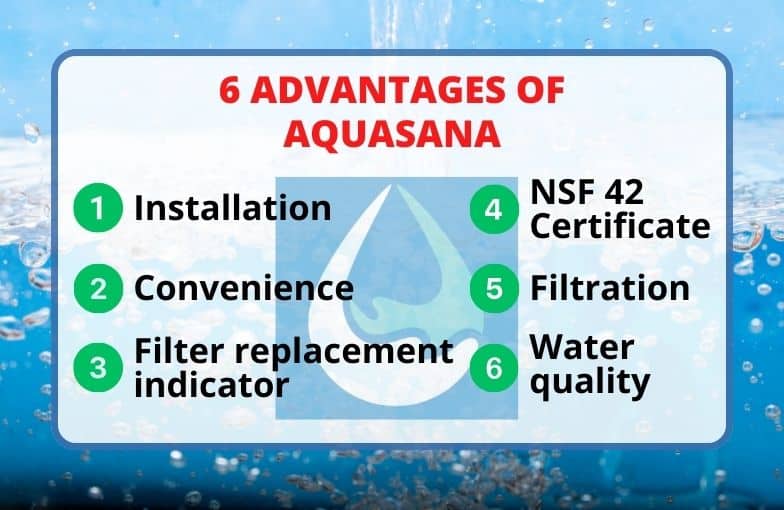 1. Easy Installation
Aquasana water filters can be installed within a maximum of 20 minutes. You will not need any additional tools or professional help. Just follow the manual and you will be set up completely.
2. User Friendly
The usage is simple. There are no complicated buttons or switches. It only has a faucet which you can turn off and on.
3. Replacement Filters' Indicator Light
This device includes a helpful indicator light that signals when it requires cleaning or maintenance. This feature is especially useful if your home has hard water. Neglecting proper care can lead to pipe issues over time.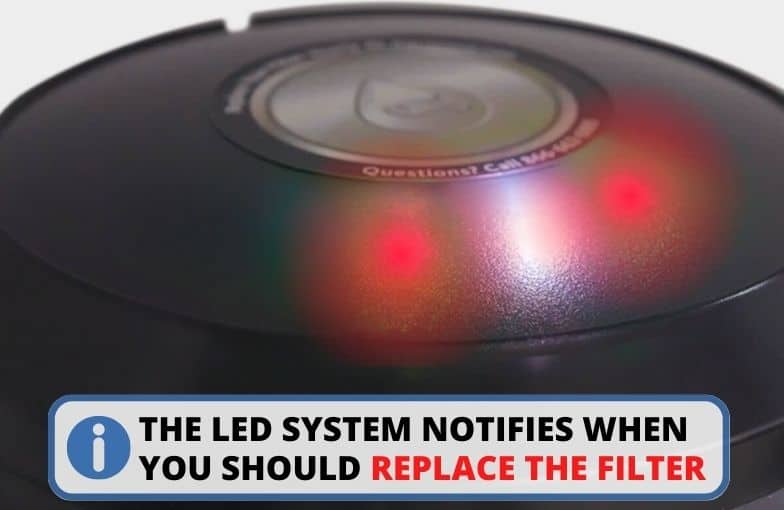 4. NSF 42 Certified
It is certified by the National Sanitation Foundation. This ensures that it meets the highest standards of residential drinking water filters.
5. Multi-Stage Water Filter System
The Aquasana 3-step filtration system follows a simple yet effective process:
It captures 95% of dirt and sediment.
Uses ion exchange to eliminate around 90% of chlorine, lead, and various other contaminants commonly found in tap water.
Activated carbon is used to get rid of any lingering odors or tastes.
6. Great Tasting Water
It has an ion exchange resin cartridge. This makes the taste of tap water much better.
As you can see, both of them are great choices, but how do the two of them compare to one another? Let's have a look!
What is the Filtration Difference Between Hydroviv and Aquasana Systems?
To understand the difference in the filtration technique regarding Hydroviv vs Aquasana, you need to know how ceramic filters and carbon filters differ. Let's proceed: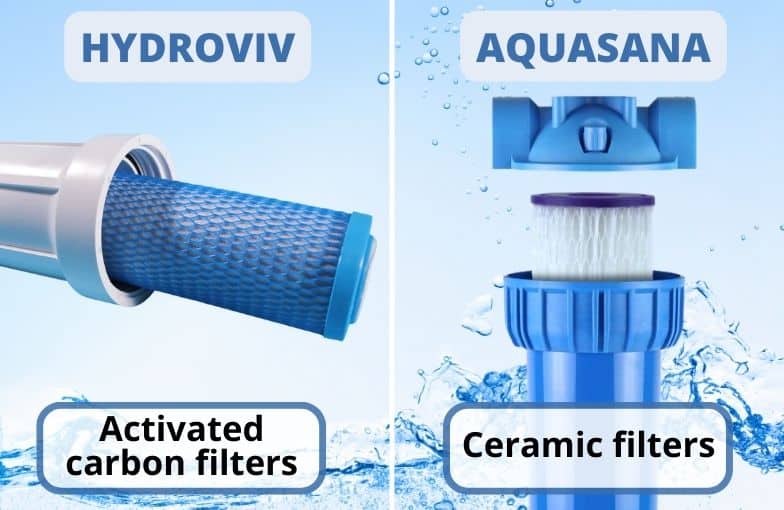 Hydroviv: These systems use activated carbon filters and excel in eliminating chlorine from tap water. Moreover, a mineral deposit filter is used to calcium and iron content from water. At last, UV ensures that there are no viruses or bacteria present in your water.
Aquasana: Aquasana uses Ceramic filters. Typically, they have a longer lifespan than carbon filters. However, they aren't as effective in removing contaminants when compared to their carbon counterparts.
Now that you know how these filters work, let's see how they compare!
Hydroviv vs Aquasana: Comparison by 5 Parameters
Now that you know the advantages of both water filters, how about I put their features side by side and see which one stands out? Let's begin!
1. Contaminant Removal
With Aquasana water filters, you get comprehensive protection against contaminants. It eliminates:
97% chlorine and chloramines;
99% lead, cysts, asbestos, volatile organic compounds;
96% PFOS/PFOA;
95% mercury, all the while ensuring the retention of essential minerals like calcium and magnesium.
Hydroviv is able to effectively remove contaminants of your liking. Give the company a list of names and they will develop the filter accordingly. For your information, it can eliminate lead and arsenic. But that's not all – it gets rid of:
Mercury;
Lead;
Chromium;
Petrochemicals;
Chlorine;
Pesticides.
Winner: I have to give this one to Hydroviv. I am talking solely about the contaminant removal ability here and not the frequency of filter replacement.
2. Water Supply Rate and Filter Capacity
The Aquasana can handle up to 600 gallons of water, flows at a rate of 0.5 gallons per minute, and works best when the pressure is between 20 and 80 pounds per square inch.
Hydroviv water filters can purify up to 720 gallons of water, which should last about 6 months. Ensuring a steady flow rate of 0.72-1 GPM when your water pressure is at 60 psi.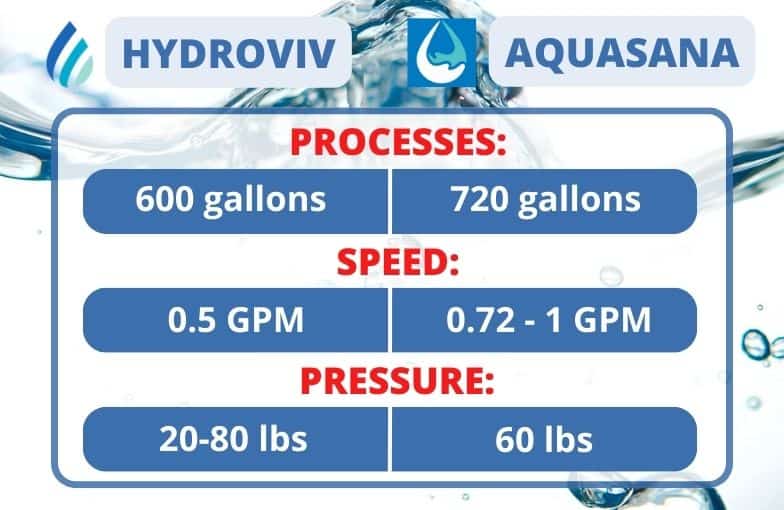 Note: If there is a decrease in water pressure in the cold water line, it can cause interruptions in the water flow.
Winner: Judging by the flow rate and filter capacity, Hydroviv stands out as a clear victor here.
3. Installation and Maintenace
The Aquasana includes a DIY manual and a faucet. However, the installation instructions can be tough to follow. The filter will effectively work for about 6 months which will cost you $160 a year. Cartridge replacements are necessary after this period.
Important! It's recommended to hire a plumber to avoid leaks and damage.

Hydrovis is compact and space-saving. It has a complete installation kit and takes only 20 minutes to set it up. The cartridge replacement costs $86 on a subscription (Delivered every 6 months) and $115 for a one-time purchase.

Winner: When it comes to the installation process, Hydroviv is the winner. Although maintenance cost is less for Aquasana. They also have filter replacement light indicators which Hydroviv lacks. Hence, Aquasana is the final victor here.
4. Warranty and After-Sales Support
Hydroviv Systems has 5 years of warranty on hardware. It also gives a 30-day money-back guarantee. You can approach the company in one of the 5 days a week via call, text, or email.

Aquasana filtration systems have 1-year warranty. You can avail a money-back guarantee on it within 90 days of purchase. Contacting customer support is possible through email or calling on toll-free number.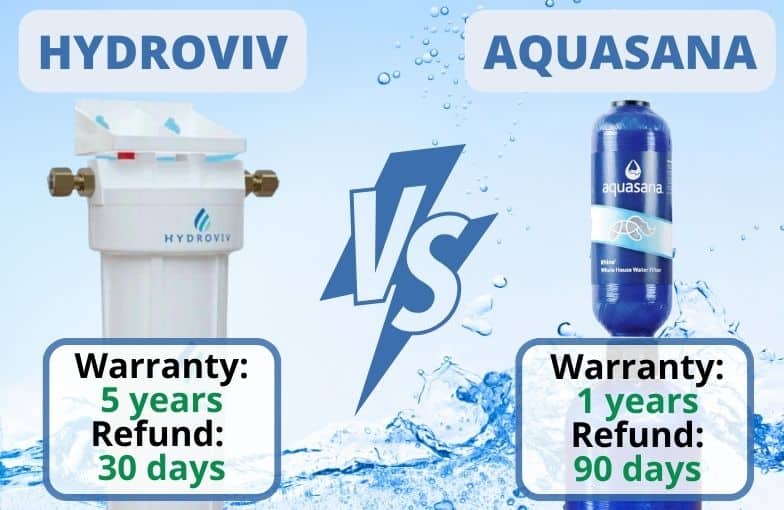 Winner: The winner here is debatable. Hydroviv has a bigger warranty but Aquasana's money-back guarantee is very attractive to me. Hence I will award Aquasana as the better brand in terms of warranty.
5. Certifications by Authorities
Aquasana is certified by NSF/ANSI in four different standards i.e. 42, 53, 58, and 401. While Hydroviv only has 42 and 53 under its name.

Winner: Aquasana water filter is a clear-cut winner here. As it has more certifications you can be satisfied and have peace of mind that you are drinking clean, healthy water.
Hydroviv vs Aquasana: Which of These Filtration Systems is Best for Drinking Water?
Let's compare the filtration process for both of these systems to know which of these filtration systems is best for drinking:
Filteration of Aquasana
Let's see the abilities of Aquasana: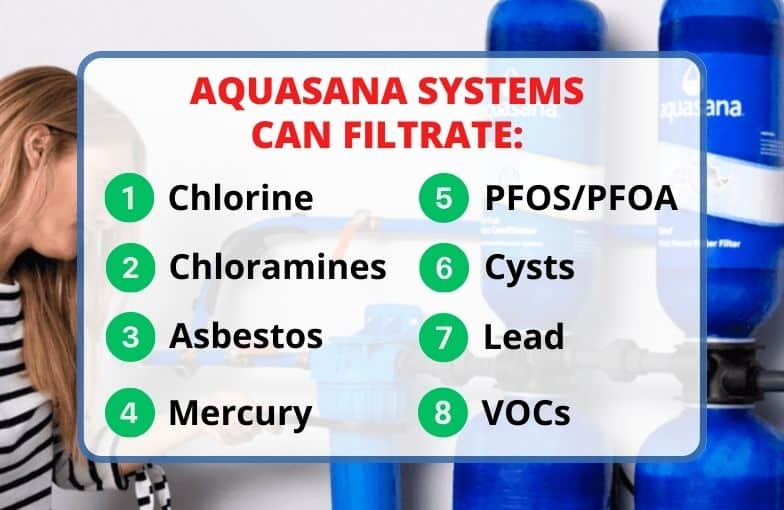 Effectively eliminates more than almost all (97%) of chlorine precisely as well as pesky chloramines.
It also removes asbestos, cysts, lead, and volatile organic compounds up to a staggering 99%. As well as 95% of mercury and approximately 96% of PFOS/PFOA.
The system preserves and maintains important minerals like potassium, calcium, and magnesium at safe levels.
This is achieved through meticulous three stages, featuring a pre-filter, an activated catalytic carbon filter, and a post-filter. Although activated carbon filters can effectively remove contaminants they leave the taste in water.
Filtration of Hydroviv
Now, let's review Hydroviv's intricate four-step filtration process. This includes Sediment Filter, Carbon Filter, Mineral Deposit Filter, and Ultra Violet Sterilization. Let's see what it is capable of: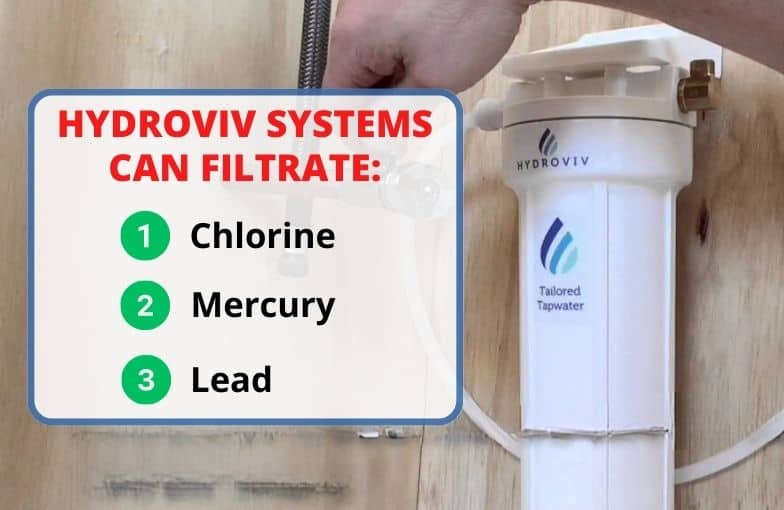 It successfully removes over 98% of chlorine content.
Additionally, it removes 97% of mercury content and over 99% of lead content.
The major advantage that Hydroviv has is that it's a chemical-free filtration process, as a result, there is no odor or taste left behind in the water.

Summary: Hydroviv's chemical-free four-step filtration clearly takes the lead here as it can remove contaminants at a better rate and preserve water taste.
Which One is the Overall Winner?
You can tell by now that I am more of a Hydroviv Water Filter fan. I have my reasons. Let me tell you why Hydroviv Water Filter is better:
Hydroviv's Team: It is a relatively new brand, and benefits from a team of experienced engineers and designers.
Advanced Filtration Technology: Hydroviv has better filtration technology compared to Aquasana. Meaning more safety and quality of your drinking water.
Proven Efficacy: Third-party laboratory testing has shown that Hydroviv removes up to 98% of chlorine. Along with chloramines, lead, and various other harmful contaminants.
Fluoride Removal: Hydroviv goes a step further by eliminating over 95% of fluoride from your water.
Chemical-free Filtration Process: Hydroviv's filtered drinking water is harmless.
Pro Tips To Choose The Best Under-Sink Water Filters
I want you to make the best out of your under-sink water filters. So here is a quick round-up of all the tips you can use:
Consider Specs: Filtration Capacity, Flow Rate, and Contaminant Reduction Rate are the most vital factors to consider when making a purchase. If you have an adequate water filtration system then you will be able to clean all the impurities from your drinking water.
Check Certification: Opt for NSF/ANSI-certified under-sink water filters to ensure effective removal of impurities. Filters go through testing hence you will have peace of mind when making a purchase.
Easy Installation: Go for a DIY installable water filtration system. Delicate connections and pipeline adjustments in some models may require a professional plumber meaning additional costs.
Budget Considerations: There are a variety of options available from affordable pitcher filters to high-end house filter systems. So you need to decide how much are you willing to spend on it.
Filter Replacement and Maintenance: The carbon filters last about 6 months, the mineral deposit filter around 3 months, and the UV filter should be replaced every 12 months. You should know these requirements in order to help you decide which system to go for.
Water Filtration Needs: If you have high levels of chlorine then I would suggest buying a carbon filter. But if you have concerns regarding bacteria growth, a reverse osmosis or a UV filter would be a better choice.
FAQs
How long does an Aquasana filter last?
Aquasana filter lasts for approximately 6 months or 784 gallons.
How long does a Hydroviv filter last?
Hydroviv filter lasts for about 6 months. This is when the water usage would be washing dishes, hands, etc.
Is Hydroviv better than Aquasana?
Hydroviv and Aquasana both have their own attributes. However, Hydroviv has a better filtration system and easy maintenance.
Is Aquasana reliable?
Yes, Aquasana is reliable as it has all the necessary NSF certifications to verify its claims.
Conclusion
Let's summarize what I discussed earlier. In order to find a better water filtration system you must consider a few things. Filtration Capacity, water supply rate, and contaminant removal ability are the most important ones. Aside from them, price point and maintenance cost should be considered.

My personal recommendation is Hydroviv filters for tap water cleaning as it has a better flow rate. It removes 97% mercury, 99% lead, and 95% chlorine. The replacement filters cost more than Aquasana but you can save up on installation costs and be worry-free about leaking pipes

On the other hand, the Aquasana filter is also a good choice as it has all the necessary certifications. It uses the traditional method of cleaning and offers a money-back guarantee so you can be sure that your investment is safe.