Are you looking for a new water heater and don't know which one to choose between Bradford white vs Rheem? Bradford white and Rheem electric heaters are among the best sellers in the market. Which one should you choose? Let's dive into the details and find out!
Quick Comparison
Let's look at the Bradford white vs. Rheem water heater comparison.
Energy Efficiency: water heaters account for most of your energy bills. Bradford and Rheem water heaters have high energy efficiency, but Bradford white is more energy efficient because of its sealed combustion and the hydro jet performance system that reduces sediment buildup in the tank.
Heating Elements: Due to their high thermal conductivity, Bradford White and Rheem are manufactured with traditional high-efficiency heating elements made from copper.
Durability: Bradford white water heaters can last between 10 – 15 years. Rheem can last up to 10 years. Regular maintenance can increase the Rheem water heater's lifespan to 15 years.
These heaters differ in pricing, smart features, pros & cons, and this is just the tip of the iceberg. Keep reading as I compare the two heaters.
Rheem vs Bradford White Water Heaters Comparison Chart
Below is a comparison chart at a glance of the two water heaters.
| | | |
| --- | --- | --- |
| | | |
| | | |
| | Professional Plumbing Supply House | |
| Professional Installation Required: | | |
| | | |
| | | |
| | | |
| | | |
| | | |
Bradford White Benefits and Drawbacks
Manufacturing water heaters is a tricky affair, especially for commercial purposes. The company offers a variety of heaters with an excellent overall reputation. Let's look at the benefits and drawbacks of owning one.
Benefits
Let's look at some of the benefits of Bradford white water heaters.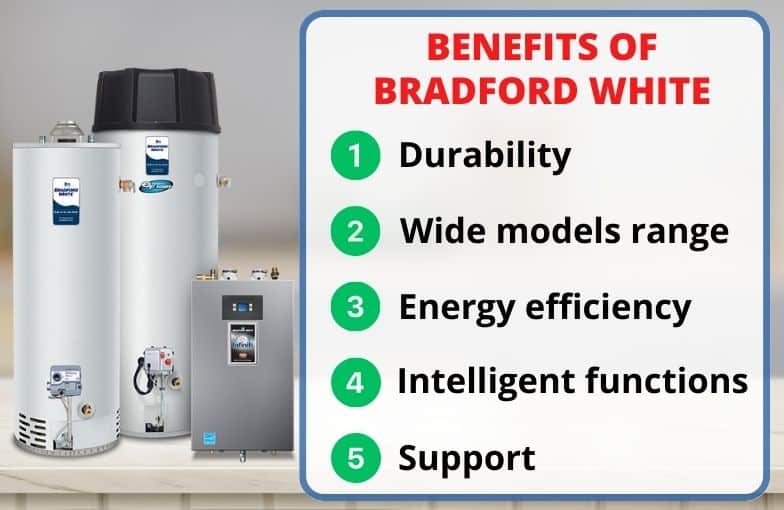 Pros
Durable: Bradford white water heaters are highly reliable and can serve you up to 15 years, provided they are well maintained.
Highly Energy Efficient: It has high energy efficiency ratings, being an ENERGY STAR for four consecutive years from 2020 – 2023 thanks to advanced features and technology used.
Has multiple models to choose from: The company has over 60 models, including an electric and a natural gas water heater.
Comes with Intelligent Features: Comes with different smart features like self-diagnostic features and advanced safety features.
Has Reliable Customer Service: It has excellent customer support that responds to your queries and gives you solutions.
Disadvantages
Despite the many benefits, Bradford White has some drawbacks. Here are some of them.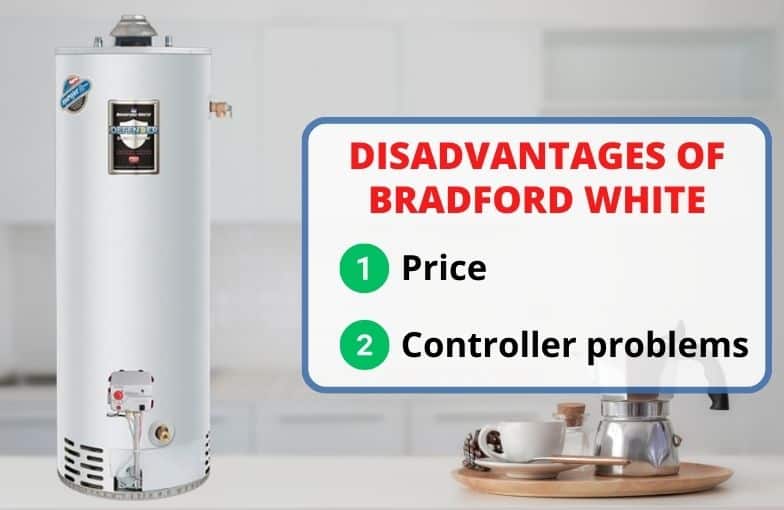 Cons
Expensive: The overall price of the water heater is expensive and the replacement parts are costly.
Controller issues: The controller can malfunction and become unreliable at times.
Rheem Water Heater Benefits and Drawbacks
Rheem is well-known in the water heater industry. Let's look at its benefits and drawbacks.
Benefits
Rheem is a renowned brand worldwide. Here are some advantages of owning this brand.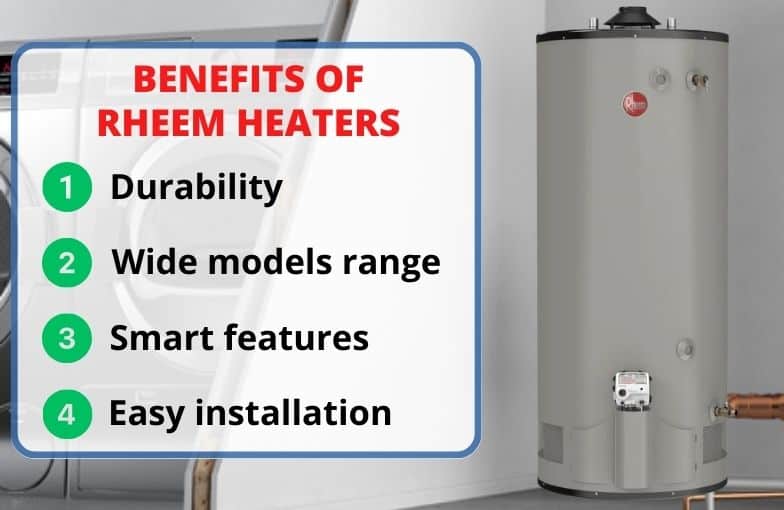 Pros
Offers Different heater types and models: Rheem has over 42 tank, solar energy, and tankless models for commercial and residential use.
It has Smart Features: Comes with innovative features, including intelligent control, Leak guard protection, energy usage tracking, and a heating element health indicator.
They are Durable: It has a double anode rod system, which increases its life expectancy.
Easy Installation: The installation process for Rheem is straightforward. You can install it directly by connecting to the bathroom faucet.
Disadvantages
Let's look at the downside of owning a Rheem.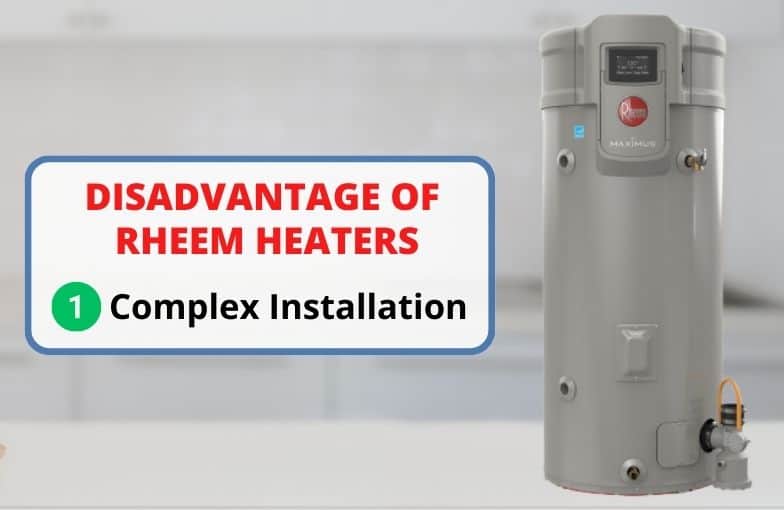 Cons
Complex Installation: You require professional advice when installing heavier units.
Bradford White Water Heaters: Quick Overview
Bradford White, headquartered in Pennsylvania, boasts a heritage dating back to 1881 within the water heater sector:
This water company has solidified its position as a leading supplier of hot water solutions for over 135 years.
The company expanded its portfolio over the years to become a leading manufacturer of reliable and energy-efficient residential, commercial, and industrial heaters.
Bradford White provides different water heater options, meeting the requirements of many homeowners. They include:
Gas water heater models like the Infiniti tankless and Defender.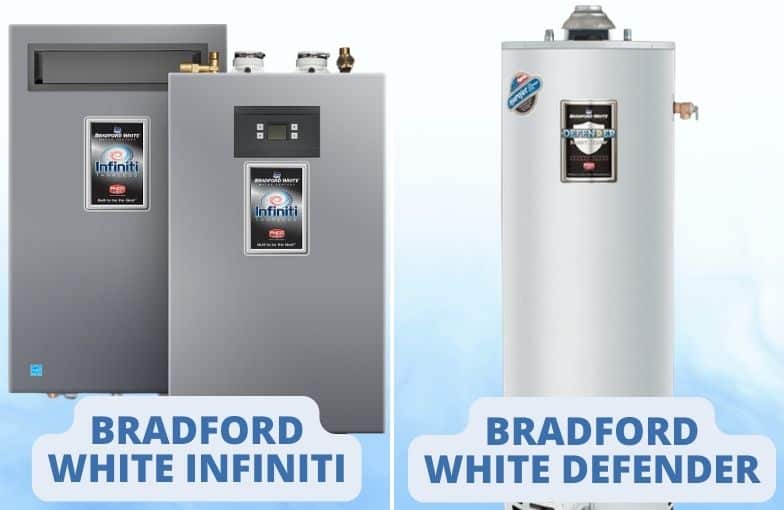 Electric water heaters models like the Aerotherm heat pump and Upright.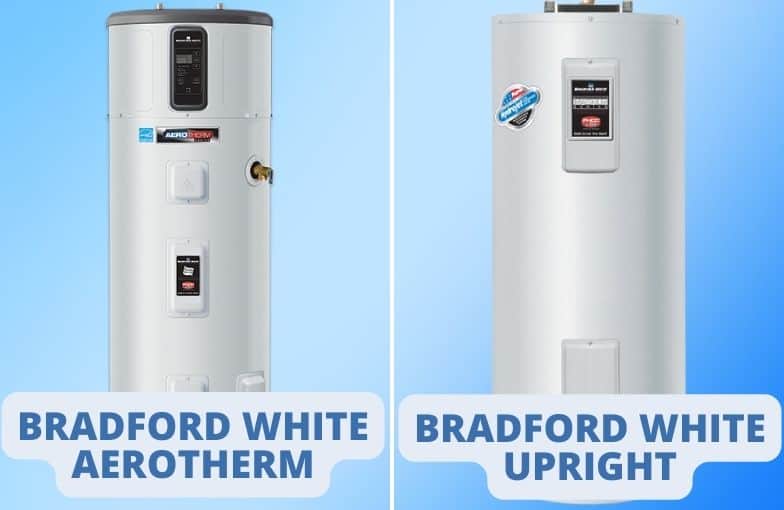 Rheem: A Quick Overview
Rheem is a top brand for water heaters known for its reliable products. The company was established in 1925 in the USA and is known for making reliable and durable heaters.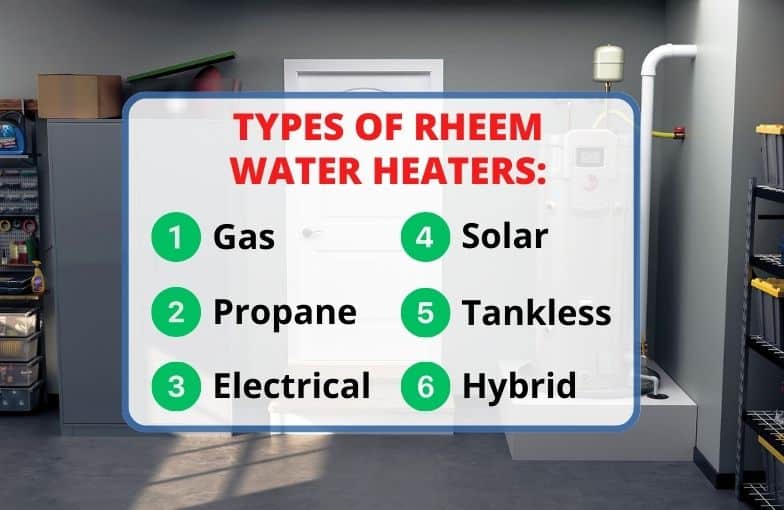 Rheem has different types of water heaters. They include:
Natural gas heaters;
Propane gas heaters;
Electric heaters;
Solar-powered heaters;
Tankless heaters;
Hybrid heaters.
You can buy Rheem from stores or an authorized dealer.
A Brief Overview of What Bradford White Offers
Bradford White water heaters come with a variety of design and functionality features. Let's dive in and explore what they have to offer.
1. ICON System
These are a set of gas-operated heaters equipped with the advanced Icon system. This system handles the following tasks:
| | |
| --- | --- |
| | |
| | Acts as a display monitor |
| | Regulates hot water temperature |
| | Convert electric to heat energy |
2. Defender Safety System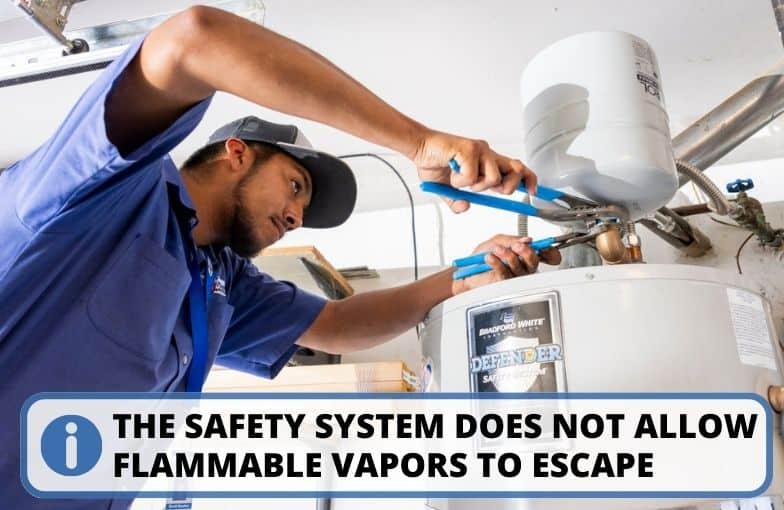 This collection of gas-powered heaters comes with a unique Defender Safety System which prevents flammable fumes from escaping the tank. It comprises of the following:
| | |
| --- | --- |
| | |
| | |
| | Improves safety by cutting gas supply |
3. AeroTherm
The AeroTherm series consists of energy-efficient hybrid electric heat pump heaters. These units use advanced heat pump technology to capture heat from the air and transfer it to the cold water, making them more energy efficient due to reduced utility bills.
4. The Infiniti Tankless
This collection includes tankless heaters that deliver hot water instantly without requiring a storage tank. The unit is small in size, saves energy, and provides plenty of hot water.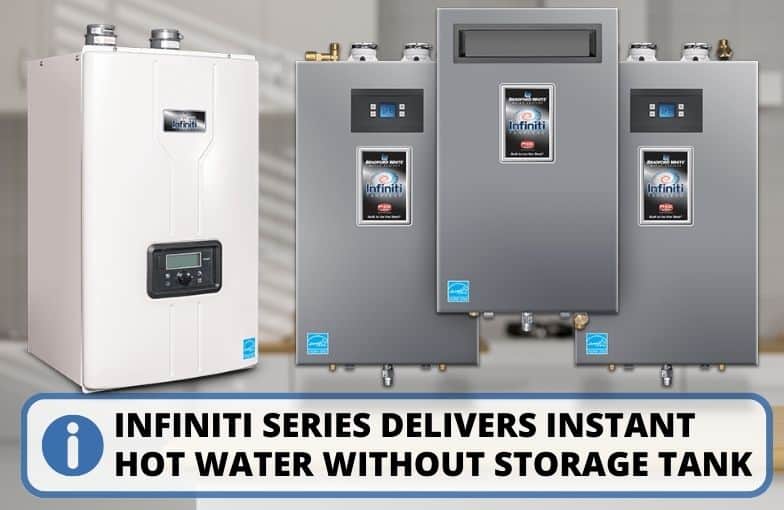 5. The eF Series
The EF Series comprises electric heaters for homes and light commercial settings. The unit has the following unique features:
| | |
| --- | --- |
| | |
| | Enhance energy efficiency |
| | |
| Digital temperature regulator: | Controls the water temperature |
6. Ultra Low NOx
These comprise gas-powered heaters with low NOx emissions. They heat cold water and are also friendly to the environment.
7. Hydrojet Total Performance System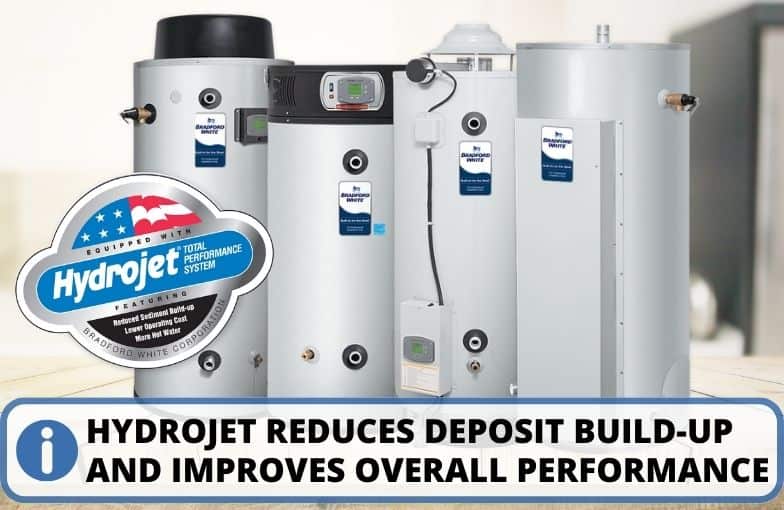 A unique system found in multiple Bradford White water heaters reduces sediment buildup and improves the overall functioning. The system comprises the following:
| | |
| --- | --- |
| | |
| | Creates turbulence in the tank |
| | Improves heat transfer efficiency |
| | Protects the tank from corrosive effects |
| Unique compound structure lining: | Allows tank to expand and contract easily |
A Brief Overview of What Rheem Offers
Rheem offers different water heater models. Let's look at some of them.
1. Performance Plus Series
This collection of heaters comprises gas and electric water heaters. They are known for their outstanding performance and energy efficiency. They have:
Self-cleaning functionality;
An environmentally-friendly burner;
Automatic temperature adjustments.
2. Professional Classic Series
This series is designed for reliability and durability and includes gas and electric water heaters. They have the following unique features:
| | |
| --- | --- |
| | |
| | Drains the water tank quickly |
| | Regulates pressure inside the tank |
| | Removes minerals in the water |
3. Tankless Water Heaters
Rheem has a range of tankless water heaters that provide enough hot water on the go. They are energy efficient and come in different sizes and configurations. They offer the following features:
| | |
| --- | --- |
| | |
| | Effective heater operation |
| | |
4. Marathon Series
The marathon series includes electric water heaters that are reliable and durable.
They have some unique features that give them a longer life expectancy. They include the following:
| | |
| --- | --- |
| | |
| | |
| | Increases energy efficiency |
5. Hybrid Water Heaters
Hybrid water heaters employ old-school and new-school technology by combining the principles used by tankless and tank-style heaters. Providing hot water is essential for any water heater, and they use heat pump technology to raise the water temperatures.
6. Point-of-Use Water Heaters
These are custom-made water heaters for specific use, like in remote areas or the kitchen sink. You can get the water heater in an electric or gas configuration.
Bradford White vs Rheem: Head-to-head Comparison
Let's see how the two water heater models compare when put head-to-head. I will compare different aspects of the water heaters and point out the ultimate best.
1. Power Consumption & Energy Efficiency
Energy Efficiency is an essential factor when choosing a water heater. The two brands have optimum performance but with different efficiency levels.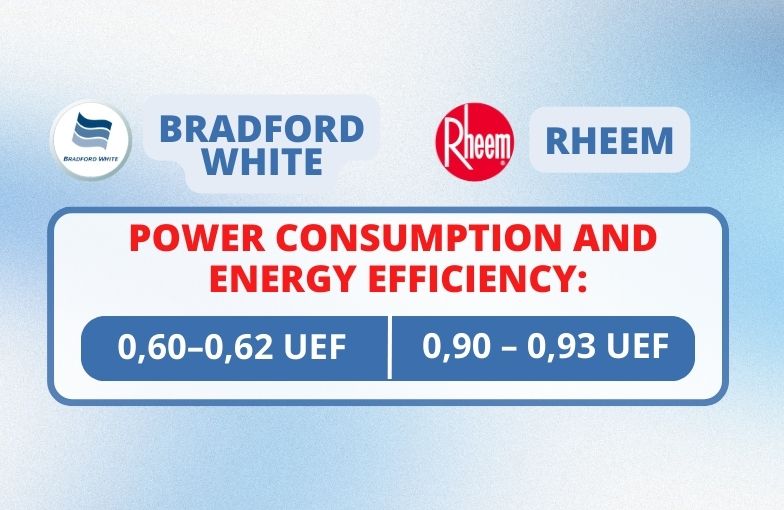 Rheem water heaters are competitively priced and come with various additional features. They consume more energy than Bradford water heaters with a UEF ranging from 0.90 – 0.93.
Bradford water heaters are more energy efficient compared to their counterparts. They are powerful, and highly efficient, with UEF ratings of 0.60 – 0.62.
Winner: Bradford White because it is more energy efficient.
2. Cost
You must consider your budget when buying a water heater. How do the two brands differ in terms of pricing? Let's find out:
Bradford White water heaters are more expensive compared to Rheem with a price range of $600 -$2000.
Rheem water heaters are competitively priced, ranging from $500 – $1700, and have special features for optimal performance with modern functionality.
Winner: Rheem because they are competitively priced with a lower price range.
3. Installation Process
How easy is it to install the water heater? Let's know: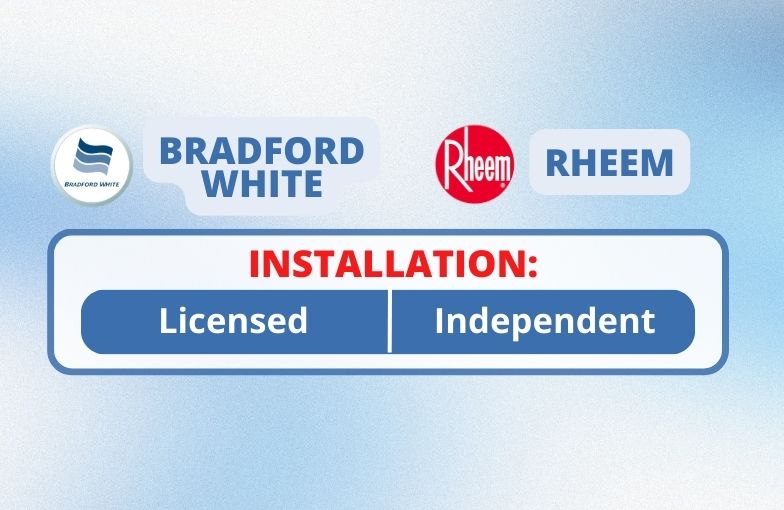 You must hire a qualified, licensed professional to install a Bradford White water heater to ensure safety and maintain performance quality per the warranty.
Rheem is easier to install because the warranty does not require professional installation. You can save more money by doing the installation yourself.
Winner: Rheem Heaters due to simple installation.
4. Self-cleaning Features
Cleaning a water heater is an essential part of maintenance. A self-cleaning water heater saves you time and money.
Bradford White water heaters come with a self-cleaning mechanism made of hydro jets that spray water on the inside of the tank.
Rheem water heaters are not made with self-cleaning mechanisms. It would be best to clean the tank's interior to prevent calcium buildup manually.
Winner: Bradford White due to the self-cleaning Hydrojet systems.
5. Lifespan
Water heaters are among the most expensive appliances in the house, so you must consider how long they serve you when getting one.
Bradford White water heaters are considered more durable due to their multiple features like Vitraglass lined tanks and Hydrojet total performance system that helps improve efficiency and reduce internal wear.
Rheem water heaters are also durable due to their thick tanks that absorb shock from external forces but have fewer smart features that help reduce corrosion.
Winner: Bradford White due to the improvements made to increase lifespan.
6. Where to Buy
Your budget might already be sorted out, but where do you buy your water heater? The place of purchase varies depending on the brand.
You must buy a Bradford White water heater at a professional plumbing supply house or a local distributor. The company does this to ensure professionals specify, sell, and install them.
You can get your Rheem Water heater delivered to your home from a Rheem dealer or Big box stores. They are readily available because of Rheem's partnership with Home Depot.
Winner: Rheem because they are available in different stores.
7. Type of Warranty
Warranty is the most important thing to consider when buying a water heater. Let's look at how these brands compare.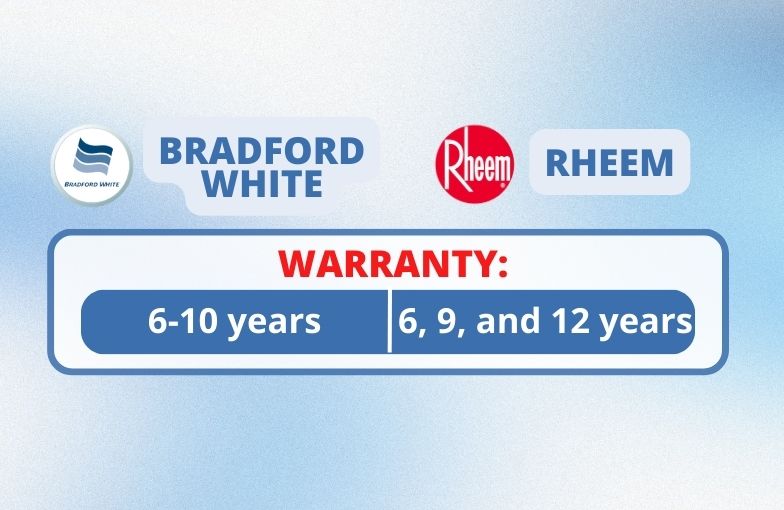 Most Bradford White water heaters have a limited warranty of 6 – 10 years that covers malfunctions or damage during the installation process.
Rheem offers 3 different warranties of 6, 9, and 12 years. They vary depending on the amount you pay. The warranties are prorated and cover only part of the buying price.
Winner: Rheem because it has a more flexible warranty.
8. After Sales Service & Customer Support
Both heaters have customer support services that come to your aid whenever you have a problem.
You can contact Bradford White technical support at 1-800-334-3393 or send an email where you get 24/7 customer support. Lorraine Dundee from consumeraffairs.com claims that they responded to her request but took time before they could solve the problem and honor their warranty.
You can get Rheem customer support service at 1-866-720-2076 anytime. Rheem customer service is ranked #581/1022 on https://www.customerservicescoreboard.com/Rheem, which rates it at terrible.
Winner: Bradford White Water Heater – Customer service is more reliable and offers instant solutions to your problems.
Bradford White vs Rheem Water Heaters: Known Recalls
Bradford White has one known recall issued between April and May 2002. The voluntary recall was because of the following issues.
Some models were fitted with flue baffles that didn't meet the technical specifications.
The incorrectly fitted baffles could have resulted in excess release of carbon monoxide, which is fatal.
Rheem has two known recalls. One was issued on manufactured water heaters between May and December 2006, and the other in 2016. The recall was made for the following reasons.
The switch fails, and the air door moves out of place during transit, which could cause a carbon monoxide poisoning hazard.
The faulty thermostat of Rheem performance electric heaters tended to malfunction and overheat.
Bradford White vs Rheem: Which one Should You Go For?
Each company is at the top of its game, with some perks in each model. There is very little clear-cut difference in which water heater brand is superior to the other.
Bradford White is more durable and has more features than Rheem. The American-made water heater has several unique safety features, with most of its Energy Star Certified brands.
Rheem water heaters are more competitively priced when you compare performance and value for money. Rheem is also environmentally friendly and features notable innovative technology. The heaters are also locally available, making acquisitions easier.
Frequently Asked Questions
Bradford White vs Rheem: Which Is the Most Reliable Hot Water Heater?
The two water heater brands are well-renowned across the world. Bradford White water heater is more reliable because of the advanced features and technology. Compared to Rheem, Bradford white has a longer life expectancy.
What Is the Average Lifespan of a Bradford White Water Heater?
The average lifespan of Bradford White water heaters is 10 – 15 years. Some models can last up to 20 years when properly maintained.
How Long Does a Rheem Water Heater Last?
A Rheem water heater can last 5 – 10 years, depending on other factors like maintenance and water purity. You can get an additional 5 years if you service it regularly.
Is Bradford White better than Rheem?
Yes, Bradford White is better than Rheem in terms of performance and durability. However, that does not mean it doesn't have its drawbacks.
Are Bradford White water heaters good?
Yes, Bradford White water heaters are good, due to their energy effectiveness, self-cleaning, and lifespan. But
Conclusion
Bradford white vs Rheem has been an ongoing debate for a long. The two water heater brands are renowned worldwide for their unique features and performance.
Bradford White is well known for its durability and reliability, enhanced by an array of features like the Hydrojet total performance system. On the other hand, Rheem heaters are known for their efficiency and cost-effectiveness, making them perfect for residential use.
Choose Bradford white for durability and performance but at a high price. Choose Rheem if you want functionality and an endless supply of hot water at an affordable price.