Choosing between Berkey vs Brita can be difficult, as both companies claim to offer great filtered water. To help you determine which water filter system best fits you, I invite you to read this comparison guide. There, I will discuss the pros, cons, features of both filtration systems, and more. So, without any delay, let's get into details!
Quick Comparison
Berkey and Brita are two prominent brands when it comes to water filtration systems. However, they both have different characteristics, let's go through them quickly:
Berkey excels in high filtration capacity and can filter up to 3000 gallons of water per filter while the Brita filter can only filter 40-120 gallons before they need replacement.
Brita water filter offers a budget-friendly portable filtration product like their pitcher. On the other hand, Berkey systems like the Imperial model are bulky and demand a high upfront cost.
But these are just the basics. Continue reading more to learn about them from someone who actually has experience with both systems. For your ease, I will compare both by 7 different parameters and help you decide which is the right choice for you. Let's dive deep into the details!
Berkey and Brita Comparison Table
Listed below are some of the important aspects of both filtration systems:
| | | |
| --- | --- | --- |
| | | |
| | Removes 99.0-99.9% of contaminants | Removes 86.0-99.9% of contaminants |
| | | |
| | Gravity-fed polished stainless steel (or co-polyester) filtration system | Single-filter plastic pitchers/dispensers for small-volume filtration |
| | | |
| | | |
| | | |
| | Large capacity+ Long lasting filters | |
| Reason To Consider Other Options: | | |
Now we have gone through the basics, let's check out their details!
Berkey Positives and Negatives
For a better comparison, let's take a look at the positives and negatives of both. Let's dive in!
Pros
Listed below are the benefits of the Berkey water filter:
They can remove up to 200 contaminants like inorganic minerals and heavy metals from the water.
Only removes the harmful minerals from water while keeping the healthy ones.
They are durable as are built with stainless steel.
Offers a lifetime warranty so you will have peace of mind that your investment is safe.
The filter capacity of the Berkey water filter is immense, at 3000 gallons.
Consistent flow rate to ensure uninterrupted water supply.
The long-term filtration system with durable filters and parts is cost-saving in the long run.
It comes with a fluoride filter that targets and removes specific contaminants from your water.
Cons
The following are the cons of the Berkey water filter systems:
They do not have NSF certification.
Costs more than the competition.
They are big in size and take more storage space.
Brita Positives and Negatives
Now let's see what are the perks and downsides of Brita filters:
Pros
Here are the advantages of this water filter system:
A lower initial price tag makes them an affordable choice.
They are NSF certified which ensures their claims are verified.
Their portable design makes them convenient and flexible to use.
The simplified maintenance and cleaning process saves time and effort.
The filter has the ability to remove 10 different kinds of contaminants from water.
Cons
Let's see the downsides of the Brita filter:
The water filter can minimize the impurities up to some extent rather than completely eliminating them.
Offers only a limited-time warranty of 90 days, which is a red flag on their durability.
Filter capacity is very low as a result, frequent replacement is needed which will be costly in the long run.
The flow rate is less as compared to its competitors like Berkey.
As we have gone through the pros and cons of both Brita and Berkey water filters, let's see which products these 2 brands offer.
Brita Product Line
Brita offers a range of water filters that cater to different needs. Let's take a look at them: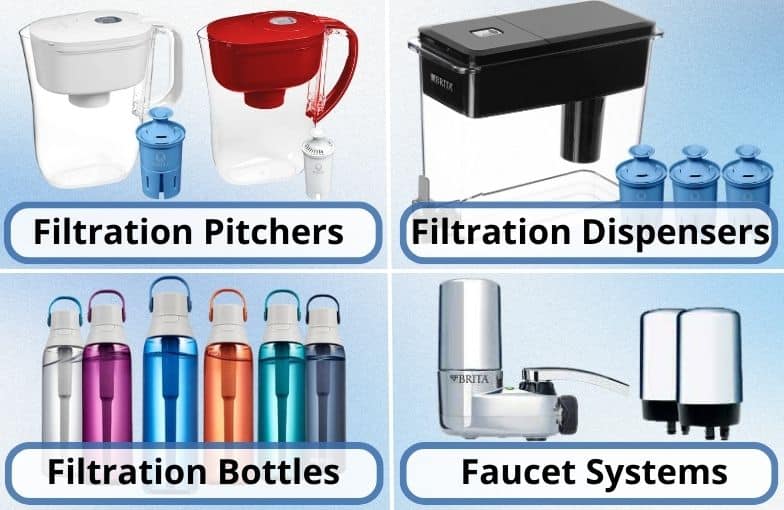 1. Filtration Pitchers
Brita's pitchers are portable and designed to filter a small amount of water. They come in 6, 10, and 12-cup capacities and fit conveniently inside the standard refrigerator. Also, Some models feature a digital replacement filter indicator. Let's take a look at some of the popular models of pitchers offered by Brita:
| | | | |
| --- | --- | --- | --- |
| | | | Cascade Stream Water Pitcher |
| | | | |
| | | | |
| | | | |
| | | | |
| | | | |
| | | | |
2. Filtration Dispensers
These are similar to pitchers with more capacities and typically can hold up to 25-27 cups of water. They have a spigot for dispensing water and can fit inside the refrigerator. These dispensers are compatible with Standard, Elite, or Stream filters. Here's the breakdown of their dispensers:
| | | | |
| --- | --- | --- | --- |
| | | Ultraslim Stream Water Dispenser | Ultramax Dispenser with Standard Filter |
| | | | |
| | | | |
| | | | |
| | | | |
| | | | |
| | | | |
3. Filtration Bottles
Brita's portable water bottles are equipped with filters, making them ideal for carrying with you. They have a capacity of 20, 26, 32, and 36 ounces and come in different colors. Listed below are the filtration bottles offered by Brita:
| | | | | |
| --- | --- | --- | --- | --- |
| | Premium Bottle Hard-Sided Plastic, 26oz | Premium Bottle - Stainless Steel, 32oz | Premium Bottle - Stainless Glacier, 20oz | Premium Bottle Hard-Sided Plastic, 36oz |
| | | | | |
| | | | | |
| | | | | |
| | | | | |
| | | | | |
| | | | | |
4. Faucet Systems
Their faucet systems can easily be installed and you can get filtered tap water. They offer a filtering capacity from 100 to 200 gallons, depending upon the model.
| | | |
| --- | --- | --- |
| | Complete Water Filter Faucet System | Basic Water Filter Faucet System |
| | | |
| | | |
| | | |
| | | |
Berkey Product Lines
Berkey primarily offers its steel filtration system that comes in various sizes. With durable construction and multiple filters, it ensures you have clean and safe drinking water.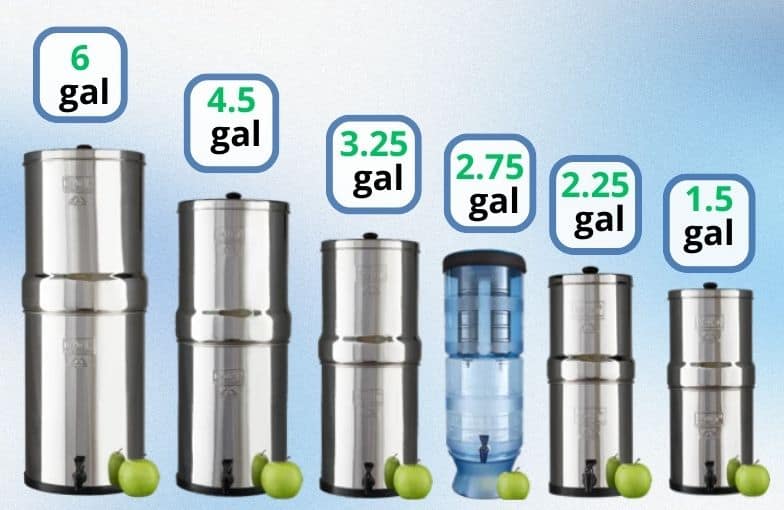 1. Filtration Systems
Let's go through their topline products:
| | | | |
| --- | --- | --- | --- |
| | | | |
| | | | |
| | | | |
| | | | |
| | | | |
| | | | |
| | | | |
| | | | |
| | | | |
| | | | |
| | | | |
| | | | |
| | | | |
| --- | --- | --- | --- |
| | | | |
| | | | |
| | | | |
| | | | |
| | | | |
| | | | |
| | 5.5- 16.5 gallons per hour | | |
| | | | |
| | | | |
| | | | |
| | | | |
| | | | |
2. Shower Filters
Additionally, Berkey offers shower filters that are effective in removing 95% chlorine and decreasing the scale buildups from tap water. The filter works effectively in hot and cold water and eliminates odors. It comes with a lifespan of 20,000 gallons or one year.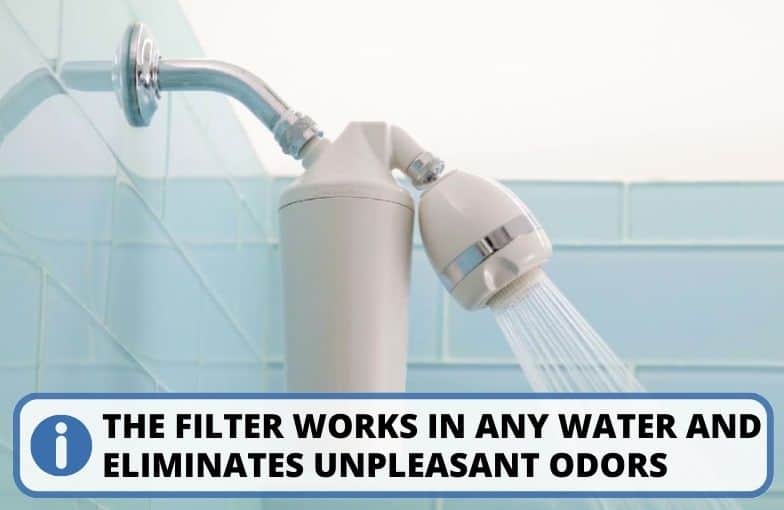 Berkey vs Brita Filtering Capabilities
Berkey can remove up to 200 contaminants from water. Listed below are the major elements and their reduction percentages:
Now that we have gone through Berkey's, let's see which contaminants Brita can remove:
Berkey vs Brita Comparison: 8 Parameter Detailed Comparison
Now that we have gone through the product line, let's put Berkey vs Brita for a head-to-head competition. I will review them based on 8 parameters and you will see which one is a suitable choice for you!
1. Filtering Capacity and Pollutant Removal Efficiency
Brita filters are not as effective as Berkey's. Let me show that with the facts: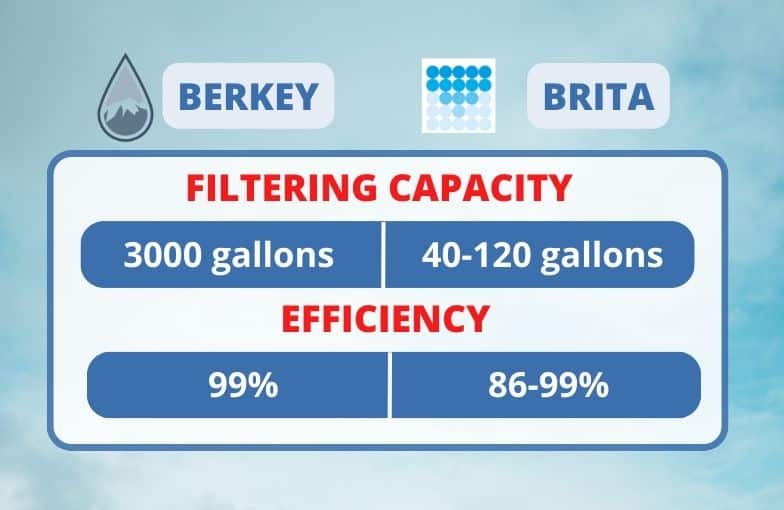 Filtering capacity: Brita's filtering capacity ranges from 40-120 gallons per filter. In contrast, Berkey filters can purify up to 3000 gallons of water.
Efficiency: Brita doesn't decontaminate from the water completely but significantly improves (86-99%) water quality and taste. Talking about its counterpart, Berkey filters are far superior at doing their job and with an efficiency of 99%.
Pollutant removal: Brita filters reduce heavy metal contaminants like copper, lead, and mercury from water. Also, they get rid of pesticides, chlorine, and other sediments present. Berkey filters also can remove up to 200 different contaminants like heavy metals, pathogens, and bacteria from water that are usually present in water.
Useful substances removal: Berkey has the unique ability instead of its opponent to preserve essential minerals in the water while filtering.
Storage Capacity: Brita products are smaller in size and portable while Berkey offers larger gravity-fed systems. For example, Berkye Imperial has a storage capacity of 4.5 gallons while the Britas largest can store at max less than 2 gallons.
Winner: Berkey stands out as a winner as it offers thorough filtration by eliminating a wider range of contaminants from water.
2. Ease of Installation and Design
Brita offers an easy solution to the users as their devices don't need any prior setup. Whether it's their dispensers, bottles, or pitchers, the process is as simple as attaching a filter and filling it with the water. Even their faucet system needs to screw with the tap and can be used immediately.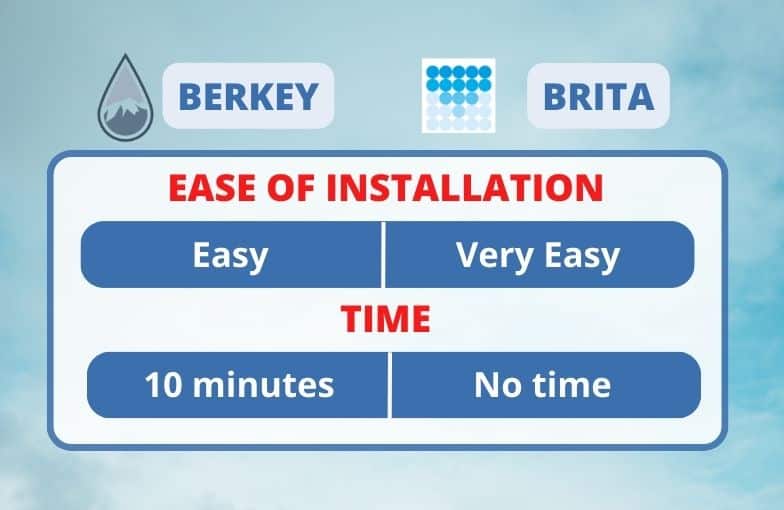 Installing the Berkey water filtration system requires around 10 minutes while setting up as they are bulky compared to its competition. To set up Berkey, you will need a wrench to attach the water spigot to the base and then insert the filter into the base of the Berkey system.
Here is a helpful video demonstrating how you can set up your Berkey filtration system.
Winner: Brita Water Filter takes the lead here as their systems are user-friendly and don't need any pre-setup.
3. Space
Brita offers a more portable and compact size unit and they can easily fit into the refrigerator. So you don't have to worry about the space while getting one of the Brita products.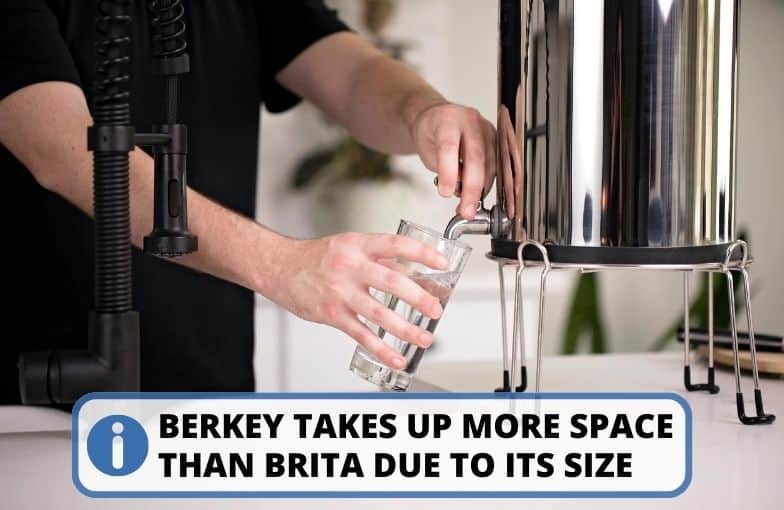 Berkey offers containers whose height ranges from 19 to 31 inches, depending on the model. They are space-taking units, so before getting one, you should consider the place where you will be placing them.
Pro-tip: I would recommend placing a water filter system near the tap or sink so you can easily fill the tap water in it; otherwise, you will have to fill it using pitchers or jugs.
Winner: Brita is the clearcut winner here as they don't take much space compared to its counterpart.
4. Number of Filters
Due to the compact size of Brita's filtration systems, only a single filter is enough for their operation. However, their faucet systems come with both single and dual filters.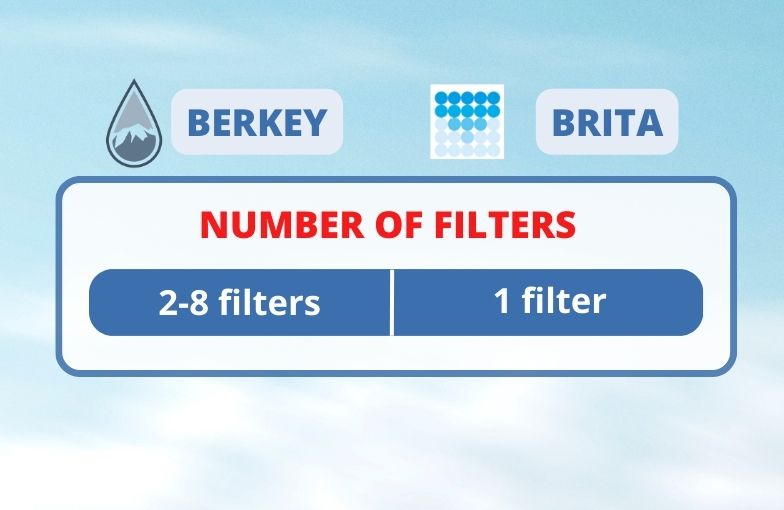 In contrast, Berkey's larger systems demand multiple filters at the same time. Even their smallest systems require at least two filters, while their largest counterparts simultaneously demand up to eight filters.
Winner: Selecting the winner here is debatable because Brita uses fewer filters, which apparently reduces the replacement filter cost and also results in lower filtration capacity. On the other hand, the Berkey uses more filters to operate but offers extensive filtration capacity.
5. Filters Lifespan & Replacement Costs
Brita offers a range of filters that have varying lifespans. Here is the breakdown of their filters:
Now, let's explore the content of the table in detail:
Replacement filters last for approximately 2 months after that they need to be replaced. The approximate cost of a Brita filter is around $8, so you will have to pay around $48 in terms of filter replacement every year.
Brita's Elite filter has the capacity to purify 120 gallons of water that lasts up to 6 months. It is also a cost-effective filter replacement deal as they cost only $20.
The faucet system has the ability to clean water of 100 gallons, which implies its lifespan is of 4 months only and you will have to replace the filter afterward.
Now that we have learned about Brita's filters, let's check out the Berkey's too:
Here is a quick breakdown of Berkey's filters:
When it comes to the Black Berkey filter, its capacity is much more than its competition as it can filter up to 3000 gallons of water. Depending on the model, the number of filters can vary in their system.
They also offer fluoride filters for the effective removal of arsenic and fluoride content from water up to 97%. They are compatible with all Berkey models; however, keep in mind that these filters can reduce the flow rate by 15-20%
For the smallest container, two filters are required which means they can purify up to 6000 gallons of water. The pair of Berkey filters will cost you around $166 which is a high upfront cost but they last for around 4 years.
Winner: Berkey stands tall in this category as you do not have to worry about changing filters frequently and they are much more cost-effective.
6. Certifications: Why is Berkey not NSF certified?
Brita filters have important NSF 42,53 and 401 certificiations making them a reliable choice.
The Longlast filters can eliminate up to 99.5% of lead, 93.4% of mercury, and 97.4% of cadmium.
Longlast+ filters are more efficient and they have the ability to eliminate 99.5% of lead, 95.5% of mercury, and 99.2% of Cadmium.
Their faucet systems can remove up to 99.3% of lead and asbestos.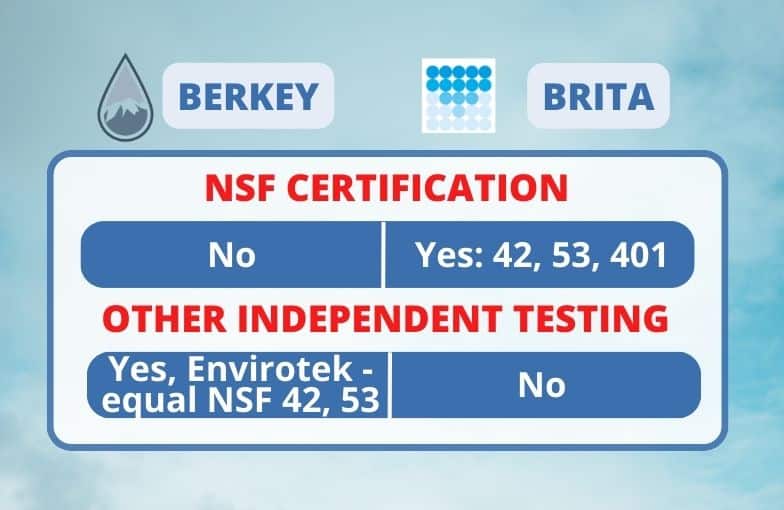 In contrast, Berkey doesn't have any ANSI or NSF certification due to independent testing and a hefty NSF fee. But their claims have been tested by Envirotek Lab which equals NSF 42 and 53 certification. As per the lab tests, their filters can remove up to 99.9% of lead, mercury, and other heavy metal contaminants from water.
Winner: It depends on personal preference. If you are more keen on NSF certification, you should opt for Brita. On the other hand, Berkey can remove more contaminants from water but there is no official certification backing their claim.
7. Price
When it comes to the initial investment Brita water filters are a more budget-friendly choice as their products range from $17.99 to $49.99. However, keep in mind that they need frequent filter replacement which will result in higher long-term costs.
On the other hand, Berkey water filters are much more expensive, and their price range falls from anywhere between $40 to $530, depending on the model you are buying. The good thing about their filtration system is that their filter life span is much longer making them a cost-effective choice in the long run.
Cost per Gallon
For a better understanding in terms of cost, let's calculate the cost per gallon for both of the contenders;
Brita's Elite filter is the most affordable option compared to its own streamlined and standard filter. So, I will calculate the cost it takes to purify one gallon of water:
It can filter 120 gallons of water for $20, so the cost per gallon for the Brita elite is around 17 cents while for standard and streamline, it's 20 cents.
Berkey filters can remove 6000 gallons while costing $166, so the cost per gallon is around 2.77 cents per gallon.
Winner: The winner here is debatable. If you are planning to use the water filter system for a longer period of time, Berkey definitely takes the lead here because of the low cost per gallon. If you are considering a unit for a shorter period of time, Brita is the option I would opt for.
8. Warranty
Brita offers only a limited-time warranty of 1 year on their products but the good thing is they offer 30 days money-back guarantee. This allows you to return the product if it is not up to your standards or can't fulfill your needs.
Berkey on the other hand offers an extensive warranty for its water filters. They offer a lifetime warranty on the body and parts. Moreover, the black berkey filter elements come with 2 years of warranty, and fluoride filters with 6 months.
Winner: Berkey wins this category with flying colors as they offer better warranties to ensure your investment is safe.
Customer Feedback and Complaints
Both Brita water filter and Berkey systems are loved by their customers and get positive reviews yet there are some common issues reported by the users.
Brita User Experience and Complaints
Here is a breakdown of the main issues raised by the Brita customers: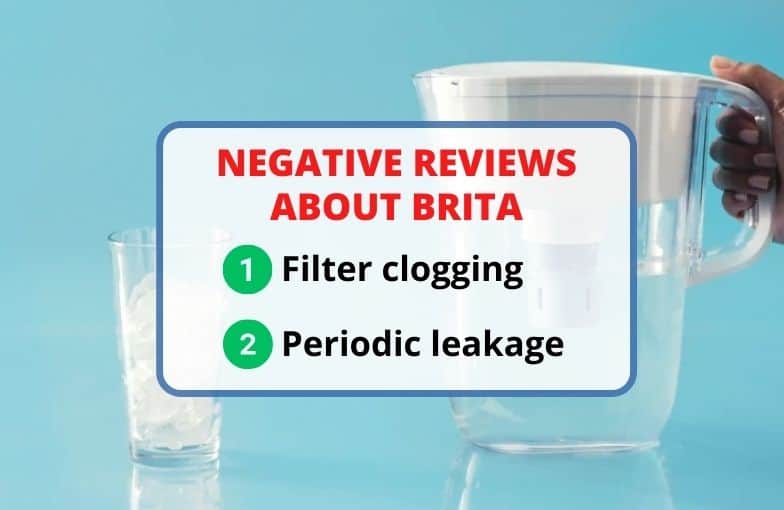 1. Filter Clogging
One of the most reported complaints in Brita filters is clogging, which leads to a slower flow rate of water:
According to Charlie Wilson, his filter started to clog up in a week.
Another customer, Nicole Morgan reported a frustrating event where her filter clogged every second week.
2. Possible Leakage
Some users reported leakage in their Brita dispensers. Here's a breakdown of their reviews:
Jade Everage reported that even though her family initially loved the dispenser, it started to leak after a few weeks.
Another consumer Jessica Wolfe stated that she started to face leaking problems in only a month.
Berkey User Experience and Complaints
On the other hand, the Berkey filter is expensive but offers a long-term solution. Let's go through their common complaints: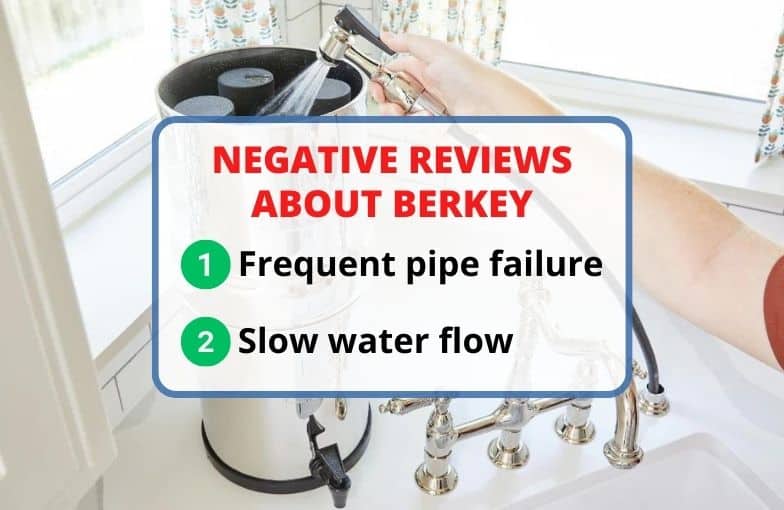 1. Poor Quality Spigot
A lot of users weren't happy with the poor construction quality of the spigot knob, you will need to replace them:
Jim was disappointed because of the plastic-made spigot because it started leaking immediately.
2. Slow Water Flow
Berkey Systems exaggerates when it comes to water flow rate:
One of the users, L. Erley reported that the flow rate is actually less than the advertised value.
Another consumer stated that the flow rate maximum goes up to 2.25 gallons while the Berkey claims 3.5 gallons per hour.
Important Note: It's worth mentioning here that their devices can't be sold in Iowa and California as they don't have NSF.
Berkey Lawsuit on the EPA
The EPA got a lawsuit from Berkey in August of 2023 as they classified their water filters as pesticides, according to the FIFRA. This was really bad for Berkey as their water filters were going to be removed from the market which they considered unjustified. This would also lead to many people getting removed from their jobs and many cheap knockoff products being introduced in the market.
Berkey in the start accepted to state their filters as treated devices but EPA reinterpreted and moved on to classifying them as pesticides. The proper procedure was followed in doing so. So, this lawsuit is for the EPA to follow the necessary steps before introducing any new classifications. Not only Berkey but a lot of other companies will be affected by this legal war.
What is the Best Water Filter Compared to Berkey?
If Berkey's lack of NSF certification and costly price tag is a concern for you, I would recommend you for ProOne. It is because of the following reasons: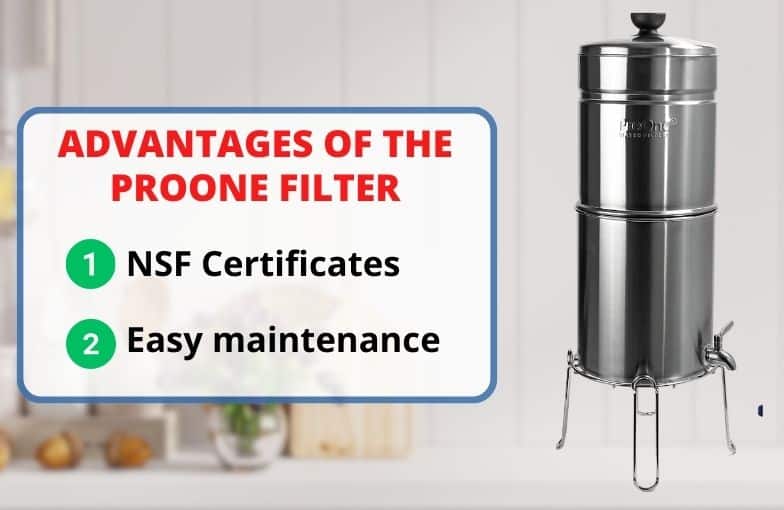 They are NSF-certified.
ProOne water filters are easy to maintain.
Their main attraction is that they are pocket-friendly. (Ranges from $69.95 – $379.95)
Are Berkey Filters Better Than Brita? Which One You Should Go For
Berkey and Brita are renowned water filtration industry brands and offer unique solutions catering to different needs. But the question is which one is the best fit for you? It depends on your water consumption and your budget.
Choose a Berkey water filter system if you prioritize the following:
High Capacity: Needing to efficiently filter significant quantities of up to 6 gallons of water in an hour.
Effective Filtration: Thorough removal of up to 200 contaminants and other impurities while maintaining the healthy ones.
Long-Lasting Filters: Filters last for 4 years approximately, reducing the frequent need to replace them.
Long-term Use: Saves money in the long run as it costs only 2.7 cents per gallon compared to its competitor, which costs 17- 20 cents per gallon filtration.
Opt for the Brita water filters if you prefer the following:
Portability: Smaller filtration systems that can even be stored in your fridge.
Ease of Setup: If you don't like complicated set-up processes Brita filters are very easy to install.
Budget-Friendly Options: Affordable choice as the upfront cost is very minimal and can save up to $325 per year.
NSF Certification: Filters have industry standard certifications, NSF 42, 53, and 401 that add trust and value.
FAQs
Are Berkey filters more expensive than Brita filters in the long run?
No, Berkey filters are cheaper than the Brita in the long run. Brita filters cost around $8 and needs to be replaced 6 times a year. While Berkey costs $166 and needs to be replaced after 4 years.
Which system is more suitable for traveling or outdoor use, Berkey or Brita?
Brita water filters are more suitable for traveling as they are smaller in size and offer great portability while the Berkey smallest unit weighs 6 lbs without water in it.
Do Berkey and Brita filters affect the taste and odor of water differently?
Yes, Both Berkey and Brita filters remove the odor and other unpleasant taste from water and the filtered water of both systems have a similar taste.
Can I use Berkey and Brita filters in areas with well water or hard water?
No, Berkey and Brita's filters aren't designed to remove hardness from water. They can only filter your water. To remove hardness, you should opt for a water softener.
What are the disadvantages of Berkey water filters?
The disadvantages of Berkey filters are that they are costly and don't have any official certification.
Conclusion
Summing up Berkey vs Brita, both offer a great solution when it comes to water filtration. Berkey is the go-to option for thorough filtration and long-term savings, while Brita offers affordability and user-friendliness. Choosing between them depends on your specific needs.
Berkey excels in comprehensive filtration and can remove up to 200 contaminants from your water. The Berkey filters can remove up to 3000 gallons of water and have a long life span of up to 4 years. Their water filters come in large sizes and need higher upfront costs.
On the other hand, Brita offers budget-friendly options with ease of installation and is portable. Their filter life ranges from a couple of months to 6 months and they are NSF-certified.