If you are looking for quality gravity water filters available in the market today, Alexapure vs Berkey must be on top of your list. Choosing between these top-rated brands can be challenging since they have similar features and hardly seem to have differences. Both brands are well-built and perform powerfully, making them a perfect choice for many homeowners.
Let me take you through everything you need to know about these two water filters to help you choose one that suits your needs!
Quick Comparison
Both Berkey vs Alexapure have an excellent reputation as highly-rated household water filtration solutions. Let's discover some characteristics that make them distinct from each other.
Performance Comparison: Both filtration systems perform effectively and powerfully. Alexapure water filters clean approximately one gallon of water every hour, while the Berkey model will clean 3.5 gallons of water in one hour.
Effectiveness: Both Alexapure and Berkey can eliminate over 200 contaminants found in water, including chlorine. Alexapure removes 82.0 to 99.9% of contaminants, while Berkey eliminates 90.0 to 99.9%.
Holding Capacity: Alexapure's holding capacity is 8.5 liters with a filtration capacity of 5000 gallons of water. However, this capacity can be increased if you add 3 additional filters. On the other hand, Berkey's filtration capacity is 3000 gallons of water for every filter, and with its two filters, the capacity goes up to 6000 gallons.
Arsenic and Fluoride Contaminants: Alexapure can eliminate fluoride and arsenic from the water, while Berkey cannot. For the Berkey filter, you must purchase a separate filter.
Is Alexapure Better than Berkey? Both Alexapure and Berkey gravity water filters have a lot of differences and similarities. Continue reading, and I will take you through the pros and cons of each gravity filter brand, customer complaints from each filtration system, and more. Let's get started!
Alexapure vs Berkey Comparison Chart
Check out the comparison for Alexapure and Berkey in the table provided below:
| | | |
| --- | --- | --- |
| | | |
| | | |
| | | |
| | | |
| | | |
| Filter Lifespan (in gallons): | | |
| | | |
| | | |
Alexapure Gravity Water Filter Pros and Cons
Alexapure's Pro model water filter works using gravity and is developed using breakthrough technologies to give users the cleanest water. Although it is an effective and powerful filtration unit, it has its merits and demerits, including the following:
Pros of the Alexapure Pro Water Filter
Here are a few benefits of the Alexapure Pro system:
Higher filter capacity: This filter system cleans about 5,000 gallons of water for every filtration element.
Relatively Affordable: Alexapure Pro filters are slightly more economical compared to Berkey filters.
Effectively eliminates common contaminants: This Alexapure water filter gets rid of over 200 contaminants.
Products are independently tested: The filters and materials undergo independent testing by Envirotek Laboratories to ensure they comply with set industry standards.
Can Accommodate More filters: An Alexapure Pro unit has enough space to accommodate additional filters for those who desire increased filtration rates or lifespan.
Warranty Available: Alexapure products have a one-year warranty covering the filtration unit and additional parts.
Alexapure Pro Water Filter Cons
Below are a few disadvantages of the Alexapure Pro model:
Fewer selections: Alexapure only has two water filters–the survival spring personal water filter and the countertop Pro model. In addition, there is a pitcher water filter.
Could include additional filters: Although the Alexapure Pro can accommodate 4 filters, it only comes with one.
It's not the most budget-friendly option available: There are many other brands of gravity-fed units in the market that are more cost-effective than the Alexapure Pro.
Lesser Known Brand: Alexapure is still a new brand in the market and, therefore, not well known by most consumers.
Berkey Water Filters Pros and Cons
The gravity-fed water filter is one of the popular Berkey products in the market. However, these devices have benefits and drawbacks that you should consider before purchasing. Let's look at their advantages and disadvantages to assist you in making the right choice:
Berkey Water Filter Pros
Discover some of the advantages of this water filtration unit:
Multiple selections: The Berkey filters are available in different design options to suit consumer needs. They have stainless steel filters in various sizes, a BPA-free plastic device, and a lightweight travel option.
Durable filter: Berkey's filter elements can clean 6,000 gallons of water before requiring any replacement.
Removes most contaminants in Water: The Berkey unit eliminates more than 200 contaminants, leaving your water clean and healthy to use.
Renowned Brand: Berkey is a popular brand that is well-established in the market.
Independently tested: Berkey filtering devices and materials undergo independent testing by a third-party lab to confirm that they meet or exceed the set industry standards.
Has a Lifetime Warranty: All Berkey products have a lifetime warranty, so you never have to worry about their quality or longevity.
Different Filter Options: The Berkey systems are available in 2 or 4 filter units.
Berkey Water Filtration System Cons
Below are some of the drawbacks of the Berkey units:
Lacks NSF testing and certification: Berkey devices are not accredited by NSF. It would reassure buyers that the manufacturer can back its claims by getting NSF certification.
Issues with rubber taste: Although Berkey is an effective water contaminant removal, many buyers complain of its pungent rubber taste.
The Range of Alexapure Models
The Alexapure brand does not have multiple countertop filter sizes. In its catalog, the brand has just three products. These include:
Alexapure Pro: This is a countertop unit that is perfect for small or big families.
Survival Spring Personal Water Filter: This is an excellent water-filtering device for travelers. It effectively removes microbiological threats, such as cryptosporidium, E. coli, salmonella, and legionella. With a filtration capacity of 300 gallons, you get months of safe drinking water while traveling.
Alexapure Pitcher Water Filter: The 10-cup water filter pitcher is available at $69.95, making it the most expensive in the market. However, it removes heavy metals, chemical compounds, and microplastics.
The chart below compares the three Alexapure filters:
| | | | |
| --- | --- | --- | --- |
| | Gravity-fed Alexapure Pro | Survival Spring Personal Water Filter | |
| | | | |
| | | | |
| | | | |
| | | | |
| | | | |
| Filtration rate (in Gallons per hour): | | | |
| | | | |
| | | | |
| | | | |
| | | | |
The Range of Berkey Models
The Berkey brand offers a range of devices in multiple sizes that cater to the needs and preferences of different consumers. Below is a list of the models and their specifications:
Big Berkey: This countertop filter features a 2.25-gallon filtration capacity, making it perfect for smaller families.
Travel Berkey: This unit is great for single people or smaller families as it has a 1.5-gallon filtration capacity and can accommodate two filters.
Berkey Shower Filter: This filter comes with a 20,000-gallon filtration capacity and can serve larger families.
Berkey Light: This device is manufactured using BPA-free plastic and features a 2.75-gallon water capacity. It's perfect for households with 2 to 6 people.
Royal Berkey: This unit has a filtered water capacity of 3.25 gallons and is ideal for homes with two to six people.
Imperial Berkey: This 4.5-gallon filter device is perfect for families of six to ten people. It has faster filtration, and its housing can hold about six Black Berkey Elements.
Crown Berkey: The 6-gallon water capacity filter is perfect for large households and smaller offices. Its housing can hold up to eight Black Berkey Elements.
The chart below makes the comparison of the different Berkey products much easier.
| | | | | |
| --- | --- | --- | --- | --- |
| | | | | |
| | | | | |
| | 7.5" diameter x 19.25" height | 8.5" diameter x 19.25" height | 9.5" diameter x 23" height | |
| | | | | |
| | | | |
| --- | --- | --- | --- |
| | | | |
| | | | |
| | | | |
| | | | |
| | | | |
| Maximum number of Filters: | | | |
| Filtration rate (in Gallons per hour): | 5.5- 16.5 gallons per hour | | |
| | | | |
| | | | |
| | | | |
| | | | |
| | | | |
Berkey vs Alexapure: Detailed Comparison by 10 Parameters
Despite all the similarities, the Alexapure Pro model and the Big Berkey have a few significant differences that may be a major deciding factor in purchasing. Let's look at how these models perform compared to the major specifications. Keep reading to compare these two filtration units in detail.
1. Filtering Capacity and Effectiveness
The Alexapure Pro model cleans one gallon per hour. However, adding 3 more filters will increase this capacity to 4 gallons. Conversely, the Big Berkey cleans 3.5 gallons every hour, but adding two more filters can increase this flow rate to 7 gallons every hour.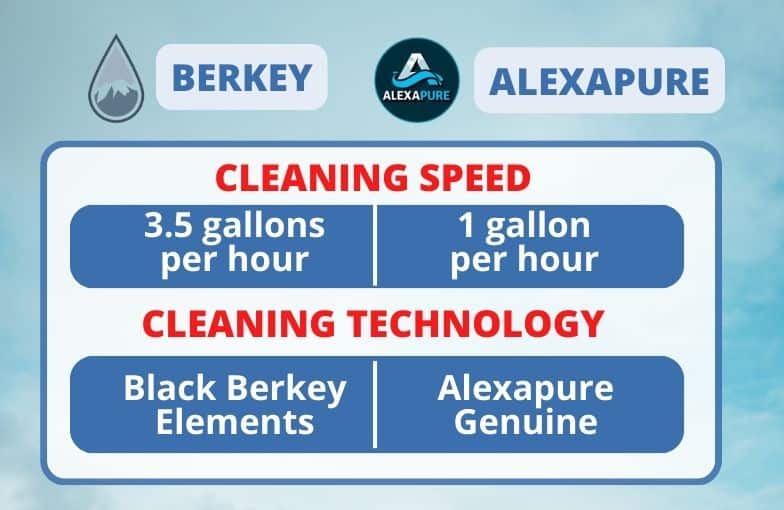 The Alexapure Pro is effective because of the innovative Alexapure Genuine technology, while Big Berkey uses the Black Berkey Elements. Both devices have gravity-fed filter media that eliminates common water impurities, including:
Pharmaceutical drugs;
Heavy metals;
Disinfectant;
Volatile organic compounds;
Semi-volatile compounds;
Pesticides.
Check out the comparison table for common contaminants eliminated by Alexapure and Berkey below:
| | | |
| --- | --- | --- |
| | Alexapure Pro % Reduction | |
| | | |
| | | |
| | | |
| | | |
| | | |
| | | |
For a complete list of eliminated contaminants and detailed lab results, for the Big Berkey click here and for the Alexapure Pro click here.
Winner: Both filters have a higher capacity and are independently tested to eliminate common contaminants in water.
2. Ease of Installation and Design
Berkey vs Alexapure has a similar and straightforward installation process. They require assembling the lids, attaching the spigot and filter element before filling it with water and covering it with the lid.
For the Alexapure unit, flushing of the filter must be done twice after installation. You should then rinse your filter, and the device can now be used. For the Berkey filter, flushing is necessary and is known as the priming process. Priming is done using several techniques, including:
Soaking the filter element in water for 8 hours;
A Prime Rite tool;
The Black Berkey primer;
A priming button.
For a better understanding, please watch the video:
Winner: The two filter brands have a simple design and are easy to install.
3. Filters Lifespan and Replacement Expenses
The cost of one Alexapure Pro filter is $120 and has a lifespan of 5,000 gallons. This will give you 3 years of clean water before you need a replacement for your Alexapure system.
Berkey filters are more durable, and the replacement cost is approximately $86 per filter. Each unit operates with at least two filters with a lifespan of 3,000 gallons. That means a replacement is only necessary after purifying 6000 gallons of water.
Winner: The winner is the Alexapure Pro unit because filters are a slightly more economical choice for consumers.
4. Space
The Alexapure Pro water filtration system comes with one large filter but can accommodate a maximum of four filters. The Berkey models have two black filters, but some units can hold additional filters. For instance, the Imperial Berkey can accommodate six filters, while the Crown Berkey model has enough space for eight.
Winner: The Berkey water filter is a better choice for large families or business establishments because more black Berkey filters mean more clean water.
5. Spigot
Alexapure Pro devices come with a durable and long-lasting stainless steel spigot that blends perfectly with the whole device. The Berkey brand comes with a standard black plastic spigot. However, a stainless steel spigot is offered as an upgrade.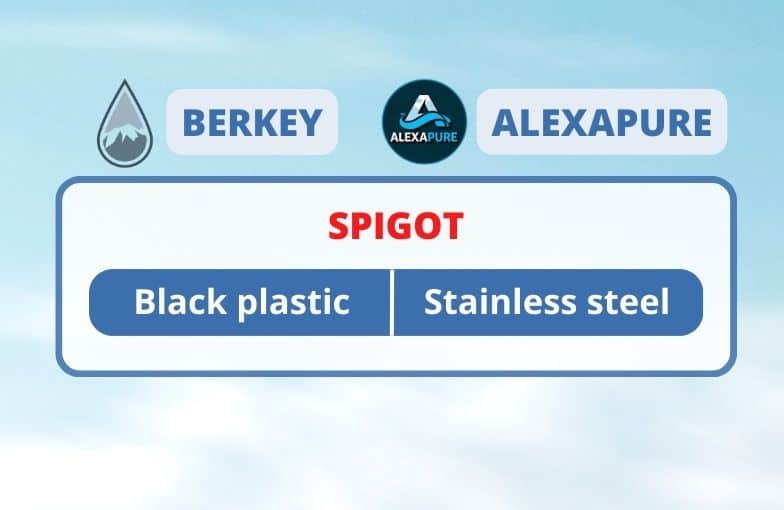 Winner: The Alexapure Pro is the winner since users get a durable spigot with every water filtration device, saving them additional costs.
6. Cleaning and Сare
Both brands have stainless steel reservoirs with small spigots that allow water to pour out. Cleaning and maintenance are as simple as removing the filters and scrubbing the interior of the reservoirs using soapy water.
Routine maintenance necessitates priming, scouring, and filter replacements. Additionally, both systems utilize carbon block filters with similar maintenance processes.
Winner: It's a Tie. The similarities in design between these gravity filters make cleaning and maintenance virtually identical.
7. Certifications
The Water Quality Association (WQA) and the National Sanitation Foundation (NSF) certify all water filtration products on the market. Both Alexapure Pro and Big Berkey systems do not have NSF and WQA certifications. However, they have undergone professional testing by Envirotek Laboratories for compliance with industry standards.
Testing results show that both filter systems satisfy standards 42 and 53 as stipulated by NSF/ANSI. Based on standard 42, these filters satisfy the water quality improvement standards. On the other hand, standard 53 means the filters eliminate contaminants that harm your health.
Winner: A tie. Both the Alexapure and Berkey brands do not have NSF or WSA certifications, but they have been verified to meet NSF/ANSI specified standards 42 and 53.
8. Price
The Alexapure Pro unit is sold at $280 and has one filter. Every additional filter will cost you $120, so you will pay $400 for a two-filters device and $640 for a 4-filters unit. Owing to the high filtering capacities, you should never worry about replacing them for at least 12 years after purchasing, making the Long-standing cost of the device almost negligible.
The Big Berkey is sold at $384 for a 2-filter model, while the 4-filter device is $426. Replacement filters are available at $173 for a two-pack; replacement is required much sooner than Alexapure filters in two to five years. However, the overall costs are also very minimal.
Below is a cost comparison between Alexapure and Berkey:
| | | |
| --- | --- | --- |
| | | |
| | | |
| Cost Per Replacement Filter: | | |
| | | |
| Average Water Consumption Per Year: | | |
| | | |
Winner: The initial costs and long-term costs of buying an Alexapure system, make it the little more affordable option.
9. Term of Service
Alexapure offers a 30-day No Questions Asked Guarantee on all water filter systems if they are unopened. However, after 30 days or for opened products, the return request will be reviewed case-by-case.
Berkey will gladly accept returns within 30 days if for any reason the product does not fit your needs. Whether it has been used or not.
Winner: Berkey leads regarding terms of service because they readily accept their products back.
10. Warranty
For the Alexapure Pro, you receive a one-year warranty from the manufacturer. Berkey gives consumers a lifetime warranty on all their BPA plastic and stainless steel units.
Winner: Berkey is the best choice since the filtering device and its components come with a lifetime warranty.
User Experience and Complaints
Both Alexapure and Berkey brands receive mainly positive consumer reviews; however, these brands have their imperfections. Let's quickly take a look at the customer complaints below.
Alexapure User Experience and Complaints
With a 4.3 star rating out of about 400 reviews, most customers claim the Alexapure brand of water filters outshine other brands. However, there are still a few complaints from users, including:
Easy filter clogging: Most customers complain that mineral buildup repeatedly clogs the filter. The manufacturer recommends routine cleaning of the filter to prevent this clogging.
Slower filtration process: The Alexapure Pro system filters one gallon of water for one hour. However, the slow filtration rate is typical of gravity-fed technology.
Not suitable for large families: Since the Alexapure Pro system only cleans 200 gallons of water, this device is ideal for smaller families.
Costly filters: Every replacement filter is $120, making regular replacements very expensive.
Lacks NSF/ANSI certification: Alexapure water filters are manufactured using NSF/FDA-recommended materials and have been confirmed to meet NSF/ANSI Standards. However, the product is not accredited by NSF or WQA.
Berkey User Experience and Complaints
Most customers give positive reviews for Big Berkey. The device stands out with a rating of 4.7 from more than 900 reviews. Most customers say they prefer the Black Berkey because of its high efficiency and reliability. However, there are a few complaints about the filter, as follows:
Expensive system: The Berkey water filtration units range from $300 to $500, making them a considerable investment for many people. The advantage is that the filters are highly durable.
Slow filtration: The water filtration rate for the Berkey system varies between 2.75 and 6.5 gallons per hour. However, the slow filtration is a characteristic of gravity-fed systems.
Cleaning is Challenging: Cleaning can be quite a challenge because of the countertop filter's size and weight.
Mold Problems: Although not commonly experienced, mold can grow inside the filter if periodic cleaning is not performed.
Not Certified by NSF/ANSI: The device is not accredited to industry standards by NSF and ANSI. However, the filter undergoes testing by an independent laboratory and meets standards 42 and 53.
Is Alexapure Better Than Berkey? Which Filtration System Should You Purchase?
If you are still confused is Alexapure better than Berkey and which one to choose, let's make a bottom line. These two brands of countertop units utilize gravity-fed technology to effectively eliminate contaminants, giving you healthier and better-tasting water. In addition, they have the same size, features, and stainless steel bodies. Below is a quick outline to make your decision-making easier:
Alexapure Pro water filters are perfect for consumers who:
Live alone or have smaller families.
Need a system with easy installation.
Want a lower initial buying price.
Desire a stainless steel spigot.
Want a filter that removes more nitrates and aluminum.
The Big Berkey units are excellent for consumers who:
Have a large household that uses more water.
Desire multiple choices of filters.
Want a water filter that removes more zinc and lead.
Want a more durable.
Desire a system that offers lower ongoing costs.
Wish to choose between plastic and stainless steel water filtering devices.
What Filter is Better Than Berkey?
So what filter is better than Berkey? Although they are touted as being the best, they are not meant for everyone. There are better countertop filters that may suit your needs, including:
ProOne;
Purewell;
ZeroWater;
Doulton's British Berkefeld;
Alexapure Pro.
Frequently Asked Questions
How easy are Alexapure and Berkey water filters to use?
Both Alexapure and Berkey water filter units are easy to use and keep in the kitchen or dining areas. They can also be easily stored and moved if you ever need to change their locations.
How often do I need to change the filters in my Alexapure or Berkey water filter?
Alexapure recommends the filters be changed after every 200 gallons under normal conditions. For Berkey, the manufacturer recommends replacing every set of two PF-2 filters after about 1,000 gallons or every 6 months.
Are Alexapure and Berkey water filters certified by any third-party organizations?
Both Berkey and Alexapure filters were tested by third-party labs to meet NSF standards. However, none of them has received accreditations from NSF.
Where can I buy Alexapure and Berkey water filters?
Both brands of Berkey and Alexapure water filters are readily available online. If you are ready to purchase them, use the links below to check their current prices:
Does Alexapure filter microplastics?
Yes, microplastics have larger particles that the Alexapure gravity-fed unit can effectively filter.
Does Alexapure filter parasites?
Yes, Alexapure effectively eliminates parasites, bacteria, viruses, and other tiny pathogens. In addition, Alexapure is more effective in eliminating harmful compounds such as nitrites, aluminum, and fluorides, while Big Berkey fluoride filters effectively remove lead, zinc, and heavy metal chromium.
Conclusion
If you are worried about the water quality your family consumes, buying an Alexapure vs Berkey water filtering system will solve this problem. Both brands have quality systems with impeccable features and designs to cater to your needs. You can rest assured that these filters will eliminate tap water's most common impurities and contaminants.
The Berkey gravity filters have a lifetime warranty, and the brand has multiple cost-effective models, while the Alexapure devices work faster and last longer. I hope this detailed guide will answer all your questions and assist you in making a knowledgeable decision.