Don't know which one to pick between the Berkey vs Reverse osmosis water filtration systems? I was in your shoes once, so want to share my knowledge to make a choice easier for you. Both are excellent in terms of relevant performance but each has its own filtering potential and benefits. So, let's dive into details to find the filtration system that will cover your needs!
Quick Comparison
It's no wonder that Berkey water filters and Reverse Osmosis (RO system) are both intended for pure drinking water from various contaminants like heavy metals and inorganic compounds. But I would like to emphasize the main differences between these two drinking water purification solutions:
Berkey water filters: They use a targeted approach towards filtration, customizing their filters as per the specific contaminant in your available water source that needs to be removed. This target filter means to respond faster to local/regional issues with the quality of pure water for drinking.
Reverse Osmosis (RO system): They use a holistic approach towards filtration, removing many types of contaminants starting right from minerals up to heavy metals or microorganisms.
So with all these surface-level details out of the way, continue reading to analyze factors such as space-saving, pricing, filtering capacity, and more. Let's move on to the 11 parameters comparison and decide the ultimate pick!
Berkey vs Reverse Osmosis Comparison Chart
The quick and effective way to understand both systems is by performing a detailed overview and comparing the technical specs. Let's see the comparison:
| | |
| --- | --- |
| | Toossna 5400W Electric Shower Head |
| | |
| | |
| | |
| | |
| | 4.92 x 4.92 x 5.51 inches |
| | |
After understanding the complex bits in the table, let's do a quick highlight of the pros and cons of both systems before getting into the detailed guide.
Berkey Systems: The Pros and Cons
For a better understanding and ease of use of the Berkey water filtration system, let's shed some light on the positives and negatives.
Pros
It holds the potential to remove 200+ contaminants.
The water is not acidified after the purification process.
Berkey filters have a lifetime warranty.
The filtration rate is 84 gallons/day.
The total life span of the filter is 2-5 years.
There is no requirement for electricity and water is also not wasted.
It is a highly portable system.
Helps you save money compared to other systems.
Cons
Its contaminants removal potential does not exceed that of reverse osmosis.
It does not work effectively on TDS.
The filter housing rusting is identified and reported by some users.
Reverse Osmosis System: The Pros and Cons
For better clarity regarding reverse osmosis, I have compiled the perks and downsides below.
Pros
It can remove 98% of contaminants easily like arsenic, lead, and TDS (90-95%).
The filtration rate for this system is 10 to 75 gallons/day.
RO can reduce the need for plastic bottles which contributes to environmental safety.
There are both countertop and under-sink models available.
Cons
It requires electricity to operate and produces wastewater in the process.
The lifespans of the filter are shorter.
It is a pricey setup.
Berkey Water Filters Systems: A Quick Overview
Berkey purification systems are renowned for their distinctive design and filtration process. Unlike traditional sink systems that rely on pressurized tap water, Berkey units utilize gravity to slowly and efficiently filter your tap water.
Here are some aspects of this type of filtration system:
These are countertop filtration systems with a sleek stainless steel design.
Has dual vertically stacked chambers.
Utilize Black Berkey filtration elements for water purification: one of the long-lasting filters and effective contaminants addressing.
The manufacturer customizes to the specific type of water in your area. Therefore, you get a perfectly matched filtration.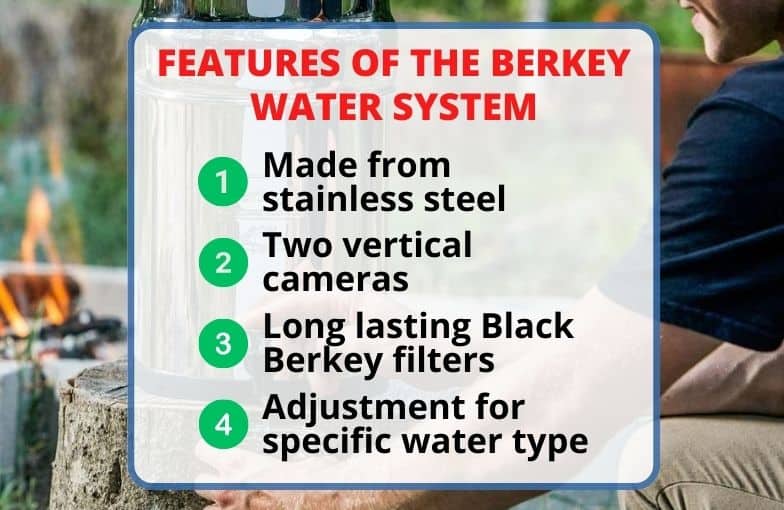 Reverse Osmosis Water Filter Systems: A Quick Overview
Reverse Osmosis (RO) filters clean water using a special membrane. It's like a super-thin filter that only lets clean water through while blocking out all the impurities in tap water.
Here are some of the notable characteristics you should check out:
Typically connected to a water supply, which is commonly located under the kitchen sink or at the water entry point.
They feature multiple filters, including pre-stage sediment, activated carbon filters, post-sediment filters, and a reverse osmosis membrane with ultra-fine pores. These filters effectively block contaminants like chemicals, heavy metals, and VOCs.
Wastewater is produced as a byproduct of the filtration process.
Berkey vs Reverse Osmosis Systems: 11 Top Parameters Compared!
To make it easier for you to decide on the choice I have compared Berkey and Reverse Osmosis on 11 parameters. Let's dive into details from the capacity and effectiveness of pollutant removal to certification and warranty!
1. Capacity and Effectiveness to Filter Contaminants
Filtering capacity and effective removal of pollutants are some of the most important parameters you should consider when choosing a filtration system. Let's familiarise ourselves with what each of the filtration systems has to offer:
Filtering Capacity: Berkey water filters can purify up to 3000 gallons of water with 99% efficiency. In comparison, RO systems typically can filter up to 6,000 gallons of water with the same percentage.
Pollutant Removal: Berkey filters effectively remove over 200 contaminants, including heavy metals, pathogens, and bacteria, ensuring thorough water purification. RO systems are equally adept at eliminating various contaminants and can eliminate up to 400 contaminants such as bisphenol and lead. However, the specific removal may vary depending on the system and the number of stages.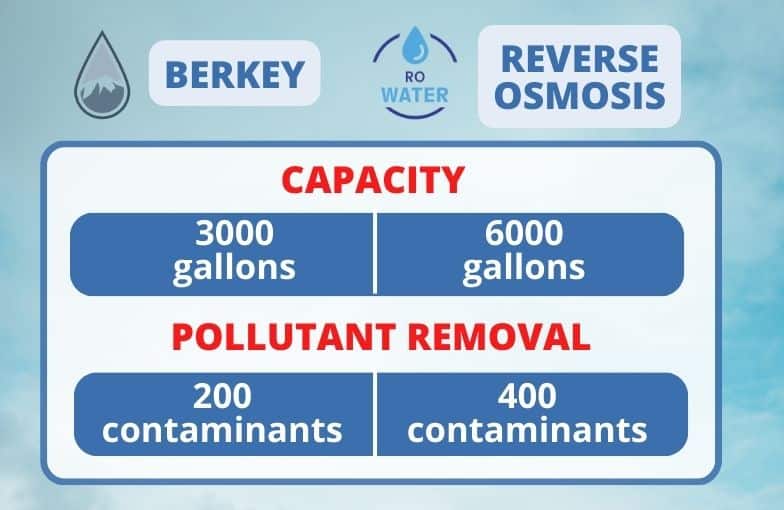 Useful Substances Removal: Berkey systems eliminate contaminants while preserving essential minerals in the water. On the other hand, RO systems are known for removing contaminants and some minerals from the water.
Storage Capacity: Berkey water filter systems feature larger gravity-fed units with different storage capacities. For example, the Berkey Imperial offers a 4.5-gallon storage capacity. In comparison, RO systems provide a storage capacity ranging from 2-14 gallons.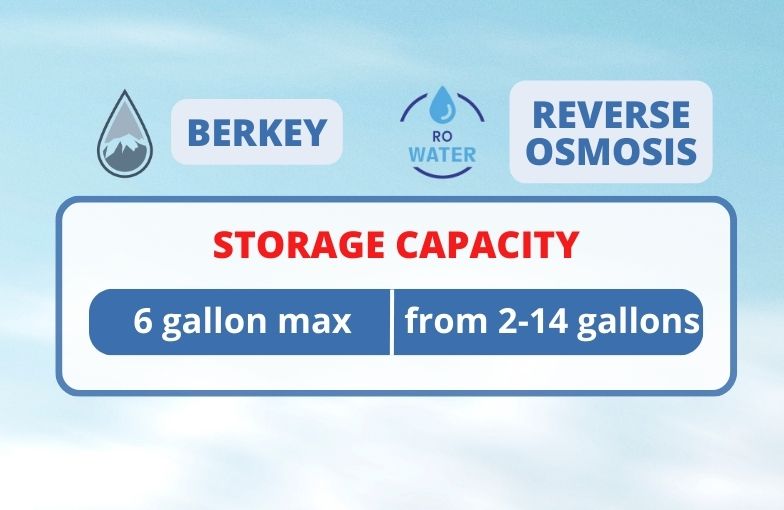 Let's have a look at the various models of both the filtration system types and understand the contaminants they can remove:
| | | | | |
| --- | --- | --- | --- | --- |
| | | | | |
| | | | | |
| | | | | |
| | | | | |
| | | | | |
| | | | | |
| | | | | |
| | | | | |
| Total dissolved solids (TDS): | | | | |
| | | | | |
| | | | | |
| | | | | |
| Pathogens (with UV add-on): | | | | |
| | | | | |
| | | | | |
| | | | | |
| | | | | |
| | | | | |
| --- | --- | --- | --- | --- |
| | APEC Top Tier 5-Stage Ultra Safe RO | | | |
| | | | | |
| | | | | |
| | | | | |
| | | | | |
| | | | | |
| | | | | |
| | | | | |
| Total dissolved solids (TDS): | | | | |
| | | | | |
| | | | | |
| | | | | |
| Pathogens (with UV add-on): | | | | |
| | | | | |
| | | | | |
| | | | | |
| | | | | |
Winner: The RO stands tall in the first round due to its greater water purifying capacity and pollutant removal rate.
2. Installation Procedure Easiness and Design Profile
The installation procedure of RO is usually a time-consuming process that takes around 1-2 hours. For an easy installation, basic plumbing skills are required. Some companies like Aquasana also provide free installation services whereas some RO systems come with DIY installations. The DIY process looks something like this:
In contrast, the Berkey system is designed to be easy and simple for every day. Even though it takes about 10-15 minutes from start to finish after you open up a box with your new Berkey system, that includes priming as well as assembling the Berkey filters into the top chamber.
The most distinctive feature of the Berkey system is self-reliance. It doesn't need any plumbing attachments so you will be able to set it up and easily move it where you want it without much extra effort.
Winner: Berkey emerges as the clear winner in terms of installation convenience, making it accessible even for those without plumbing expertise.
3. Considering the Filters Lifespan and Replacement Costs
Once you install Berkey's system with all its original components, replacement problems go away for at least 4 years. Just to mention, a family of about four people using approximately 2 gallons in a day means that during this period there won't be a need to purchase any replacements. The price can be slightly higher and set you back close to $173 per two sets.
Most reverse osmosis membranes will last about two years, needing a replacement afterward. The cartridges for the carbon and sediment filters require more frequent replacements than the RO membrane, often between 6 months and one year. A replacement reverse osmosis membrane can be bought for anything between $20 and $100.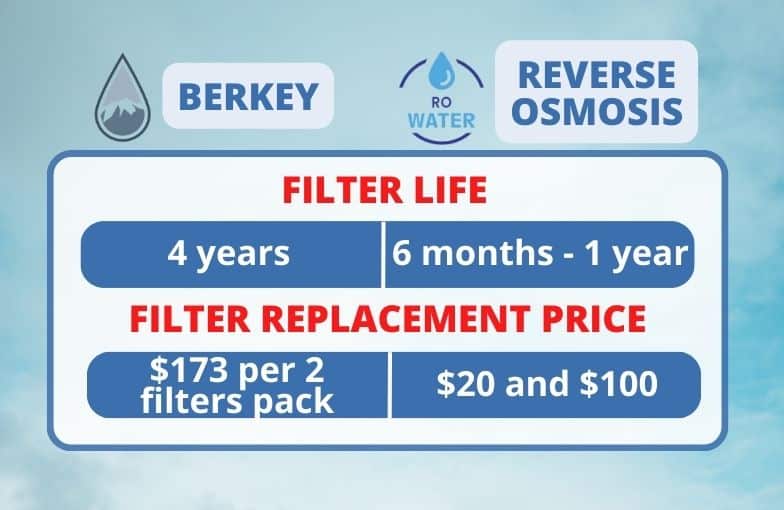 Winner: Berkey's filters can feel slightly expensive but their outstanding lifespan makes them the top pick by users in comparison to the reverse osmosis systems that require frequent filter changes.
4. Berkey Water Filter vs Reverse Osmosis: How Much Space Needed?
The Berkey filtration systems are popularly known to have a space-saving design. These countertop units come with a small footprint that fits well in most kitchen arrangements without eating up much of the room. Here are some models for better understanding:
| | | | | |
| --- | --- | --- | --- | --- |
| | | | | |
| | | | | |
| | 7.5" diameter x 19.25" height | 8.5" diameter x 19.25" height | 9.5" diameter x 23" height | |
| | | | | |
Conventional tank-type RO systems might require large spaces underneath a kitchen sink or even at any assigned water entry location. Take a look at the dimensions of some systems:
| | | | | |
| --- | --- | --- | --- | --- |
| | APEC Top Tier 5-Stage Ultra Safe Reverse Osmosis System | iSpring RCC7 5-Stage Reverse Osmosis Drinking Water Filtration System | Home Master TMAFC-ERP Artesian Full Contact Reverse Osmosis Water Filter System | Express Water Reverse Osmosis Water Filtration System |
| | | | | |
| | Varies by model, typically around 16" x 5.25" x 17.5" | Varies by model, typically around 15" x 8" x 18" | Varies by model, typically around 20" x 16" x 7" | Varies by model, typically around 15" x 5.25" x 16" |
| | | | | |
Winner: Berkey filters excel in space efficiency with their compact countertop design. While tankless and countertop RO systems offer space-saving alternatives, Berkey maintains an edge for those with limited kitchen space.
5. Power Consumption Requirements
Many consumers have major concerns when dealing with the power consumption of reverse osmosis systems. This type of setup needs the power of 3-10 kWh to operate and process the filtered water for use.
On the other hand, the Berkey does not consume any amount of power. It uses the concept of gravity to operate and can be easily installed in places without any power source.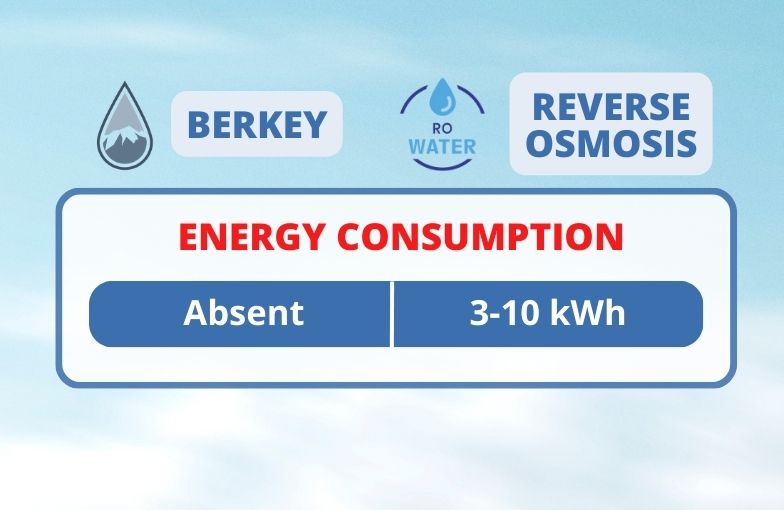 Winner: The Berkey filtration process has an advantage over an RO system. You can cut down on the additional expense of power consumption by opting for it.
6. Cleaning and Maintenance: What is the Frequency?
Reverse osmosis systems typically have one to four filter elements, all of which need replacing at different intervals ranging from every six months to a couple of years. Replacing the filters requires:
Shutting off the water pressure;
Taking out a part or dismantling all of the system.
In addition, it must be periodically cleaned with a chlorine solution every six months to control bacterial growth.
Black Berkey water filters, on the other hand, last up to 6000 gallons per set of two and are normally replaced after at least four years. The fluoride filter in the Berkey system needs replacement every 1000 gallons per set of two. Maintenance for the Berkey system is simple, you should do the monthly:
Drain all water from the unit;
Сlean out the lower chamber using soap and water.
Winner: The extended life coupled with easy maintenance makes Berkey more user-friendly compared to reverse osmosis systems.
7. Eco-friendliness: Reducing the Water Wastage!
Berkey filters are eco-friendly primarily due to excellent water saving. These systems operate based on gravity and hence filter the water using no electricity nor produce a byproduct in terms of wastewater. Each drop is filtered due to gravitational pull which is used up again for drinking or use.
In contrast, reverse osmosis water filters unfortunately generate wastewater during filtration. For every gallon of purified water produced, an RO system can generate a significant amount of wastewater, which is discarded.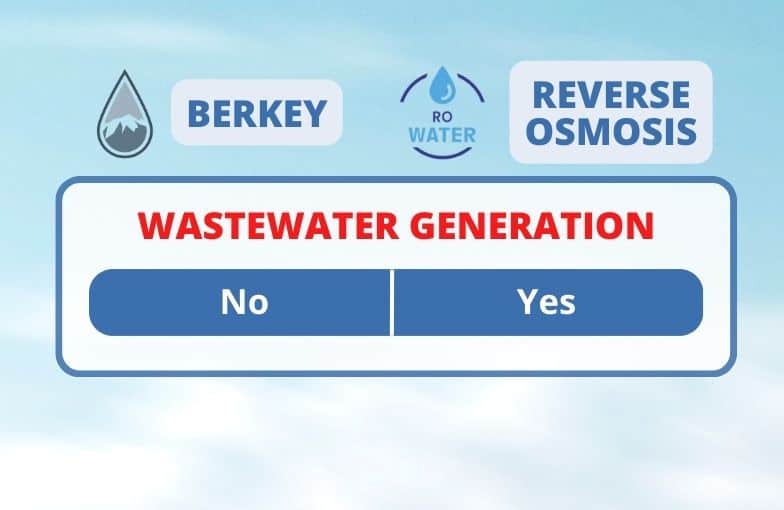 Winner: Berkey stands out as the eco-friendly choice due to its water-conserving design, offering a sustainable filtration solution that generates no wastewater.
8. Certifications
Before investing in a filtration system for your home while surveying the market you should always check the certifications of the filters. The best choices are systems that have NSF as standardization. Here are the certifications of the Berkey vs reverse osmosis system: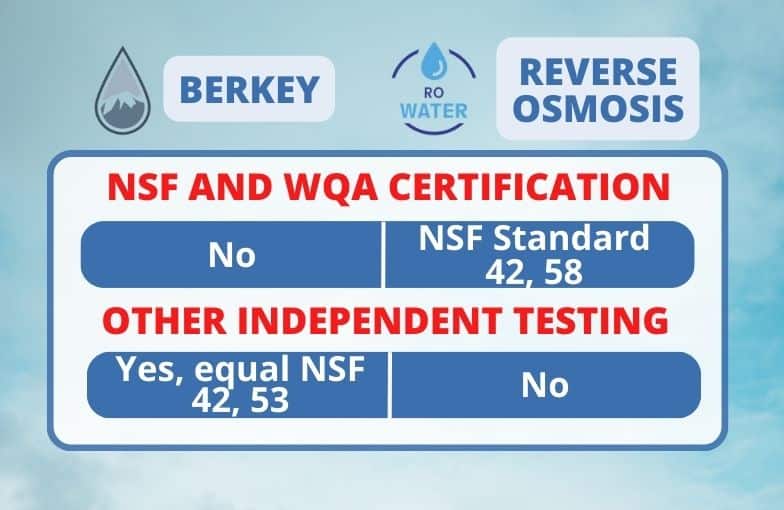 Berkey Filters:
Berkey doesn't opt for standardized certifications such as NSF. They provide third-party lab tests.
The testing results indicate that their filters are capable of removing up to 99.99% of major contaminants and can vary in some other areas (nitrites 95%, Barium 80%, Cobalt 95%, and Vanadium 87.5%)
They claim that NSF certifications are pricey and their lab tests perform equally when compared.
Reverse Osmosis Filters:
NSF Standard 42 certification for chlorine taste and odor reduction.
NSF Standard 58 certification for comprehensive impurity removal, including total dissolved solids (TDS) and specific contaminants.
Winner: If standardization is not a concern for you but results are then Berkey claims better results. But, if you want NSF certification then it is better for you to opt for a RO filtration system.
9. Taste After Filtration
The taste of reverse osmosis systems can be the usual flavor, a little stale to no taste at all if they do not re-mineralize the water and back up again. My area has pretty good water and the APEC Water Systems ROES-50 I have installed makes it taste even better, not to mention safer.
The taste from my tested Berkey filtered water was also very good. But if your water has a lot of ionized minerals the taste can be different. This is why I cannot guarantee a taste because not all source water is created equal.
Winner: Berkey filter receives more recommendations from me and other users for its taste. But, you need to keep in mind that the source of water is the main factor for the taste so it can vary if not taken into consideration.
10. Price Comparison of Both Systems
A typical reverse osmosis system costs between 20 and 65 cents per gallon. On the other hand, the Berkey water filter costs less than 2.9 cents per gallon and doesn't have added energy costs.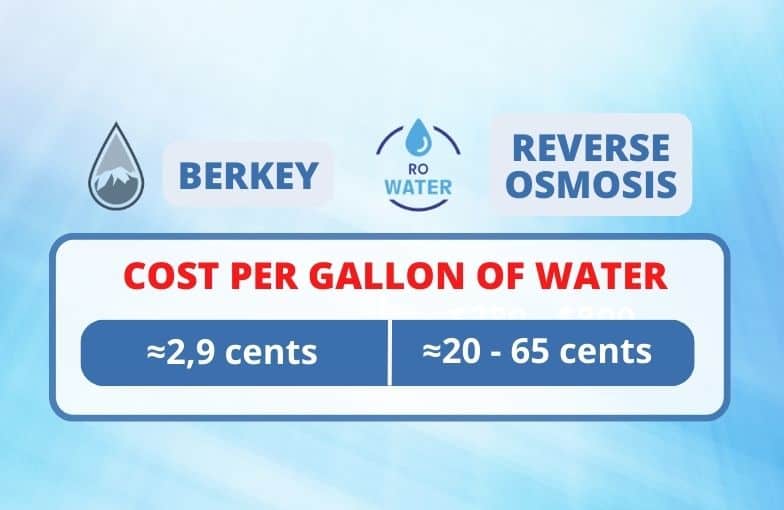 Winner: Berkey wins with flying colors due to significantly lower per-gallon costs and no added energy expenses.
11. Warranty: A Critical Factor for Selection!
Warranty plays a crucial part in purchasing a water filtration system for your home. I gave high priority to this factor when investing. Let's have a look at what both have to offer:
Winner: Berkey is the best choice as it offers a warranty that no one can deny. Also, the money-back guarantee is always an appealing aspect for all customers allowing them to return the product if it does not fulfill their requirements.
Berkey Filters and Reverse Osmosis Filters: User Experience and Complaints
Frankly, I haven't experienced any problems with either RO or Berkey, but I've collected other users' complaints for you to make my review as truthful as possible. Mentioned below is the detailed compilation for both of them. Let's see!
Berkey Systems User Experience and Complaints
Here is a highlight of the concerns reported by Berkey users: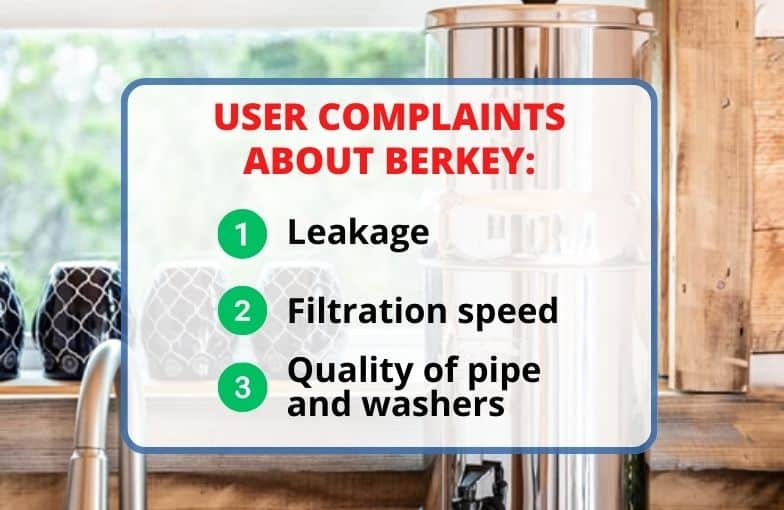 1. Leakage
Berkey is known for its long-term effectiveness but some users have raised concerns about the quality of certain components, particularly the spigot:
2. Water Flow
Berkey systems are known for their reliability, but there have been reports of slower water flow rates than advertised:
Reverse Osmosis Systems User Experience and Complaints
Here are some of the concerns of the users for the RO system they purchased. Let's have a look:
1. Lifespan of the Filter
Some RO system users have experienced a shorter filter lifespan, which can result in more frequent replacement costs:
2. Complex Installation Process
The installation process of RO systems can be more intricate and may require professional assistance, which has caused inconvenience for some users:
Is Berkey Better Than Reverse Osmosis: Which One To Go For?
So is Berkey better than the reverse osmosis system? The choice between both systems solely depends on your requirements. I would recommend going through the factors that are compiled below so that you can make a sound decision. Let's shed some light!
Go for the Berkey water filter if you prioritize the following:
Berkey filters can preserve up to 99% of essential minerals in your water.
Berkey filters can remove up to 200 contaminants.
They are known for their longevity with a lifespan of up to 4 years on average.
These filters have a simple installation setup and require approximately 10-15 minutes.
They do not consume electricity which makes them an energy-efficient choice.
The whole process does not produce any wastewater making them eco-friendly.
Whereas choose Reverse Osmosis Systems for the following:
Reverse osmosis systems can achieve up to 99% effectiveness in removing a wide range of harmful contaminants including TDS.
They typically produce 10 to 75 gallons of purified water per day.
They offer excellent warranties depending on the models.
Ultimately, your choice between Berkey water filters and reverse osmosis systems should consider factors such as your lifestyle, water source, desired water quality, and specific filtration needs.
FAQs
Do Berkey and reverse osmosis water filters remove fluoride?
Yes, they both can easily remove fluoride from the water. Berkey filters remove 99.99% of this element from the water. While reverse osmosis removes 80-90% of the amount of this element.
Do Berkey and reverse osmosis water filters remove minerals from water?
Yes, they both can remove minerals. Reverse osmosis can remove a wide range of minerals while Berkey cannot get rid of minerals such as calcium and potassium.
Which Berkey and reverse osmosis system is best for families with children?
Berkey and Reverse Osmosis both are suitable for families with children. You need to consider your specific water quality requirements, the availability of power sources, the total water consumption of your family, drinking water, and mineralization needs.
Will the taste of water be different after Berkey and reverse osmosis?
Yes, the water's taste may differ. Berkey systems retain minerals which results in a more natural taste. On the other hand, RO may make it taste slightly stale due to mineral removal.
Which system is more energy efficient Berkey and reverse osmosis?
Berkey is more energy efficient as it does not require any power source. It is a gravity-controlled system that can be installed in a suitable space. Reverse osmosis requires a power source as its components and filters operate using electricity.
What is the best water filter compared to Berkey?
Berkey is without a doubt an excellent choice but ProOne (previously known as Propur) removes more (275+) contaminants than Berkey (200 contaminants).
Is there anything better than reverse osmosis?
Yes, the Always Fresh system gets ahead of the RO due to its 99.99% efficiency of chlorine removal.
What are the disadvantages of Berkey water filters?
The disadvantages of Berkey filters include ineffectiveness against TDS and the slow filtration rate.
Conclusion
The final say is that choosing between Berkey vs Reverse Osmosis (RO system) depends on various important factors. It includes the ability to filter water efficiently, level of wastage, capacity, filtration methods, contaminant elimination, and healthy mineral retention.
I would recommend Berkey filters as they are easy to handle, and more cost-effective for many homes with specific sources of water as they deliver better-tasting water. On the other hand, RO systems are also a good option due to their thorough filtration process, yielding more filtered water.